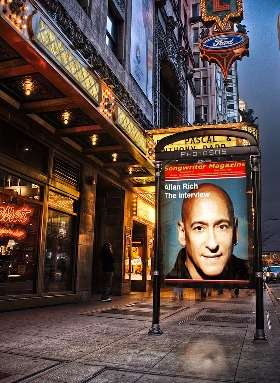 Prologue
Follow your dream, and if it's not working out, try calling up a hit record producer at 3am.

If they ever made a movie of the career of songwriter Allan Rich, that could be the theme of the picture. Oh, sure, the follow your dream part applies to the career of just about every songwriter, but many of Rich's exploits along the way are the stuff of madcap comedy.

One moment he's a waiter serving a singing star, the next he's in a studio asking the same singer who's about to record one of his songs, if she remembers where she knows him from.

Not able to reach a hit-record producer who could give him his big break?

No problem, just call him in the middle of the night when he's sure to be home. His reaction upon being invited by said producer to go immediately to a superstar's house to write songs? "Why didn't you let me know earlier so I could get my car washed?".

His "Run to You" (co-written with Jud Friedman), sung by Whitney Houston in The Bodyguard, was nominated for an Academy Award for Best Original Song and a Grammy Award. "For the First Time" (co-written with Jud Friedman and James Newton Howard) from the movie One Fine Day, starring Michelle Pfeiffer and George Clooney, was also nominated for an Academy Award, as well as Golden Globe and Grammy awards, and was a number-one adult contemporary song for Kenny Loggins. "I Drive Myself Crazy" (co-written with Ellen Shipley and Rick Nowels) was on 'N Sync's debut album, which sold 10 million units and was certified "Diamond" by the RIAA.

He's got a slew of gold- and platinum-record awards. His songs have sold a staggering 65 million records. And even while he notes that it's harder than ever for songwriters to get their tunes recorded, he continues to churn out songs recorded by popular artists. In May 2010, for example, his song "If I Have to Wait" (co-written by Jud Friedman and Busbee) was released on Toni Braxton's new CD and another song "The Truth Is" (co-written with Jud Friedman, Carsten Lindberg and Alex James) was released on a new CD by Charice, the rising young singing star and cast-member of the hit-American television show Glee.

What makes this story so heartening is that Allan Rich is a genuinely warm, nice, down-to-earth person, the kind of guy who could be your buddy from high school, your friendly next-door neighbour, or the guy who once served you at your favourite restaurant. In talking with Rich, you come away thinking that he's as surprised as anyone else at his amazing success.

That's because his modesty masks his extraordinary talent. But we all know that talent is not enough to succeed in the cut-throat music business, and the serendipitous events that led him on his fortuitous path--providing him with an arsenal of funny stories--constitute his professional trademark.

So how does a young songwriter go from waiting on tables to being invited to write songs in the homes of his idols Barry Manilow and Burt Bacharach?

Were you always interested in music?
Ever since I was five years old I knew I wanted to be in the music business. I wanted to be a singer. When I was about 15 I auditioned for the New York Television and Theatre Workshop at Lincoln Centre. Some 2,000 people auditioned and only 100 got in. I was one of them. So I got free singing, dancing and acting lessons every weekend at Lincoln Centre. My family was living in Rosedale, Queens at the time, having moved from Brooklyn.

I would take the subway into Manhattan with my twin brother Larry who was only one of two kids from our high school who got accepted to the High School of Art and Design and the High School of Music and Art. He would go to art school while I would go to music classes. A year after that, while I was still in high school I heard about WNYC, a radio station in New York City that had weekly radio shows and I heard they were auditioning for new actors. I decided to audition and to my surprise, I got in. I wasn't one of the great talents there but I was lucky enough to play Robin in the station's Batman and Robin series.

Then in 1969 when I was a teenager my parents had a bungalow in the Catskill Mountains in upstate New York and over the summer I worked in the hotels there. I was a bellhop at the Pines Hotel, one of the prominent resort hotels there, and they had a ten-week summer talent contest with performers coming from all around town. One person would win each week and then at the end they had the finals for all the weekly winners where each performer got to sing with a live band for best new discovery of the summer. I won one week and got to go to the finals.

The finals were exciting because all the finalists got to sing with a full band and I had never sung with a band before. At the finale, I sang a medley of "Gina/Portrait of My Love." There were about a thousand people in the audience. When they announced the winner there was thunderous clapping and cheering. I was so thrilled to be on stage that I wasn't paying attention as to who had won. I didn't even hear that it was me.

Someone pushed me and said "It's you!" And I couldn't believe it. I thought "Oh my, I'm going to become a star now." It didn't quite work out that way but it was my first foray into the music world and my parents knew then that I was going to take this seriously and they had confirmation from the audience that I had talent.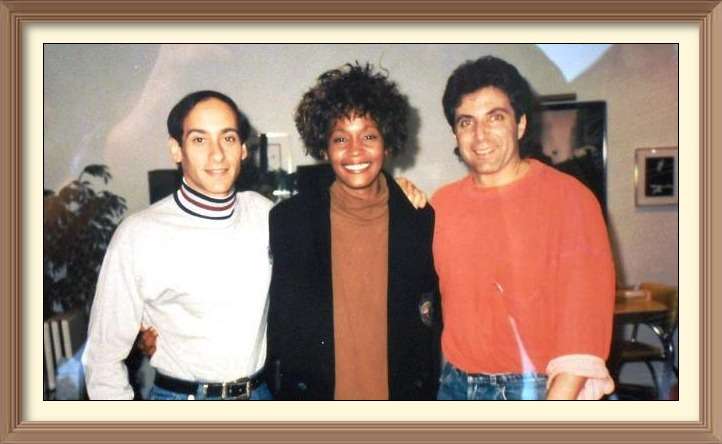 Allan Rich, Whitney Houston and Jud Friedman at the
"Run To You" recording session 1991
How did you go about launching your songwriting career?
I wrote my first song a month after I graduated from Queens College in Flushing, New York. I just felt like I had something I wanted to say and so I started writing lyrics and then I sat at the piano and played, badly I might add. I hired somebody to put what I wrote down on paper.

I was taking voice and dance lessons in New York City while I was going to college as a sociology major. During the days I went to school, and the days I didn't have classes, I would go to Manhattan and take voice lessons and a dance class. A block or two away from my dance classes were the famous music business buildings. Looking like John Travolta in Saturday Night Fever with my big bellbottoms, long hair and platform shoes, before dance classes I would go from music building to music building literally knocking on doors and I would ask if anybody would listen to my songs, and some people did.

The first song I ever wrote was called "I'll Be Glad to Grow Old With You" and Bob Reno of Midland Records [which released such hits as Carol Douglas's "Doctor's Orders and Silver Convention's "Fly Robin Fly"] took me into a recording studio and let me sing the demo--just a piano/vocal recording--because he thought it would be good for Johnny Mathis at the time. I had my second song published six months later but it wasn't until eight years later that I ever got a record.

But around that time, throughout the 70s, I started performing in New York City at clubs like the Grand Finale and Reno Sweeneys. I was hand-picked by Cissy Houston, Whitney Houston's mother, to be her opening act at Reno Sweeneys, an important club then for discovering new talent. As an opening act I did mostly original songs with one or two covers, and her publishers came to hear Cissy and heard me as well. The company was Love-Zager--Jerry Love and Mike Zager and Susie McCuskor. They produced Cissy and she was signed to a publishing deal there.

They saw me and said they liked my songs and invited me to come write at their building, which was modelled after the famous Brill Building. So many great young songwriters would come to their office.

For instance, we had Doug Frank, a songwriter who ended up becoming the head of Warner Bros. music for the film division in Los Angeles, and Doug James, who would write hit songs for people like Michael Bolton and Joe Cocker. It was just like a mini-Tin Pan Alley. We had little cubicles and we would all write every day and when they were looking for an act we would go in and pitch our songs to them. And that's really where I got my start.

I started building a following. At the same time that I was singing at the clubs I also had a job as a singing waiter at Something Different and performed regularly at Catch a Rising Star. I was selling out and the audiences were giving me standing ovations. I thought I would get a record deal because there was so much enthusiasm but it never happened. I became very discouraged so I picked up and moved to Los Angeles just to focus on songwriting. I didn't know how I was going to break through but I went. This was about 1980. I was very poor when I went to LA. I brought my entire life savings which was about $1500.

What happened when you got to Los Angeles?
I immediately got a job as a waiter at The Source, a famous restaurant, unbeknownst to me at the time, where a scene from Annie Hall was shot. It was a block away from my house. It was also a major hangout for music people and I met all these famous songwriters and recording artists there. I was their waiter. I was so frustrated because I'd see everybody's name on the credit cards and I couldn't believe who they were, and I didn't want to wait on them, I wanted a songwriting career like them.

I used to tell the songwriters and artists at the restaurant that I was a songwriter but it was hard for anybody to take me seriously when I was wearing a black apron and taking their orders.

I'd go in the kitchen and start to cry and say "How am I ever going to get out of this restaurant and make it as a songwriter?" And the manager of the restaurant once said "Oh, you're going to be here for a lifetime." But I ate, slept and breathed music and was very driven and determined and my manager didn't believe me when I gave my notice. He thought I was kidding. I still kept my job after I wrote songs for Patti LaBelle and Gladys Knight. But that same year after I co-wrote my three Barry Manilow songs, I said "Hasta la vista, baby!" and never looked back.

Many years later when Smokey Robinson did his big comeback album, One Heartbeat, he did a duet with Syreeta Wright, Stevie Wonder's wife. They sang "Love Brought Us Here Tonight." Now I had waited on Syreeta like a hundred times at the restaurant. And I got invited to the recording session. When I walked through the door Syreeta looked at me and I said "Hi" and then I asked "Do you know where you know me from?" and she said "The minute I saw you I knew that I knew you but I can't place the face." I said "Syreeta, I was your waiter at The Source restaurant."

She screamed and hugged me. I said "How wonderful is it that I was your waiter and now a few years later you're recording my song?" I had her sign my lyric sheet; I used to have everybody sign my lyric sheets. I'd take a picture with them and have them sign my lyric sheet and then frame the sheet. She wrote "Dear Allan, remember, music will prevail."

How did it come that they recorded your song?
Two very hot producers at the time, Peter Bunetta and Rick Chudacoff, were producing the record and I knew them and I pitched the song to them.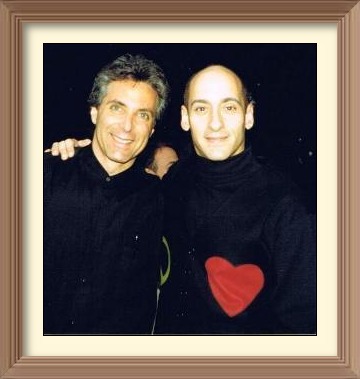 Jud Friedman and Allan Rich
Going back to your early days in Los Angeles, how did you break through as a songwriter?
At the same time I had my waiter's job I was selling shoes on the weekend at Venice Beach. My friend Robert, who was also a songwriter, and his girlfriend Susan, who was Australian, imported shoes from Australia and I worked with them. I sold these beautiful rock 'n roll Capezio Australian soft leather shoes that all these rock 'n roller types wanted. He told me that he had a very big music clientele and there was a record producer who used to come who would buy lots of shoes and that if he came again to buy more pairs he would introduce me to him.

And the producer, Howie Rice, came and he introduced me to him. I told him I was a songwriter and he told me to send him a tape. So I sent him a tape and one day, or night I should say, I got awakened from a dead sleep at 3 o'clock in the morning. I said "Who is this? Is everything okay?" He said "Hey, it's Howie Rice. How are you?" like it was 5 o'clock in the afternoon, except it was three in the morning. He said "I really like your songs." I thanked him and said we should get together some time. It was worth the while of me waking me but unfortunately as is very typical for the music industry, I could never get him back on the phone after that again. Whenever I called him he wasn't there, and he never called me back.

So I was bummed, and thought, What am I going to do about this? I said I could do one of two things: I could let it go and just chalk it up to another typical songwriting experience or be proactive and try and turn it around, which is what I decided to do. So I set my alarm and decided to call him at 3 in the morning like he did to me. I was petrified but felt I had nothing to lose. I called and guess what? I got him on the phone. And I somehow bamboozled my way to go over to his place. I took off my pyjamas, got dressed and every day almost for the next year, year and a half, I went there every night at 3 o'clock in the morning and I worked.

Believe me, it's not what I wanted to do, but that's when he worked and I wasn't going to miss the opportunity to write songs with him. The first time we got together I wrote two songs with him for Patti LaBelle's platinum album Winner in You and one of the songs, "Something Special (Is Gonna Happen Tonight)," became the theme song to Outrageous Fortune, the movie with Bette Midler. Then I wrote a song with him and Jeff Pescetto, "Lovin' On Next to Nothin'" that became a # 1 R & B song with Gladys Knight that Howie produced.

And it was all from making that middle-of-the-night call and going there every night. And then he told me he might be producing Barry Manilow. And he said if he produces Barry Manilow I would be the perfect collaborator for him. It seemed so far-fetched that I really didn't give it much thought. I still had my night job as a waiter and I still had my weekend job as a shoe salesman.

But then I got a phone call one April and he said "Get your clothes on and pick me up in twenty minutes. We're going over to Barry Manilow's house." I was shaking in my boots. My car was filthy and I said "I wish you had given me more notice so I could have washed my car!" But we drove up the long driveway and I ended up writing three songs with Barry for his Manilow album, two of which were singles. It was totally crazy.

What was it like writing with Barry Manilow?
He trusted Howie Rice and his recommendation and it didn't matter to him that I didn't have a track record. He is one of the most generous, gracious people I have ever known. I still stay in touch with him, and this is 27 years later. We talk a couple of times a year. I have fantastic memories, and some great stories with him.

What happened after that?
I started to get on a lot of records. I got my big break from Howie Rice but I also worked with Leon Sylvers, a big R&B producer at the time. I used to write with him a lot as well. I was on all these R & B urban records that people couldn't believe I was on.

Before that I signed my first publishing deal with Welk Music. It was headed by a wonderful man, Dean Kay, who wrote one of the greatest Frank Sinatra songs, "That's Life," and Gaylon Horton who was married to Julie Horton who worked at ASCAP; she now runs Diane Warren's company. Julie and her husband were very important people in my career. Gaylon Horton was the main publisher at Welk Music and he was the one who signed me.

I had a demo tape of a batch of songs and they really liked them. R & B music was very popular then and they were all R & B songs. My attorney sent my songs around and that got them interested. And so Gaylon Horton signed me. It was for a very small salary but it was a big deal for me. I was a staff songwriter! I got one or two songs cut there, not very many, and then I left after two years.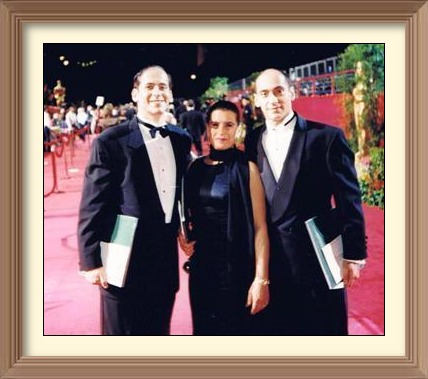 Brothers and sister attend the 1996 Oscars.
From left: Lawrence Rich, Nadeen Rich and Allan Rich
In Los Angeles at the time they used to have a lot of songwriting groups like Songwriter Resources Services and the Songwriter's Showcase started by John Braheny and Len Chandler. They used to do so much for the songwriter and unfortunately they're not around today. Every week they had a songwriting evening where they had a wheel in which you could put your songs and they had executives who would spin the wheel and listen to the chosen songs. If you went there every week like a whole group of us did eventually you got to meet all the executives and they would get to know your name. ASCAP and BMI had all these seminars too. It was everywhere.

And eventually people began to know my songs. I didn't get any heavy action, but I built up a following of A& R executives and I used to pitch my songs to them all the time. Jelly Bean Benitez cut a batch of my songs as well as several other recording artists. I didn't have any hits but I got several cuts. This happened over several years. I was just out there pitching and I was trying to do things in a creative way. You know, everybody has to find their own way of how they are going to get attention.

In those beginning days I would take a little empty Chinese fortune cookie box and put a cassette tape of my song in it and attach a balloon to the box. I would drop it off at the record company for the A&R man looking for songs for the artist I thought the song was right for. That's how I used to send out my tapes and if I didn't hear back from them in a timely matter I would drop off one of those little toy telephones filled with candy and a note saying something like "I haven't heard from you, did you hear my song?" And people would call me all the time and say it was ingenious, how could I not call you back? I tried to do things like that to get my songs noticed in the best way I could.

Then around 1989, Carol Ware at MCA Music became a very instrumental person in my career. She was at MCA Music and Leeds Levy was the head of the music publishing division there.

I wrote a song with one of their writers, Jeff Pescetto, and they loved the song so much that Carol said that Leeds wanted to sign me. I had just had my first hit record, "I Live for Your Love," sung by Natalie Cole so I was coming on board with a little steam; I co-wrote the song with Pam Reswick and Steve Werfel. And a lot of success followed with my years at MCA. From 1989 to 1996 I had most of my hits. "I Don't Have the Heart" was a number one song for James Ingram. Jud Friedman and I were nominated for an Oscar and a Grammy for "Whitney Houston's "Run to You" from The Bodyguard. "For the First Time" was a number one adult contemporary hit for Kenny Loggins. We were nominated for an Oscar, Golden Globe and Grammy and Rod Stewart cut it for his greatest hits CD and Steve Wariner cut it country. During that time Dolly Parton, Luther Vandross, Tina Turner, Ray Charles, Peabo Bryson, Dave Koz, BeBe and CeCe Winans and so many others cut our songs. We had a magical connection, all of us. It wasn't a bureaucratic company, it was like a family, a mom and pop store and I just loved it.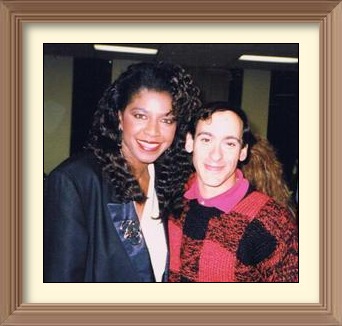 Matalie Cole & Allan Rich
What kind of contractual arrangement did you have there?
I had three different deals there. Shortly after I signed with MCA, I had my first #1 hit record "I Don't Have the Heart." Since I brought the song into the deal I signed an administration deal which gave me control over the song. A year later, it turned into a co-publishing deal with no reversions, and then in the last three years a co-pub deal with reversions after a certain number of years or when I recouped my advance.

Doesn't each co-publisher in a co-publishing deal own their respective portion of the copyright?
It all depends on your contract. Some own their publishing share of revenues, but not their copyright. Some do. So you could own half of your publishing but not own the control of your song.

With no ownership in any of it?
Many of my songs I did have ownership; it all depended on what deal I had. On my first deal with "I Don't Have the Heart," that came back to me. My second deal in which I had a lot of big hits, they did not come back to me. I owned my co-publishing and I got an income stream from it but I did not own the copyrights.

And then the last part of my deal, the songs came back to me once I recouped my deal and I recouped my deal so the songs came back to me.

How was the Ingram hit written?
My friend Kathy Spanberger, president of Peer Music said she was signing a writer who she really believed in, Jud Friedman, and she thought we would be a good match. See, those were the days, with publishers like Leeds Levy and Carol Ware and Brenda Andrews at Almo/Irving who really took the time to try to make magical songwriter connections. They tried to think which songwriters would make good matches to write great songs. Kathy Spanberger thought Jud and I would make a magical collaboration, and boy, was she right. We've had so much success together and have been writing partners for 21years now.

The first song we ever wrote, "I Don't Have the Heart," was a number one record. And then the second song we wrote "I Just Had to Hear Your Voice" was recorded by Oleta Adams and it was a single. People recorded our songs. It was wonderful!

Did you and Jud both have your own publishing companies?
We each had our own publishing company from day one. My first company was Filthy Rich Music, then with my next deal I opened a company called Nelana Music, named for the first initials of my father, mother, brother, myself, my sister, and grandmother, who are Norman, Evelyn, Lawrence, Allan, Nadeen and Anna.

Do you still retain the ownership of those songs?
I sold my catalogue two-and-a-half years ago to Spirit Music.

Maybe that was a good move with the state of today's music business.
Time will tell!

Do you still collect the songwriter's portion?
I do. I get my BMI money for it.

And you get mechanicals too?
No. It goes to the company that bought my catalogue. That's in accordance with the terms of my contract. They have to get paid back for the money they gave me. And that comes from mechanicals, synch licenses, and a portion of the airplay money.

So you're just collecting performances on this?
Correct.

What about print or sync?
I don't think I get anything that for it.

Well, at least you get performance royalties, which is usually the main source of income anyway.
Yes, because nobody sells CDs much today.

What kinds of record sales have you had over the years?
My songs have sold over 65 million records. The Bodyguard sold over 30 million copies. Barbara Streisand's recording of my song "Lessons to Be Learned" sold six million copies. 'N Sync's recording of my song "I Drive Myself Crazy" sold ten million copies. That doesn't happen today. It used to happen a lot. You used to sell 20 million records. Now if you sell a mil or two million you're having a huge success. It's become very difficult.

How did it feel to have all these stars record your songs?
Blown away. Those were the days when you could write a song just for the sake of writing a great song. You didn't have to worry about trying to fit a format. You just wrote a great song and someone would cut it.

Were you writing just the lyrics?
I had written a few songs with music and lyrics but for the most part I was writing just lyrics. But I had a good music sense and I helped in that department as well.

And Jud wrote the music?
At the beginning I would write a lyric and give it to Jud or write half a lyric and give it to Jud. Jud would write the music and then we'd tweak it together. Jud has a very good lyric sense as well. I can't sit at the keyboard but I likewise have a good melody sense of what works and what doesn't work.

How do you divide the credits? Lyrics by Allan and music by Jud?
It's usually by Allan Rich and Jud Friedman, or by Jud Friedman and Allan Rich.

And you always did a 50/50 split of the songwriting?
Yeah, through the years I'd say 95% of our songs were divided that way.

Did you ever sit down and say let's write a song for a particular artist?
Yes, many times we write songs for artists when we hear they're looking. That happened with Tina Turner, for instance. My neighbour and friend, Danny Goodwin, who was at Virgin Records at the time, told me there was a track by two German guys that Tina Turner loved and he asked if I be interested in writing a lyric to it. And I said, "Are you kidding?" I brought it to Jud and Jud and I wrote the lyric together to the melody and sent it back and the next thing we know it was recorded by Tina Turner. It was that easy. Most things were not easy like that. The majority of the songs were a bitch to get recorded. You died ten deaths till it ended up happening. That was a fluke and it happened quickly. "Run to You" from The Bodyguard was written specifically for Whitney Houston for the movie as was so many other songs including the Charice song we have on her new CD.

So you were with MCA through 1996?
Yes, and then I went to EMI for two years. Carla Berkowitz who's now Carla Androsik married to John Androsik of Five for Fighting, was the publisher there and she signed me.

Why did you go from MCA to EMI?
My deal was up and they changed presidents. I liked the new president very much and he offered me a new deal but I felt it was becoming too bureaucratic. Then again, I ended up going to another bureaucratic company so I have to say in all honesty I wonder if I made the right decision, that is, if I should have stayed at MCA because it was a very good company and I had a lot of success there. But the funny thing is, the first year I got to EMI I had a big hit song that I co-wrote with Rick Nowels and Ellen Shipley, the 'N Sync song "I Drive Myself Crazy".

So Carla signed you. What was her position at EMI?
She was one of the product managers and product managers oversee the songwriters, songs, collaborations, and pitching. She wanted to get me signed there and she was one of the best song pluggers I knew, and I wanted to be with her as well. I was there three years. The first year was very successful and after that nothing happened and so I think they were happy to let me go and I was happy to leave.

What kind of deal did you have there?
It was a co-publishing deal. Co-publishing with reversions after either you recoup the advances they gave you or after a certain number of years after the deal ends. Remember, everybody's deal is different. Everybody signs different deals. Jud's deal was very different than mine.

That's when Peer and MCA both co-published your songs?
Yes, MCA published mine and Peer published Jud's. But we both had very different deals. As I say, every single songwriter has a different deal. It depends on who they are, what they need, and what kind of success they've had. It's even typical that two collaborators for the same song could have two different deals. What Jud had with Peer was his business and what I had with MCA was what I made up with them. So that's why it gets complicated when someone wants to cut a certain song and they want certain things and you have a few different writers; now you have three or four writers and they all have different publishing companies and they all have different splits and they all have different terms. It can get very complicated!

If you look at the Billboard song index today you sometimes see several publishers for the same song, and it's hard to figure out who are the administrators and who are the publishers.
Right, and there are more writers and publishers on one song than ever before. It's complicated for them to figure out when they have to collect, believe me. Each company may do its own collecting.

That could be a bookkeeping headache.
Well, it is, and I'm sure most songwriters don't check up on it but I bet we've been screwed out of millions of dollars.

What happened next?
Well, MCA was from '89 to '96. EMI was from '96 to '99. Then in 1999, Susan Koc was the product manager at BMG and Scott Francis was the head of BMG, and they signed me and honestly nothing happened for any of us. It was a time when companies were starting to become conglomerates and they were buying up catalogued. They were more interested in buying catalogs and signing artist's publishing than they were in developing songwriters. And I and a lot of other songwriters got pushed aside and nothing happened for my two years there. It was supposed to be three but after two years we all decided it just couldn't go on for any of us. I really didn't want to get out of the contract but I had no alternative because they were paying me a lot of money and they didn't want to continue doing that if things weren't happening.

But maybe it was their fault for not plugging your songs?
In theory, yes. Publishers are supposed to publish your songs and pitch them but in most cases they don't do that. Most of the songs that get recorded, the songwriters do the majority of the leg work.

So they sign you as a writer and expect you to do the pitching?
Yes. Or, to be a producer working with artists making records.

What do they do besides collecting then?
Well, if you were lucky enough they'd hook you up on projects or with collaborators. Many publishers over recent years have made writers sign what they call "record and release commitments". It's why so many songwriters are up a creek. They sign record and release commitments that say the songwriter guarantees that he or she will get a certain number of records, that is, songs commercially recorded and released, and if you don't deliver you'll be on suspension. Which is what happens most of the time. So much of the time the publishers didn't do anything so it was the songwriters who had to go out there and pitch the songs.

And it's almost impossible to meet the terms of the agreement.

In other words, let's say you were getting $100,000 and you had to guarantee them five commercially released records. And we're talking 100% writing on five records. But if you collaborated with three other writers so there are four writers in total including yourself, then you needed to have 20 songs recorded and released in order to fulfil your 100% commitment that year. And if you didn't make that happen, and almost no one can, they don't have to pay you and you were still stuck at the company. I have had friends who were stuck at companies for many years without ever getting paid and they couldn't leave.

But it's not just the songwriters who are being squeezed today. Recording artists have 360-degree deals now where the record labels take a piece of everything--their merchandise and their concerts, and much more, to make up for the loss of revenue from record sales.

With the publishing record and release commitment it's like being in prison. And you don't get any more money and you're stuck there and you can't go anywhere else.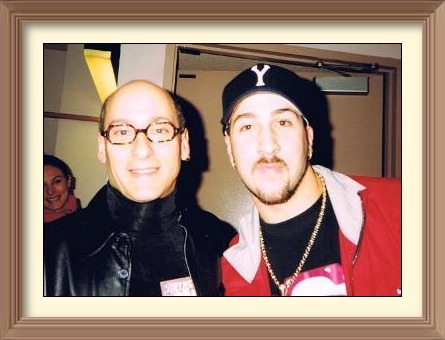 Allan Rich & Joey Fatone backstage
at an NSYNC concert June 2000
Do you still have to produce more songs for them?
Yes. It's so hard to get records anywhere today, and if you have to get 15 or 20 records it could take you years, if ever. If you got 15 or 20 records in a whole career it would be a lot. But you have to do that in your first year in order to get your next amount of money and I have a lot of friends who are stuck in deals like that. The publishing company is supposed to do their job and get you records but they assume no responsibility. They put the responsibility on you, the songwriter, because they're giving you money.

Do they do any pitching at all?
Yes, but there's only a handful of really aggressive publishers. As I say it's also very difficult to get records now and it's very hard for the publishing companies as well.

Is that why they like to sign songwriters who get record deals?
Yes, they sign them because their songs will be on their records and at least they will get some income.

I was offered double the money when I signed with BMG, if I signed a record and release commitment and I said absolutely not. I said give me half the money. I never signed a record and release commitment in my life and I'm not going to start now. If you make me sign a record and release commitment there will be no deal. And so they took my suggestion and gave me half the amount of money and I didn't have to sign one. Thank goodness, or I'd still be there right now. I would have been stuck there. I left them in 2002 and in 2010 I can assure you I'd still be there.

I left BMG in 2002 and it's been a whole lot tougher since urban music and hip hop became so prevalent. The kind of songs I wrote and was known for, the classic ballads, are not so much in favour now.

In my opinion, today, it's not about real songs. It's about beats, rhythms, and raps. I'm not saying there are not some great songwriters out there because some of those rappers are incredible, but in ten years from now, are they going to still be playing these songs on the radio like they used to play all the classic songs? I feel strongly that the record business is doing badly because they're putting out such schlock.

There's a reason why Michael Bublé is selling a lot of records or that Josh Groban is selling a lot of records. It's because people are crying out for real music. My generation is used to buying records so we don't download music for free or buy one song for 99 cents. The kids of today are brought up where they're spoon-fed with free downloads and buy just one song instead of an album.

And artists today write their own songs because they don't want split the revenues with outside writers. When people discovered that you could make a lot of money writing songs a lot of people who really weren't songwriters suddenly became songwriters. A lot of people who shouldn't be writing songs are writing songs. And the people who were writing songs as a craft of songwriting were pushed out.

So what happened to the traditional songwriters?
Like myself? I've been trying very hard to write with younger writers and trying to write great songs but expand my kind of writing. Jud and I just had a couple of new songs out. We had a song on Toni Braxton's new record that came out a month ago and on Charice's new record that came out a month or so ago; she's David Foster's new discovery, an 18-year-old phenomenon. But you know, it's a lot harder to get cuts these days.

Is it hard to attach yourself to Glee or any of the Disney television shows?
Yes, and believe me, we're trying. Glee is mostly cover songs, songs that have been recorded already. Not any really original songs at this point. But Disney, there's a whole click in there. It's all about getting in those clicks and being called to write on those projects. I do have a song recorded by a new Disney artist, Anna Margaret. But it's the same with American Idol. There's a handful of "go to" writers. There are camps surrounding most of the artists today and for an outside song to get cut, is almost a miracle.

But despite the hardships today you still get songs recorded and you're still successful.
Just the mere fact that I've never had to take another job since 1982, and that I am a full-time songwriter, that in itself I think is a success. As I said earlier, Jud and I are on the new Toni Braxton CD, and the new Charice CD, and I have two songs on blues singer Keb' Mo', and on Disney's Anna Margaret, and we have a song in the Will Ferrell movie coming up. We keep on plugging away.

When I was five years old, if someone would have told me I would be nominated for two Academy Awards and two Grammys and a Golden Globe I would have never believed it. I've had a great life. The most important part of it is that I never had to punch a clock and that my time was my own.

I make my own schedule. To have that kind of freedom, to not be a 9-to-5'er or a 40-hour-a-week worker, and worry about whether someone is going to write you up or report you is a blessing. And songwriting can be so much fun. Plus you get to move and touch people through your songs. It's a very hard business, sure. Not for the weak of heart. But there are those moments that make it all worthwhile.

The business is in such a crazy place today.
Yeah, it really is. It's a whole new ball game.

Technology has changed a lot of the craft and the business.
That's true. The sounds and the beats, they're king today. And the way you can market yourself and your songs through the Internet is pretty amazing.

Discuss your process for writing a song lyric.
There's not just one way I write a song. When I first started in the business I was writing lyrics. And then I would give the lyrics to my writing partner. So that's one way to write. Or I would sit on a room with my collaborators and we'd start from scratch with something and throw out ideas. Someone would sit at the keyboard, and that's another way to go. And today what is most popular is writing to tracks which we do as well.

In terms of the craft of songwriting, I'll just say that I'm a very emotional person and I try to tap into what's going on with me and write down whatever I'm feeling. I can get an idea from anywhere. I have a title book. And I have lots of scrap paper with titles in my car and everywhere else and then if I can remember I put them in my title book.

I get a lot of ideas in the car because I'm inspired either listening to the radio or a CD. Titles can come from anywhere. You read the newspaper and something hits you or you watch something on television and a line hits you. What I try to do is free associate.

If I have a title I try to write down as quickly as I can all the ideas I associate with that title because it's usually a short window of time that I get those ideas and then it's over. So I just try to write down as much as I possibly can. I have a fairly short attention span. There are some people who can sit for hours, but that's not me. I get a burst and I write down all my ideas and I try to put them together into some semblance of a verse and a chorus and then either I might bring them to my writing partner or I might go back to it the next day and try to write the second verse, the second chorus.

I'll tell you what I used to do when I first started, which was crazy. It had to do with the voices in my head. I think we all have these voices in our head that are screaming and yelling at us or they're very quiet voices if you're lucky. Mine were screamers, so for years what I would do in order to drown out those voices was to put on my favourite CDs at a level where I could hear them and drown out my voices but not loud enough to stop my creativity.

It was almost like a subliminal message, and I would always play a song that gave me goose bumps. I could play a song a thousand times. I just put it on repeat if I loved the song. I remember at one point in my life many years ago when I wrote a song I must have listened to "On the Wings of Love" by Jeffrey Osborne ten thousand times to write my lyrics.

I didn't copy his lyrics, it had nothing to do with his lyrics, it's just that his song gave me goose bumps and it inspired me and allowed my creative juices to come out. I still can do that today but I don't do it very much. But that's how I started. I would do that for years. Today I get these little blurbs and I just try to write as much of it as I can until the burst is over and then either I save it or I bring it to my writing appointment. That's really my process.

And today, when you're writing with so many new people who you never met before it's a very scary thing because you walk into a room and sometimes these people know your reputation and expect certain things of you and you just don't come equipped with the goods every time. You have to be in a place where you feel inspired and when you're stressed and feeling nervous you may not produce.

I've been writing with many different people lately from out of the country and I can remember being in a room and for the first hour or so nothing is coming out and the voice in my head is saying "Oh, my God I can't believe this, how am I going to get through this?" I'd walk into the bathroom and talk to myself. The truth is you don't always get something and you just have to accept the fact that you might not get anything and that's just the way it is.

Then someone says why don't we take a break or go to lunch or why don't we try a different approach and generally we break through. But there have been many times in the last year or two that have taken a good hour or two before anything came out and I was sitting there dying. And not everything you write is a great song. You just have to do your best and accept that you won't have that magic with everyone.

Are you now writing lyrics and music?
I give my input musically, but I don't sit at a keyboard. Jud does that. I started out mostly as a lyricist but I sat at the piano and I used to write music as well as lyrics early on. When I first moved to L.A. and was still a singer I was asked to write music and lyrics for a TV show and record it. I had to do it very quickly so I had a friend play piano on the recording. I played badly and hadn't put my finger on a piano in so many years that I didn't even know where to begin. I spent hours playing broken chords just trying to find my own way around the chords. So we had to do it fast.

I put my own vocal on it and it made the TV show and it was played over the end titles of the episode. After it played the network got like 20,000 phone calls inquiring where the record could be bought and it was unfortunate that my publishing company didn't jump on it as quickly as they could have because my life could have changed then. But if they didn't jump on it, I guess I should have.

The show was Cagney and Lacy. It was an episode where Sharon Gless is signing her divorce papers and was lying on a couch and was very sad because she probably still loves her husband and she gets the courage and signs the paper. And she lays on the couch very sad and nothing is going on except me and my song and they played the whole two minutes of my song "Love is Forever" that I wrote the lyrics and music for and sang the vocals on.

It was a great moment, I'm sorry I didn't capitalise on it like I could have. At the network the phones rang off the hook.

How did you get the song get in there?
My publisher at MCA called and asked me to write it. It had to be done within a day or two. I said I wasn't a machine, but if I got inspired I would send them something. I laid in bed and wrote the song in my dreams. Really. I got up early in the morning, wrote down the lyric I thought of while I was sleeping, sat at the piano and wrote a melody and called my friend to help me put a piano and a string line down and that's all there was.

And then I went and did the vocal out of necessity because it had to be done soon and within 3 or 4 days they told me they loved it and were putting it in at the end. They were looking for the theme song for the show at the time and Carole King had done 3 rewrites on her song and just in case it didn't work out they were looking for other songs.

They ended up using the Carole King song but they loved my song so much they put it at the end of scene. So to sum up, the publisher got a call saying they were looking for songs for the show, they called me, I gave them the song, they sent it in, and it made the show.

That was a lucky moment for me. You don't always get many lucky moments but I've had a few of them where I felt divinely inspired, where I felt like there was a higher-power connection.

Is it hard for you to put a lyric to a melody somebody gives you?
I did a lot of that with Barry Manilow. We sat in a room and we'd write the melody and then I would always write the lyric at home by myself. I was still a shoe salesman and wrote three songs with Barry Manilow for his Manilow CD.

No one believed me when I told them I had three songs on his CD at my shoe job. And it was like a dream come true to have two of my three Barry Manilow songs released as singles.

Here's how I'd write the lyrics. I would lay in bed with my tape recorder. My energy and creativity are very much alive early in the morning so the first thing I'd do when I got up was to just play the tape over and over again. I'd have a pad on my bed and jot down my ideas.
It was like putting the pieces together to fit a jigsaw puzzle. "I'm Your Man" was a hard nut to crack but I was very excited about it. I laid in bed, listened to the melody and let my mind wander. It took a lot of time to craft it.

Barry worked with many famous lyricists like Marty Panzer, one of the biggest inspirations in my life. When I was a young songwriter I could just not get over how much Marty moved me and touched me with his lyrics. So writing with Barry was a thrill. I always felt like I was going to fail, but I somehow managed to get through it. I don't know how, but I guess it was just perseverance.

Sometimes I'd hit a wall with a lyric and some of my songwriter friends would help me get unstuck, but most of the time it was just me laying in bed and letting my mind wander.

You and Jud seem like ideal collaborators.
Many years ago I wrote a lyric and I gave it to Jud. It was called "So Help Me God." Jud didn't want to write a melody because he thought who's going to cut a song with the word God in it.

But his wife at the time was religious, and she said "Jud, I got the feeling you have to write it" and we wrote it and the legendary Ray Charles cut it. That was an amazing moment. Then there was another song I wrote called "We Will Meet Again." At the time many people I knew were dying of AIDS and I just couldn't take losing so many different friends so I wrote this whole lyric and Jud wasn't really feeling it. But I really liked it and believed in it so even though Jud's always my first choice, my Burt Bacharach as I say, I had no alternative but to offer it to somebody else.

I called the great Brenda Russell and she wrote a gorgeous melody to it and helped shape the lyric and Oleta Adams cut it.

She had just lost somebody very important in her life and it was meaningful to her. Every once in a while Jud had written a melody and asked me to write a lyric to it that maybe I wasn't feeling.

So he'd go and write with someone else and it was fantastic. But that's very far and few between for us. Jud wishes I would write more lyrics but I haven't written a full lyric in quite a while now. I write pieces of lyrics and bring them in. Like we just wrote two or three songs to pieces of titles that I've had for years. And Jud has great titles too. Not only does he come up with great melodies but he has great ideas lyrically.

It's funny how you call Jud your Burt Bacharach. Have you ever met Burt Bacharach?
We were introduced after The Bodyguard. At that point I think Jud and I were kind of in demand. People were saying we were the new hot young songwriters because of all the attention the movie got.

So in the wake of The Bodyguard success Jud wrote a song with Carol Bayer Sager and I wrote a song with Burt Bacharach. We each wrote one song. Burt invited me to come down to Santa Monica to his place by the beach. I think Burt and Carol were separated or getting a divorce at the time so they were each in separate places. It was very funny that Jud was writing with Carol and I was writing with Burt and I went to Burt's place scared like I don't think I've ever been scared because he's…Burt Bacharach!

And I came prepared with all these ideas and titles. Everything I threw out he didn't like. I remember this voice in my head saying "If you don't come up with something quick your ass is out of here!" So, in a last-ditch attempt I said to him "Burt, why don't you sit at the piano. Maybe something you play will inspire me." And he started playing something and I threw out this title and he said "Oh, I like that title."

I thought to myself I was almost out the door and had I not thought quick on my feet I definitely would've been out the door. And so we ended up writing this lovely song together.

And it is a moment I will always treasure. I wish the song would have been recorded because I would've loved to have my name on a CD with his. But no one can ever take away that I wrote a song with Burt Bacharach.

And you had a song recorded by Barbra Streisand. That must have been a thrill.
My dear friends and collaborators, Marsha Malamet and Dorothy Sea Gazely, co-wrote this song with me called "Lessons to Be Learned" for Barbra Streisand for her inspirational album. It was on hold for five years.

Barbra wanted a line change and we wrote several different lines for her. She ended up doing the original. One of the great moments of my life was being introduced to her at the Oscars the year I was nominated and then having the opportunity to introduce her to my Jewish mother, who I took to the Oscars with my Dad. That was so special.

What advice do you have for aspiring songwriters today?
Become as self-sufficient as possible. If you can learn to use recording equipment and produce tracks and learn an instrument while still writing songs and lyrics and be really good at it all, you will be ahead of the game. Or attach yourself to a writer or producer who "gets" you, and who complements your strengths and weaknesses. And you must be extremely proactive, and be a detective.

Any final words?
Since Songwriter is published in Ireland, I want to say that a dear friend and song collaborator, Alan Roy Scott, who founded "Music Bridges," a non-profit organisation that brings American writers together with other writers around the world and then does a charity concert to raise money for that country, brought a group of well-known American writers to work with Ireland's top writers several years ago in beautiful Killarney.

I was lucky enough to be there. We spent several days writing the songs and then we did a charity concert in Dublin and sang all the songs we wrote. The Irish writers were so unbelievable. It was an honour to work with them.

Some of them were Kieran Goss, Eleanor McEvoy, Garret Wall, Liam Riley, and so many others I am leaving out. I will always treasure Ireland and the friends I made there.

Copyright Songwriter Magazine, International Songwriters Association & Harvey Rachlin: All Rights Reserved
ISA • International Songwriters Association (1967)
internationalsongwriters@gmail.com