Introduction by Jim Liddane
When it comes to legends, Sonny Curtis has done it all.

He frequently swapped guitar licks with one of rock and roll's founding fathers - toured with many of country music's biggest names - wrote some of the most enduring rock and country anthems - played session on more records than most of us have had hot dinners - composed and performed many of the jingles you hear every day on radio and TV (not to mention two award-winning TV themes) - and in between all that, still managed to carve out a career as a country music performer, scoring more than a dozen country hits.

As I said, Sonny has done it all. And he is still doing it!

I interviewed Sonny Curtis for the International Songwriters Association's publication "Songwriter Magazine".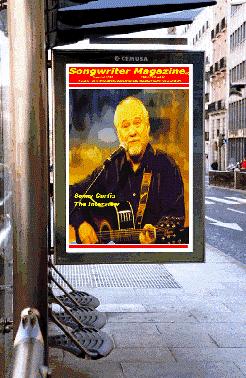 Where, when and how did it all start for you?
Well, I was born in 1937 in Meadow, which is a small farming community about thirty miles south-west of Lubbock, Texas. I guess it had a population of about four hundred people then. My dad was a cotton farmer and I went to school in Meadow.

I took up guitar when I was about seven I guess. My aunt actually had a guitar - she came from a real musical family - as a matter of fact her brothers were the Mayfield Brothers, and they played bluegrass, while one of them, my uncle, Ed Mayfield had played guitar with Bill Monroe & His Bluegrass Boys.

He was a tremendous influence on me, and it was his sister (married to my Dad's brother). who taught me how to play "Little Brown Jug" and all that.

Actually, I was so small when I started that I could only play on the top four strings. Anyway, soon after, my Dad bought a couple of cheap guitars for my older brother and sister, but they let them lay out in the rain, and so I learned on those!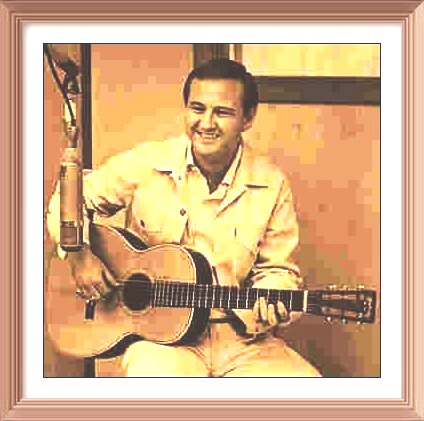 Sonny Curtis 1958

How soon after you entered High School in 1950 did you start playing in public?
Well my two older brothers were playing regularly. Of course, we didn't have any formal music training in school - but all three of us played locally, mainly bluegrass music. Actually, when I was about twelve, we even had our own radio show up in Lubbock on Dave Stone's Jamboree.

We played at every opportunity - I guess there wasn't all that much else to do out in Meadow, so I got pretty sharp on guitar. Then when I was a freshman in High School, I won a talent contest in Brownfield, which boosted my confidence quite a lot. Funny thing is - I was their very first winner, and they are still holding that contest!

Later on, I won the Texas FFA Talent Contest, but from the time I won the Lions Club talent contest in Brownfield, I had been seriously considering a career in music - and of course, that mean becoming a big country music star!

When did you meet Buddy Holly?
I met Buddy Holly and Bob Montgomery and Jerry Allison when I was about fifteen. Buddy and Bob played guitar of course, and Jerry played drums - he was even then a great drummer, and we all started playing together soon after. That was prior of course to rock and roll, so we all played mainly country music.

When you left school in 1955, what were your plans?
Well, I was still playing with Buddy and J.I., but I had a couple of jobs on the side, including working at a music store in Lubbock, selling guitars and giving guitar lessons, and one of the guys working with me was Sammy Hodge, who was a steel guitarist who had played with Slim Whitman.

Anyway, one day, Sammy introduced me to Slim Whitman, who was looking for a guitar player for a tour, so I went on the road with him.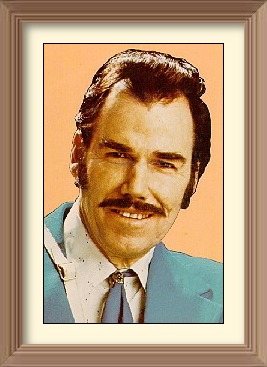 Slim Whitman
Were you writing songs at this time?
Yeah, but I wasn't real serious about it. A lot of the early songs I wrote were done out on the farm, driving the tractor. When you're doing that, you get plenty of time to think long deep thoughts and so I used to make up these songs while I was working.

Nothing much came of those early efforts - I was really more interested in playing and singing other peoples' music, and mainly country music at that. Remember, in those days, very few big country stars wrote their own songs, and after all, I was working on becoming a big country star!

So how did you get introduced to rock and roll?
Well I was playing with Buddy and Jerry (or J.I. as we called him), when Elvis Presley came into Lubbock and we all just fell in love with Elvis, especially Buddy - he was really just blown away, and we switched right over and started playing his music.

Our bass player at the time, Don Guess, could play that Bill Black style real well and I was a big Chet Atkins fan, so I had his style down pretty well, and as you know, Scotty Moore's style was a little like Chet's so I adapted very easily to Scotty's style. So we just turned into Elvis clones overnight, and we started drawing huge crowds, not just in Lubbock, but also in Amarillo, Dallas, and over in New Mexico.

So when Buddy got that deal to record some sides for Decca, I decided to try my hand at writing a rock and roll song, and that song was "Rock Around With Ollie Vee". Actually, Ollie Vee was a real person, she was a black lady that lived out on my Dad's farm - she was married to Willie Robinson who was a farm hand that helped out my Dad - and I used her name for the song.

That song was recorded on the second Nashville session that Buddy did, but the track was not released as a single, although many feel it was the best song recorded in Nashville. Why not?
Well, Decca first released "Blue Days Black Nights" as a single, I think Ben Hall had written that one, and when that didn't do too well, I think they just shelved the rest of the stuff.

Of course, the song has been recorded by Shakin' Stevens I think, and the Stray Cats, and of course, years later by the Crickets, and although it has never been a real big hit, it has been a real good money-earner for me.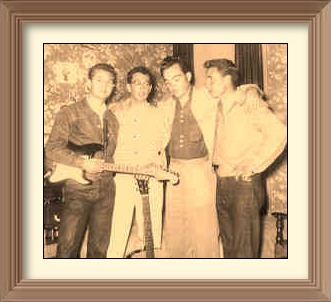 Sonny Curtis, Buddy Holly, Don Guess & Dean Curtis 1955
When the Decca deal fell through, what did you do next next?
Well Buddy had great faith in the future, but I honestly felt we weren't really going anywhere, and so when I got an offer to move up to Nashville and join the band of the Phillip Morris Roadshow which took stars like Carl Smith, Red Sovine and Goldie Hill on tour, I took it.

Around that time, you wrote a song which got into the Top 10 on the country charts - "Someday" by Webb Pierce. Was that your first chart record?
Yes - that was released by Webb Pierce in March 1957, but I hadn't written it for him, or indeed for anybody else - I had actually written it for myself, and I'll tell you how I came to write it. You see, I was really very naive in those days - I really was. Hank Snow was due to do a concert in Lubbock, and Dave Stone who used to book these shows, would use local talent to fill in.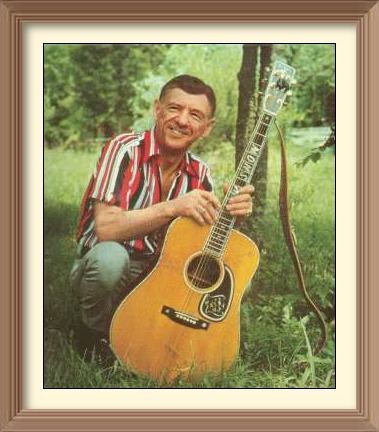 Hank Snow

You got on the show?
I opened for Hank Snow, and I was so dumb that when I got up on stage, I sang every one of Hank Snow's hits - thinking that this would really make an impression on Hank! Well it sure did - but for the wrong reasons! Anyway, Hank's road manager, Eddie Crandall was very nice about it, but he got me over to the side and said - "Look I know you do not realise what you've done but that was not a cool thing to do. If you want to make it on your own, you need your own songs. You've either got to write them, or find somebody around Lubbock to write songs for you".

So I took that to heart and I must have spent months looking for people that wrote songs and I finally gave up and decided I'd just have to do it myself. So I sat down and wrote four songs, and one of those songs was "Someday".

Anyway, I put them on a demo below in Nesman Studios in Wichita Falls - actually, the steel player on those demos was Weldon Myrick - and then I sent one demo to Autry Inman, and he started playing it around. I already had a deal with Cedarwood Music which had come through Wayne Walker whom I had met on an Elvis gig, so I sent him a demo as well. And I think I sent a demo to Eddie Crandall too. Of course, I wasn't really trying to sell the songs as songs - I was looking for a recording deal for myself. Anyway, although I didn't know anything about it, it seems that three or four singers were fighting over this one song "Someday", and eventually Webb Pierce recorded it.

It was a real fortunate break for me, although I have to tell you that Webb Pierce put down his own name on the song as well, so he ended up getting 50% of my royalties for recording it! I guess that was the way the business worked in those days, but it was a very early lesson for me!


Webb Pierce
That went US Country Top Ten. Did you make much out of it?
Not really - not enough to get by on, although I suppose if I had got the full royalties, it would have been. Of course, for me it was pretty nice, because I wasn't earning much anyway. Then, Norman Petty got me signed up with BMI, which may have been about the only good thing he ever did for me - but he did it, and I remember him for it.

You know, up to then, I thought BMI was a club for songwriters (you can see how dumb I was back in those days), but one day I got a cheque in my mailbox for $250, and I said to myself - "What in the world is this?" Anyway, although I didn't earn a fortune from that song, I was able to pay off a few debts, and I even bought myself a car - an old beat-up used car admittedly, but still a car!

Now while that song was on the Nashville charts, and while Buddy and J.I. were planning their next move, you offed and went to Colorado Springs. Why?
$110 dollars a week I think! Buddy and J.I. were playing around Lubbock waiting for something to happen, when I got this call from a guy who had a club in Colorado Springs, and to tell you the truth, when I heard the money on offer, I jumped at it.

This meant of course that I was off up in Colorado Springs while Buddy and J.I. were going up to Norman Petty's studio in Clovis and recording all their new stuff, and it was while I was away that Buddy and Jerry put out "That'll Be The Day" under the name of the Crickets, along with Joe B. Mauldin on bass and Niki Sullivan on guitar, and next thing was - it was Number 1 all over the place.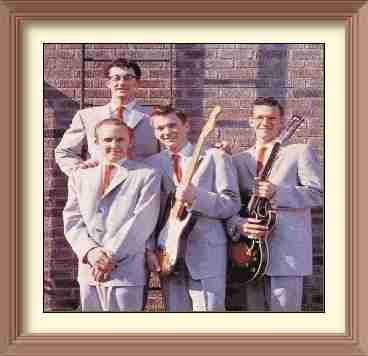 The Crickets 1957 New York City: Pictured from left:
Buddy Holly, Joe B Mauldin, Jerry Allison & Niki Sullivan
How did you feel about missing out on the Crickets?
Well, speaking candidly about it, I have to admit that I had mixed feelings. I remember I was in a radio station one day looking at a Billboard magazine, and there was this big picture of my old friends - and I felt real good for them because they were my friends - but to tell the truth, I did have a sort of let-down feeling too. You know what I mean - the train has left the station and I'm not on it sort of feeling!


The Crickets First LP 1958: Pictured from left:
Niki Sullivan, Jerry Allison, Buddy Holly & Joe B Mauldin

Is that why you went to California?
Not really. Pappy Anderson, who had worked with Hank Williams, suggested I take some of my songs out to Mac Wiseman who was head of A&R at Dot Records in Los Angeles. My sister was living in Long Beach, so I had somewhere to stay, so I went. Actually, Mac Wiseman didn't really want to see me at all, but I went down on my knees and begged, telling them that I had driven 1500 miles to get there, and so eventually, they gave in and he listened to the songs.

But after all the effort - he said no anyway, so I went back home to Lubbock for Christmas 1957. But when I got there, I learned that Niki Sullivan had decided to leave the Crickets, and next thing, Norman Petty was on the phone asking me to drive over to Clovis to talk about joining them.

So I drove straight to Clovis but when I got there, I just sat around waiting for hours before they finally showed. They were big stars by now of course - I remember Buddy had this pink Cadillac, while I had this beat-up 1951 Pontiac - and the Crickets went upstairs to have a meeting with Norman, while Niki and myself sat downstairs waiting. Eventually Norman came down and said that the Crickets had decided not to replace Niki after all. So I missed the train for the second time!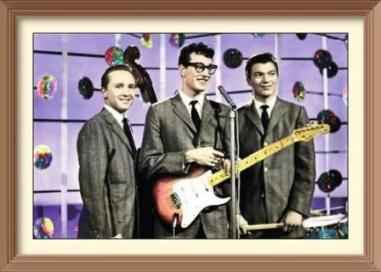 The Crickets Revamped Lineup 1958

During 1958, while the Crickets and Buddy Holly scored hits like "Peggy Sue", "Rave On", "Oh Boy", "Think It Over" and "Maybe Baby", you were signing with Dot Records in New York. How did that happen?
Well Terry Noland, who was over in Clovis at the Petty studios, knew a lot of people in New York, people like Murray Deutch for example, and he sent some of my stuff up to them.

I think that in those days, they had this idea in New York that anything from West Texas was solid gold, so they brought me up to New York and I had my first real recording session. Of course, a lot of the charm of West Texas music was doing it yourself - but they put me with this New York studio orchestra, and the result was really bland.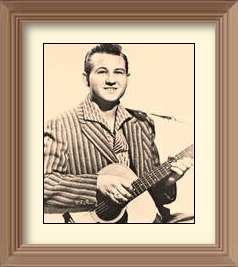 Sonny Curtis: Early Publicity Photo

To be honest, when I listen to those sessions nowadays, which I rarely do, they're sort of painful! Anyway, a couple of singles came out, "Wrong Again" and "Pretty Girls", but nothing charted for me. I also recorded a single over in Clovis, "Red Headed Stranger", which came out on Coral, but that also failed to make it.


Then, after all that, you finally ended up in the Crickets anyway!
Well, basically, the Crickets split just a year after "That'll Be The Day" hit. There were a few reasons I guess. Joe B always says it was because everybody got married, which is probably a bit true! But also, Buddy didn't much like the deal they had with Norman Petty and he thought they'd do better in New York.

He asked J.I. and Joe B. to come along with him but at the end of the day, they didn't want to move. So Buddy went off to New York as Buddy Holly, and the boys stayed on in Texas and with Norman Petty, as the Crickets. At that point, they called me up to join the group and at the same time, Earl Sinks from Amarillo who sort of sounded like Buddy, joined as lead vocalist.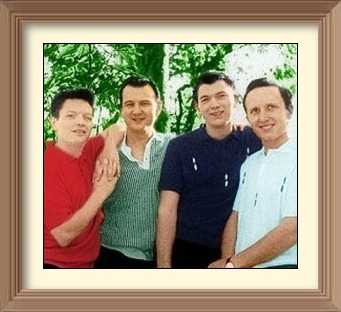 The Crickets 1958 after the split: Pictured from left:
Earl Sinks, Sonny Curtis, Jerry Allison, Joe B Mauldin

After five hits in a row, the Crickets released "Love's Made A Fool Of You" as their first single without Buddy Holly and that flopped in the US, although it made the Top 20 in the UK. What happened?
I don't know. Obviously the fact that Buddy was not with us, made a difference to the sound.

Secondly, although I was starting to write songs again, we didn't have anything ready for a single so we picked a song that Norman recommended - "Love's Made A Fool Of You" which was actually a Buddy Holly song (he had co-written it with Bob Montgomery), but one he hadn't released. However, he had done a nice recording of it with Bob but their version had a Bo Diddley beat on it, and since we didn't want to be copying their arrangement, we dropped the Bo Diddley beat without really putting anything as good in its place.

Actually, the other side - "Someone Someone" - [later a hit for Brian Poole] was a better track really I think.

For a period, the Crickets seemed to be rudderless.
That's not a bad description of things. For example, the album that came out after Buddy died, ["In Style With The Crickets"] had a lot of good songs on it, but it was recorded all over the place - some of it in Clovis, some in New York, some in Los Angeles, and I think it really lacked any sense of direction.

As musicians, we knew what to do - we just didn't know how to make it interesting, and the engineers and producers just didn't seem to know either. or else they just didn't seem to care too much.


The Crickets Second LP 1959: Pictured from left:
Joe B Mauldin, Jerry Allison and Sonny Curtis


Which brings me to the question of Norman Petty. Does it not mean that for all the criticisms levelled at him - the man was a visionary?
Well, let's say that Norman Petty was a very clever person. I would even be willing to say that he was a visionary. After all, he set up in Clovis, New Mexico, which is a nice place admittedly, but who would have thought that somebody from there would make it big in the music industry?

I would also say that it's easy to knock a guy when he's no longer around, and recording-wise, he did know how to get a good sound, especially given the equipment they had in those days. That's where he really shone in my opinion - getting a good sound.

But you know, all the early hits, "That'll Be The Day", "Oh Boy" and "Maybe Baby" were purely the Crickets, and Norman had very little say in the way they were performed, and they were huge. Funnily enough, when Norman got more control over the group, I thought the records began to suffer!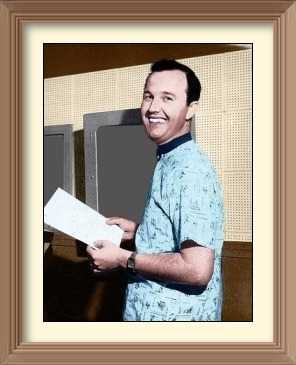 Norman Petty
For example, "Think It Over" was a great song, but Norman insisted on adding in that terrible piano solo in the middle and frankly I think that ruined it. OK - I see his point - it was probably very nice for Vi Petty to be on a Crickets single, but it had nothing to do with the song and nothing to do with the sound of the Crickets.

Buddy Holly died in February 1959 - where were you at that time?
Actually, all of us were in Lubbock the evening Buddy was killed. He had gone back on the road in January 1959, for the first time since the split, but the Crickets hadn't gone on tour since he had moved to New York.

We were doing the odd gig, but basically, we were trying to get the new album together since Coral were looking for product. However by now we too were having problems with Norman Petty - in fact, the night Buddy died (February 2nd/3rd), we had just driven back from Clovis, and we were sitting around in Jerry Allison's mom's kitchen, and J.I. was trying to reach Buddy by phone.

Our relations right then with Norman were real bad - my own relations with Norman were terrible - I don't think he liked me too much, and I guess I didn't like him very much either. Anyway, it didn't happen, we couldn't reach Buddy, and next morning, we heard that he had been killed in that air-crash with Ritchie Valens and the Big Bopper.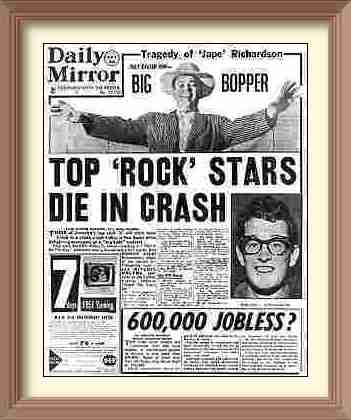 London's 'Daily Mirror' 4th February 1959
What happened next?
Well, we stayed for Buddy's funeral, but right after the funeral, we went to New York. I guess we just wanted to get away from Lubbock. There, we met up with the "other" Crickets - Waylon Jennings and Carl Bunch and Tommy Allsup, the musicians who had accompanied Buddy on that last tour.

We also met Ronnie Self, who had gone in as lead singer after Buddy died so that these "other" Crickets could complete the tour.

And then the strangest thing happened. The tour organiser Irving Feld held a meeting with both sets of Crickets in his office, and at the end of it, the compromise was that I was out again, on my way back to Lubbock in J.I.'s car, along with Waylon, Ronnie and Carl! Meanwhile J.I., Joe B. Earl Sinks and Tommy Allsup were the new Crickets!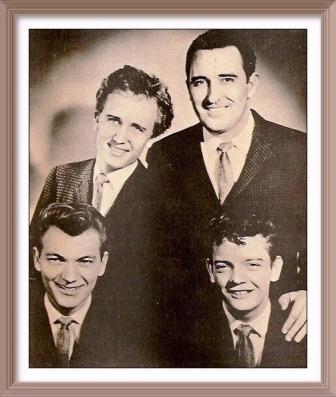 The Crickets March 1959.
Jerry Allison, Earl Sinks, Joe Mauldin & Tommy Allsupp

This must have come as a bit of a surprise to you?
Yeah, sure did, but as it happened, a few weeks later, J.I. called me and invited me to go back into the group, and that was the line-up from then on.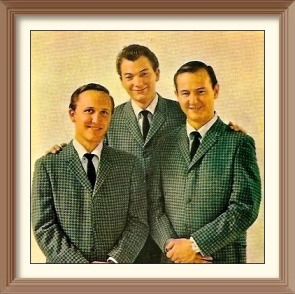 The Crickets April 1959.
Joe Mauldin, Jerry Allison & Sonny Curtis

Did the Crickets take on new management after your split with Norman Petty?
No we didn't. Things were a bit eerie - we were in a sort of black mood, and even though we were bookable, it was only a few month's after Buddy's death, and we were not really ready to go back on the road.

And as we were not touring we probably felt we didn't need a manager immediately, but looking back on it now, we didn't really know enough about the business to effectively manage ourselves, and particularly to promote ourselves. And anyway, we were not too sure if we were going to be the Crickets, or change our name, or whatever.

Were you writing?
Yeah - we were working on the album around then, so I was quite busy writing. I wrote "I Fought The Law" and "A Sweet Love", which we recorded in New York in May, and then J.I. and I wrote "When You Ask About Love", and "Deborah", which we also did in New York. Then when me moved down to Los Angeles to record, I wrote "Baby My Heart" and J.I. and I wrote "More Than I Can Say", all of which ended on the album. It was quite a productive period for me as a writer really.

Now just as the album came out, you arrived in Britain in April 1960, along with the Everly Brothers. How did this come about?
Well, I knew Don and Phil myself, but not that well, whereas J.I. and Joe B. knew them from way back. Actually, on one tour in Florida, the Everlies had trouble with a backup band, so the Crickets had backed them for a few dates, and apparently the two boys loved it, so when they were going to England in 1960, they phoned J.I. and suggested that he and Joe B. should come along too. And good old J.I. said - "Well we'll consider it, but you've got to include Sonny also, as he's with us now". And so that's how we all ended up in England in 1960.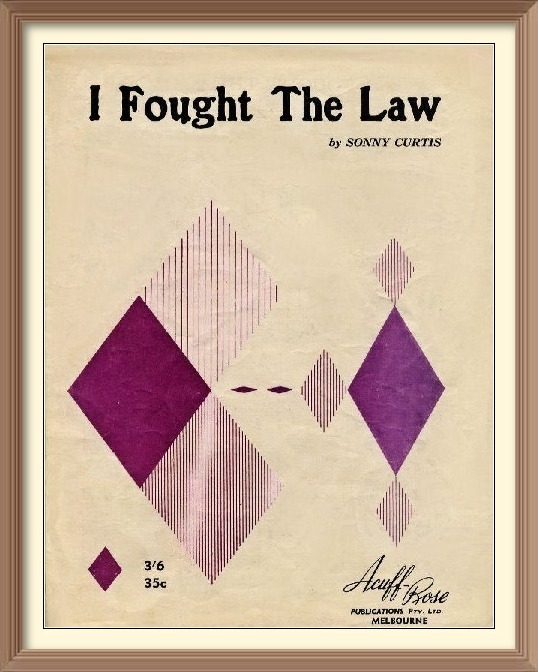 UK Sheet Music for 'I Fought The Law'
While you were in England, the Crickets single "When You Ask About Love", charted. Of course that song also went Top 5 for Matchbox twenty years later, in 1980.
Well finding songs to record was always a problem in those days and J.I. and I had started to write songs simply to fill the gap as it were and we wrote that particular song one evening over at the Peggy Sue Garron's house in Lubbock. I think they were eating supper or something, and J.I and myself took a guitar into one of the bedrooms and wrote it in about an hour, I guess.

That song had a particularly catchy guitar solo in the middle. How difficult was that solo to record?
Well, I remember recording the song in New York, and I played rhythm behind Earl who was doing the vocals, then switched to the solo which I had worked out that same morning, and then back to playing behind Earl again, and I guess we did that song in one or two takes. It didn't seem difficult then! Funny thing is, a few years ago, I was asked to do it again on a new Crickets album, and you know, it was real hard!

After that 1960 tour, you ended up being drafted into the US Army.
Well, after England, we came back home first, because we were supposed to go on to Australia for about ten days. Now before I had left for England, I had gotten a notice from the Draft Board saying "If you leave the country, be sure and tell us", but in the excitement of making the trip, I had forgotten all about that!

Anyway, in those days, you didn't phone home from somewhere like England all that much, but of course, when I got back to New York, I phoned my folks to tell them I was back, and my mother said You better get down to the Draft Board real fast - they're looking for you"! So Joe B. and I flew to Lubbock, and the lady there was real nice about it, she let me go to Australia. But at the end of the tour, I had to report to the Army, and I was gone for two years - seventeen months of that time in France.

Now while you were in France, "Walk Right Back" was recorded by the Everly Brothers, and went on to be Number 1 almost everywhere in the world. How did that come about?
Well I wrote most of that one Sunday afternoon, while I was doing my basic training in California, just after I went in the army, although I had the guitar riff for a while. And then Lady Luck stepped in. I never was much for guns, and still am not really into them, but out of 250 men in our unit in basic training, six of us fired expert, and I was one of the six!

Anyway, for firing expert, they gave me a three-day pass, and I went straight down to Hollywood, and the Crickets were there, and so were Don and Phil, who were doing some acting classes for movies - they had just signed for Warner Brothers. So J.I. told me to sing the song for Don - actually I had only one verse written - and Don called Phil down, and they worked out a gorgeous harmony part.

So they said, "If you write another verse. we'll record it".

Anyway, I went back to base, and wrote a second verse, and put it in the mail to them, and next morning, I got a letter from J.I. to tell me that the Everlies had already recorded the song before they got my letter - they had simply recorded the first verse twice! And that's the version that was released, and that's the version that was the hit!

The joke is that Perry Como and Andy Williams and a whole bunch of others including myself, recorded the song with the second verse included, but when Anne Murray did it in 1978, she just did the same as the Everlies, just the one verse - and that was a big hit all over again - so maybe the second verse was never meant to be!


The Everly Brothers LP 'Walk Right Back' 1960
"Walk Right Back" was one of the biggest-selling songs of 1961. How did it feel to finally make it?
Well you know, it's hard to describe, it's almost like hoeing a field of cotton - you work and work and it's so hot out there, and you're tired, and that field looks so big, and then, suddenly you notice it's cooler, and next thing, you've it finished, and you think "Wow - I did it!".

You know, I had been chasing the dream for so long, and through a lot of disappointments, and it was really nice to see it all work out.

And of course, there were the other things too. For example, when I had gone into the army, I had owed by brother perhaps a thousand dollars, but now, when I came out, I had this bank account in Los Angeles, and the money was just rolling in, and all of a sudden, I had some breathing room.

Then again, when I had gone to France, nobody had noticed, but now that I getting out, everbody seemed concerned about me. I was getting phone calls to the base in France from music publishers in the US asking me what my plans for the future were - it sure was a different scene!

While you were in the Army, the Crickets had a UK hit with another of your songs, "More Than I Can Say", which was covered in the US by Bobby Vee. Had you sent it to Bobby yourself?
No. Of course, we had known Snuff Garrett back in Lubbock, and when he moved to Los Angeles in 1960, he had stayed in an apartment with J.I. and myself, and Trini Lopez. Soon after, he became an A&R man at Liberty Records in Los Angeles, and he had actually signed the Crickets to Liberty while I was in the army.

Now he also handled Bobby Vee, who was really big at the time, with songs like "Devil Or Angel" and "Rubber Ball", and Snuff had always liked "More Than I Can Say". I remember that when J.I. and myself played on Eddie Cochran's last Liberty recording session in 1960 before he died, Snuff had thought of getting Eddie to do that song, but of course that never happened.

However, Snuff always kept the song in mind, and Bobby liked the song too. They did a great record of it - I really do like their version.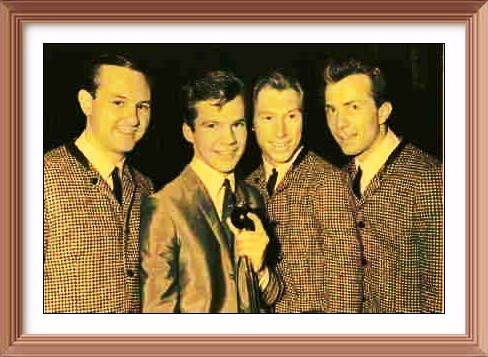 Sonny Curtis, Bobby Vee, Glen D Hardin & Jerry Naylor
Pictured in London 1962
That song, "More Than I Can Say" had a real great hook - the "wo wo - yay yay" part.
Well you know, that was not quite intentional. J.I. and myself wrote that song in an hour or so, and we just didn't have words for that section, so we just sang "Wo wo, yay yay/ Love you more than I can say", and kept saying "We'll put something in there instead of 'wo-wo yay-yay'" not realising that we already had ourselves a real nice hook!

Luckily we never found anything to put in there, and by the time we made it to the studio, we said - "oh heck, just leave it". I've been glad ever since that we were not smart enough to think up of some lyrics to fill that!


Now, just like "When I Ask About Love", twenty years or so went by and then Leo Sayer revived "More Than I Can Say" selling another million copies of the song.
Talk about luck. The story I was told - I don't know how true it is - was that when they were down to the last track for the album, and they were working on picking that final song, Leo Sayer was in his hotel room, watching television, and on came this K-Tel commercial and he said - "Wow, I always wanted to do that song". And he did!

When you came out of the army, did you go straight back into the Crickets?
Well, almost! An old army buddy and I had got mustered out together, and the two of us landed in New York intending to hang around for four or five days and kind of recuperate, if you know what I mean!

So the first thing we did was go down to a liquor store and buy a couple of bottles of vodka, and we were just getting used to the idea of being civilians again when the phone rang and there was J.I. from Los Angeles saying "Get out here right now - we've an album to record for Liberty Records".

So I got on a plane and when I landed, J.I. and Peggy Sue were there to meet me, and welcome me back into the real world! It was a different world too - Joe B had quit and gone back to Texas, and we had a new singer, Jerry Naylor, and a piano player - Glen D. Hardin!


The Crickets 1964: Jerry Naylor, Glen D Hardin,
Sonny Curtis and Jerry Allison
The Crickets did get back in the US Top 10 in 1962 with the "Bobby Vee Meets The Crickets" album, but the subsequent singles from the new Crickets album "Something Old, Something New, Something Blue, Something Else", great songs like "Don't Ever Change"and "My Little Girl", didn't do too much in the US.
Well, "Don't Ever Change" was a tremendous record, and it was a Goffin-King song, but in America, it didn't really mean much even though as you say, the Vee/Crickets album was doing well. "My Little Girl" was a song I had written which was probably more in the old Crickets style than much of what we had recorded since 1960.

What happened is that Tommy Roe had just had this massive hit "Sheila" which had a "Peggy Sue" feel to it, and was a very good song indeed, and we were listening to this and saying "Hum - that's our old sound and look how well he's doing!" so I came up with "My Little Girl", which took us back to our roots as it were.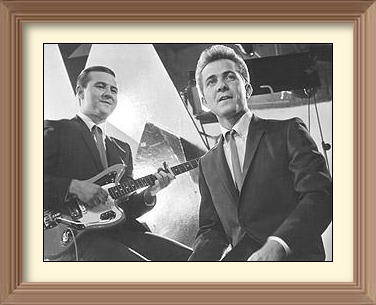 Sony Curtis and Jerry Naylor
From the movie 'Just For Fun' 1963

Now at this time, you also started recording as a solo artist for Dimension Records.
Well I had this agreement with the Crickets that I could pursue a solo career on my own as well as working with the band. Now, I was living in the Sycamore Riviera Apartments in Hollywood, and down the hall was Lou Adler who owned Dimension, and we got friendly.

Anyway I had written a couple of songs, one was "So Used To Loving You" and J.I. and I had done one called "The Last Song I'm Ever Going To Sing" and Lou got me to record them as singles for Dimension. By now of course, the Beatles were making it big in the USA, and one day Lou said to me - "why don't you write a song about the Beatles?" Now, I had heard the Beatles in 1962 when we were doing the Bobby Vee Meets The Crickets tour of the UK, and I had fallen in love with them from day one.

So when I got back to Los Angeles, I went down to Liberty and looked through all the singles that had come in from Parlophone in London, picked out the Beatles ones and took them home to listen to them. I really loved those records. Anyway, Lou wanted a song about the Beatles, so he put me in this little room down at Screen-Gems, and I'd write some, and then he'd come by and he'd add his two cents, and the end result was "A Beatle I Wanna Be".

The joke was that the whole Beatles thing was so new that when Dimension pressed the record, they spelled the name wrong - they spelled it as "Beetle". Anyway, the single came out - I was sort of embarrassed by it at the time, but it was just a fun record really.

Your next really big hit was the Andy Williams version of "A Fool Never Learns".
The Crickets had a manager by this time, Danny Whitman, and he got that song to Andy Williams manager, Allan Bernard, and because Andy needed something real commercial to go on the flip side of "Charade", which was from the Cary Grant film, he went for the song. And as it turned out, that was the one that made the top. Actually, I think it was a real good version of that song.

Now, that year, you also recorded for Imperial an instrumental album - "Beatles Hits Flamenco Style", which contained just one track written by you - "Ringo's Theme".
Well I'll tell you how that came about. Snuff Garrett was going through a divorce at the time, and I wasn't married - like I didn't get married until I was 31 years old and it seemed like everybody that got a divorce, I was their best friend!

So Snuff and I did some serious hanging out and we were in my apartment one night and I was picking out this version of "She Loves You". Next thing I know, Snuff is talking about doing an album of Beatles tunes, and he's on the phone booking studio time for the following day! Well of course, I'm trying to explain that I need time to do arrangements but Snuff wants to hear none of that, and so, two days later, we're recording!

Next thing I know. I have an album out on Imperial titled "Beatle Hits Flamenco Style" and of course, it's not quite flamenco style at all - more finger-picking style really. Don't get me wrong - I'm not ashamed of the album, but I really wish I had gotten more time to do some proper arrangements, but then Snuff was a businessman - a real nice guy - but primarily a businessman, and a lot of times he could be a little bit insensitive to the creative process!


Sonny Curtis LP 'Beatles Flamenco Style'
Around about this time, you went back on the road with the Everly Brothers. Did that mean leaving the Crickets?
Not really. J.I also got a divorce from Peggy Sue, and he went back to Texas for a while, so the Crickets were not really active so I went back with the Everlies for about two years I think. I was also doing a lot of session work, and that was very helpful because I learned a lot about the recording process when I was doing session work.

Then the Bobby Fuller Four did "I Fought The Law", which sold a million copies in the US. How did you meet him?
Well, Bobby came from El Paso, Texas, but I didn't actually know him. I guess he must have picked the song up from the "In Style" album. I only met him once - he called me to come down to a recording session they were doing in Los Angeles, and they were extremely nice people, and very talented.

His death was terrible - very mysterious, and a really sad loss. He had a follow-up hit, which by coincidence was "Love's Made A Fool Of You", and that too was quite close to our own 1960 arrangement, but Bobby's versions were so much better produced. I liked his stuff. Of course "I Fought The Law" has turned out to be my most lucrative copyright to date.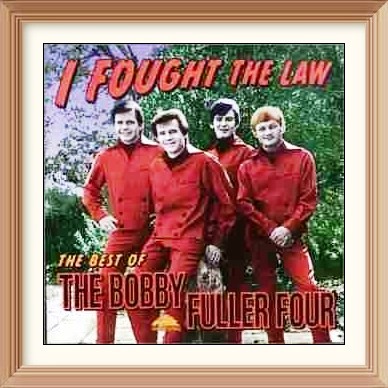 Bobby Fuller 4 'I Fought The Law' LP
There have been lots of versions...one by Hank Williams Jr, which I think is actually my favourite version of it...one by Johnny Rodriguez...another by Roy Orbison, one by Kris Kristofferson...the Nitty Gritty Dirt Band did it...Sam Neely has a version...the Clash did it of course!

Now that same year, you signed with Viva Records, and started on a string of solo country hits .
Viva was Snuff's label, and I was one of the first signings - I might have been the very first signing. The Shindogs did some stuff on Viva - Leon Russell did an album on Viva - but I was certainly in there at the start.

This album, "The 1st Of Sonny Curtis" was aimed at the country market, which was sort of taking you back to your roots, after the previous ten years in rock and roll.
Well it was aimed at the country market, but frankly, I have my reservations about the album. Snuff as I mentioned earlier, is a businessman, and he and I have been been good friends, but we've had our fallings-out too over the years. Now, I'm glad to say we're good friends again, but I have to be honest and say that Snuff did a few things in his time which really turned me off.

That particular album was engineered by John Cale, or J.J. Cale as he's better known, and I started the album by going into Snuff's studio and doing just basic tracks with Glen D Hardin on piano, Jim Gordon on drums, and myself on guitar. We had just started the tracks, when I had to go back home to Texas for a couple of weeks. Before I left, I put down scratch vocals over these tracks, and when I came back - Snuff had released the album - scratch vocals and everything! And that really hurt. I mean albums last forever, and they can come back to haunt you.

You see, I think Snuff signed me primarily as a songwriter, and he treated those tracks as glorified demos - but of course, several came out as singles as well - and frankly I don't much like that Viva stuff.

And yet they were hits - either for yourself or others. I think every track on that album was either a hit for you, or was covered by somebody!
Well let me see. "My Way Of Life" charted for me, and so did "I Wanna Go Bumming Around". Actually, Floyd Cramer had a cover of that as well. Then there was "Atlanta Georgia Stray" from the second album and charted for me. And then of course, "The Straight Life" was a country hit for me and it also was covered on the pop charts by Bobby Goldsboro.

I think what happened with that one is that Snuff was in Nashville and played a copy of the track for Bob Montgomery. Bob of course produced Bobby Goldsboro, so he took the track for him. Then Bing Crosby did a version of that, and Gary Lewis did one. Glen Campbell did it too - he was really big when he did it. "Gypsy Man" was done by Buddy Knox - it was the title track of one of his albums and I played on that actually, and of course J.J. Cale did that song as well.

Then another track on Viva was "Where Will The Words Come From" which I wrote with Glen D. Hardin and which was covered also by Gary Lewis and by Rosanne Cash.

You know, Glen D. and I grew up in Meadow - he's been a real great friend of mine - and of course he was in the Crickets, and he also worked with Elvis for five years or so, so it was a real pleasure writing with him. Another song I did with Glen D. at that time was "Hung Up In Your Eyes" which was a pop hit for Brian Hyland, and was later covered also by LaCosta. "Destiny's Child" was covered by Waylon Jennings. Yeah, I suppose a number of them did well, but you know, I'm still sore about that album!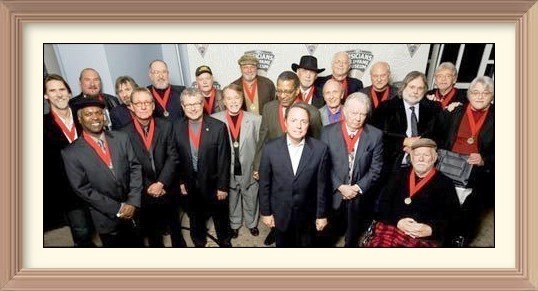 Pictured at the Musicians Hall of Fame induction ceremony
in October 2008> are (l-r): Back row: inductees Will
McFarlane, Steve Cropper, Spooner Oldham, Clayton Ivey,
Pete Carr, Jerry Allison, Duane Eddy, Jimmy Johnson,
Sonny Curtis, and Donald "Duck" Dunn;

Second row: inductees Booker T. Jones, Randy McCormick,
David Hood, Wayne Jackson, Andrew Love & Joe B. Maudlin,
Musicians Hall of Fame's Joe Chambers and inductee Roger
Hawkins; front row: BMI's Jody Williams, with inductees Billy
Sherrill and Barry Beckett. [Photo courtesy BMI]

A lot of covers! Did you actively go out to promote those songs to the people who ended up recording them?
No - not at all, I don't think I've ever written a song specifically for somebody, and I have always been very slow to promote my songs. I mean, I've never been able to go up to somebody and say "Hey man, I've just written this great song and it's just right for you". I really can't do that. Of course, you have the motel room show - you know, somebody comes to town and you all go over to the motel and sit around playing one guitar - the guitar pool as Roger Miller called it! And of course, at those sessions, somebody might pick up on something you're playing and record it, but that's about it.

Did publishers help at all?
Well I think Snuff did a real good job promoting my songs, and frankly, I've had some really good luck with publishers along the way pushing my songs, because as I say, I'm not too good at doing that myself.

After Viva, you went back to school. Why?
Well I suppose, I was at a bit of a loose end, and of course, by now I had the wherewithal to take time off and do what I wanted, and so I studied for a year at the Sherman School of Music - arranging mainly, and it was a real good time. It was also a tremendous help to me.

Was it around this time that you got into writing commercials and jingles?
Yeah, this singer friend of mine called me and said "I'm doing this jingle for this agency up in San Francisco and they want a song like 'The Straight Life' and I told them I know the guy that wrote that". Anyway, the agency sent me the material, I wrote the jingle, and for two years, I had the Olympia Beer commercial.

Then through another friend, I got into contact with Don Piestrup who was probably the busiest jingle writer on the West Coast. He was a real great jazz player, and had worked with Stan Kenton, and he really gave me a great musical education - a great man, a genius, and he has been a major influence on me. Anyway, he called me one day to do the vocals on a Lumberjack Syrup commercial, and afterwards, he asked me if I'd like to do some more. So I did, and you know, the money was so good - I had no idea until then just how much money there was in jingles. We did them for McDonalds, Yamaha, Buick, Continental Airlines, Western Airlines - we seemed to have every airline, every burger, every car - and I guess for about four years, I devoted most of my time to doing them, in between going out on the road with the Crickets.


While you were doing jingles, you also wrote the theme for the Mary Tyler Moore show, which back then, was as big a TV show as "Friends" is now. How did that come about?
One of my dear friends, Doug Gilmore, who was road manager for Roger Miller, called me one day and said that Mary Tyler Moore was readying a sitcom, and they wanted a real good song for the theme. He also said that they had a couple of writers in mind, and asked me if I would like to have a shot at trying out for it as well.

Naturally I said yes, and later that morning, he dropped off a four-page format - you know "girl from the Midwest, moves to Minneapolis, gets a job in a newsroom, can't afford her apartment etc" which gave me the flavour of what it was all about.

So I sat down there and then and wrote that song probably before any other songwriter had even started on one, and just after lunch I rang Doug Gilmore back and said "where do I send it?" and he sent me over to see James L. Brooks who of course in recent years has produced things like "As Good As It Gets" and "Terms Of Endearment".

Anyway, James L. Brooks came into this huge empty room, no furniture apart from a phone lying on the floor, and at first, I thought he was rather cold and sort of distant, and he said "We're not at the stage of picking a song yet, but I'll listen anyway". So I played the song, just me and my guitar, and next thing, he started phoning people, and the room filled up, and then he sent out for a tape recorder.

So we taped it, and then got into the negotiating process and eventually, they decided to use it. That's basically how it all happened.


Mary Tyler Moore Show

You actually released that song "Love Is All Around" on Ovation soon after, backed with a string quartet version of the Lennon/McCartney tune "Here There & Everywhere".
Well, what happened is that the tape they took off to Minneapolis was just me and a guitar, so I called Glen D. Hardin and asked him to come by and help me do a proper demo of the song. So we hired some strings, Glen D did a lovely arrangement - he really is a great arranger - and we did the demo, and I sent it on to them.

Of course when the show came out, it was a lot jazzier - but I liked that too, although I think I prefer the version used in the second series. Actually I had to re-write the lyrics then because the first season included the phrase "How will you make it on your own?" and of course, by the second season, that needed change. Anyway, Ovation picked up on the song, and wanted to release my version.

Now around that time, I was doing an assignment for the Sherman School Of Music, which involved in my case, arranging a song for a string quartet, and I had also demoed the assignment. The song I had chosen was Lennon & McCartney's "Here There And Everywhere" and that demo ended up on the flip! I think I did another single to fulfill the Ovation contract. The next record I had out was on Mercury. I got this call from Bob Montgomery saying that he had this great song which an Australian writer had done called "Rock And Roll I Gave You All The Best Years Of My Life" and he thought I ought to do it. So I flew to Nashville, we did it there.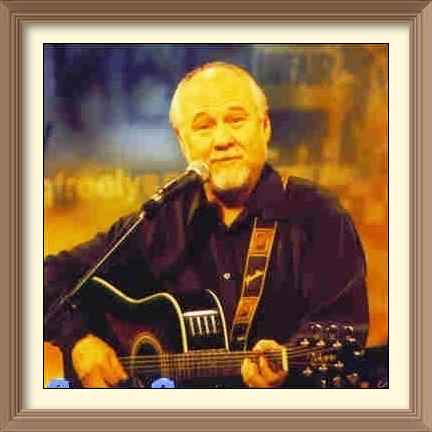 Actually, I thought it was a good record but there were a couple of versions out - mine was on Mercury, and Mac Davis had one [on Columbia], Terry Jacks did one [for Bell], and Kevin Johnson's own version came out [on Mainstream] and there were a few others also, so there was a lot of competition on that song. Then Bob Montgomery, who has always had faith in me, suggested we do the Hank Williams tune "Lovesick Blues" and Glen D. had done a really great arrangement of that tune for a Crickets album "Long Way From Lubbock" and Bob and myself sort of borrowed it for the single on Capitol. That charted for me too.

Around this time, you moved to Nashville?
Yeah, well we all sort of moved to Nashville, and for the next five years or so, we worked as the Crickets with Waylon Jennings. I bought a farm, 110 acres, J.I. bought a farm - he has about 300 acres now and he's serious about farming - and Joe B. has a couple of acres but he doesn't really farm. Both he and Glen D. live in West Nashville, so we're all close by.

The Crickets were back in the UK the following year?
Yeah, we did the Buddy Holly Week in London, that's J.I. Joe B. and myself, and then we came back in '79 to do another Buddy Holly Week and this time Paul McCartney and Wings, and Bob Montgomery, and the Everly Brothers were on stage too - it was quite an event.

Now, a few years after moving to Nashville, you signed to Elektra as a solo artist, and started a second chart career. How did that come about?
Well Jimmy Bowen, who of course was also from Texas, and had recorded some hits over at Clovis with Buddy Knox back in 1956, signed me to Elektra in 1979 and I stayed at Elektra for about three years, and you know, I'm sort of proud of those records. They were well made, and there were top musicians on all those sessions.


Pictured Back Row: Jerry Allison, Tommy Allsup, Jimmy Bowen,
Sonny Curtis,June Dinning and Mark Dinning.

Pictured Front: Joe B. Mauldin, Lerry Hensley, Buddy Knox.

Your first two hits with Elektra were "The Cowboy Singer" and "Do You Remember Roll Over Beethoven". How did they happen?
Well when we moved to Nashville, we started building a house, and for six months or so, the phone didn't ring, and I began to think to myself - "What have I done - I've brought all of us halfway across America, and now we're all going to starve!" Anyway, I didn't have too much to do, so I started writing seriously and during that period I wrote "The Cowboy Song", "Do You Remember Roll Over Beethoven", "It's Not Easy Being Fifteen" which is one of my favourites, and a few more. "The Cowboy Song" was the first one out on Elektra. I remember reading a detective magazine story, and the song was sort of based on that.

One of the big country hits of 1980 was your recording of "The Real Buddy Holly Story". Was that a reaction to the movie?
Yeah, well we were all invited down to Dallas to see the premiere of the movie "The Buddy Holly Story" which starred Gary Busey, and the minute the show was over, I went back to my hotel room and started writing that song. It was a total reaction to the film - I got to thinking that's not what happened - that's not the way it was.

You had other hits on Elektra, including one of the few cover versions you have done in your career.
Paul Simon's "Fifty Ways To Leave Your Lover"? Yeah, and I did a remake of "Love Is All Around" which charted. Let's see, "Good Ole Girls" was another one...."Married Women" was one. Yeah, there were a couple of good ones on Elektra.

Did you leave the Crickets during this period?
Yeah, I left around 1984. I did a solo tour of England in 1985 and then I came back again in September for a second tour. And I was back again in '87, and '88, and again in '89 and 1990, so I was keeping real busy!


Now, even though you were having hits, Elektra dropped you. Why?
Well, Jimmy Bowen, for whatever reason, had fired my producers, and then for the next eighteen months or so, he released nothing at all by me. OK - he did send a box of records out to San Francisco once and called it a release, but that was it. Now I was sort of warm at the time - not real hot, but pretty warm but he just let me cool off. Anyway, when he finally released me, he dropped 50 artists I think the same day and I was one of those fifty. I'm real proud of the fact that I was the only one he called in to meet him - at least he showed me that much respect.

Actually Jimmy was always a nice fellow and always treated me nice, but when he finally let me go, I had gone from pretty warm to very cold, and nobody wanted to know me. And of course by then, the "hats" had arrived so things were changing fast anyway.

You must have felt bitter at being dropped by a label when you were actually having hit records?
Well, I was a bit surprised, but what the heck - over the years I have learned one thing and that is that there's always music business out there to be done if you're interested in doing it.

You also set up your own record label at that time - Steem Records.
I had a manager - real nice guy named Steve Gladstone, and we were trying to get something going after I left Elektra but we sort of found out pretty quick that nobody was really interested so we went and set up our own label!

And had a hit record!
Yeah - that's right. "Now I've Got A Heart Of Gold" charted.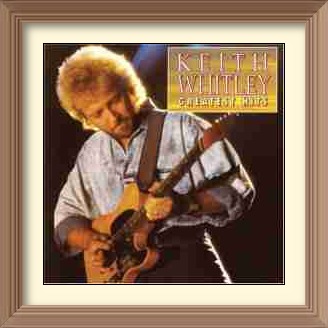 Keith Whitley

You also had a hit cover - this time a Number 1 song - Keith Whitley's version of "I'm No Stranger To The Rain".
I was with Tree Music at the time, which is now Sony, and I wrote with some really good people up there and one of the best was Ron Hillard. I had a little studio in Nashville, and he and I would meet down there and write. We'd write for a couple of hours and then have lunch, and then we'd write again for an hour or so, and if we hadn't come up with anything, we'd call it off for the day.

And this day, we'd been to lunch, and on the way back from lunch, Ron said - "How about I'm No Stranger To The Rain as a title" and I said "Wow - let's see what we can do with that". So we got back to the studio, and it was one of those songs that just wrote itself. Once we got started, we just couldn't stop. Of course you never really know for sure if a song is any good until it's a hit but we thought it was a good song.

Anyway, I recorded it first - then Keith recorded it, and they kept saying "Keith is going to release it one of these days" and we kept thinking "Yeah - you'll just put it on an album". We had sat on that song for about two years before it finally came out, but when it did, it was huge.

Another hit cover was "He Was On To Somethin" by Ricky Skaggs.
That was a song I wrote while over at Tree Music - I remember it took a while to do. I do find that songs take longer than they used to! I mean in the days when I wrote "More Than I Can Say" and "I Fought The Law" and those, they seemed to come together so fast. I think I wrote "I Fought The Law" in about fifteen minutes!

You had a lot of covers during your time at Tree.
Yeah. guys like Dan Wilson worked very hard for me, Walter Campbell actually got "I'm No Stranger To The Rain" to Keith Whitley, and Bob Montgomery who worked at Tree after he sold his own company, suggested Ricky Skaggs for "He Was On To Somethin".

Then in 1991, you were inducted into the Nashville Songwriters Association Hall Of Fame. That was one big ceremony - hundreds of Nashville writers present at the Vanderbilt Plaza Hotel to honour you.
A big thing for me - a big surprise too and of course a big honour. I mean when fellow songwriters honour you like that - it's really nice. Yeah - I had a great time that day.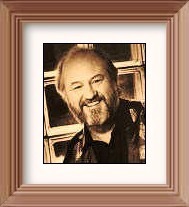 Sonny Curtis 1995

And then, as they say, you wrote the theme for "Evening Shade".
Yeah, well I was just about to head off to England on tour when Snuff Garrett called me and said he'd got this project to do the music for this TV show, and he needed a theme song. Well, all I could say was sorry because he'd caught me at a bad time - it was Wednesday and I was leaving for Europe for six weeks on Saturday.

And he said - "Hey that's fine because I need the song by Friday anyway!". So he told me the storyline, and I spent the rest of Wednesday writing, and I phoned him about ten that evening and sang him what I'd got to see if I was on the right track and he said "Great - now get up early in the morning, finish the song and put it on a cassette and get it to me by Friday". Anyway, when I got back from Europe, he phoned to tell me that they had accepted it.

How did you come to rejoin the Crickets a few years back?
Well I had been out of the Crickets for about ten years - and then Gordon Payne left in 1994 and they urgently needed somebody to do a tour of Sweden, so they phoned me up and I joined temporarily, just the help them out for that one tour. Before I knew it, I owned a third of a bus - and I've been with them ever since!

Last year, we worked with Nanci Griffith, all over the United States, in England and Ireland, and you know, that year turned out to be one of my favourite years of all time. If you asked me right now to pick my all-time favourite years - then 1997 would be real high on the list.


The Crickets 2002:
Jerry Allison, Joe B Mauldin & Sonny Curtis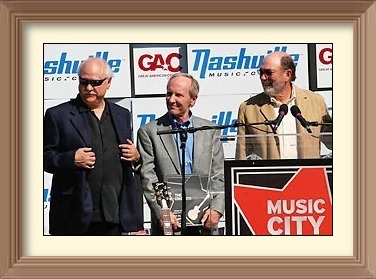 The Crickets 2011:
Jerry Allison, Joe B Mauldin & Sonny Curtis



The Crickets 2012:
Induction into the Rock & Roll Hall Of Fame

What I will ask you to do is to pick just one song you've written - which one is your favourite?
"Walk Right Back" - it's dear to my heart. I like that song. It changed my life at that time really, and even though there are other songs I like, that one is still my favourite.

Fine - now would you like to name one song you didn't write, that you'd like to have written.
That's a terrible question. There's so many songs I would just love to have written, but if I have to pick just one, it would be "Hey Jude" - that was one great song.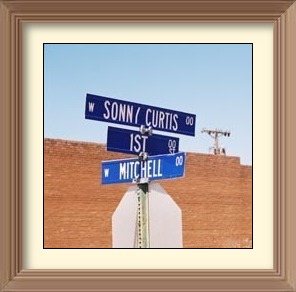 Sonny Curtis Street, in Meadow, Texas

At this point in your career, do you think you've arleady written your best song?
Well you know, I'd like to think I haven't, that in there there's still that one waiting to be written that's gonna be better than the others - and who knows? I'm writing, so who's to say what's ahead?

Finally, have you enjoyed your life in music so far?
Oh I think so. I mean I've had my problems, but then I got to do what I liked doing most, and I met some really nice people while I was doing it, and I made some really great friends. Yeah - I've enjoyed it.

Copyright Songwriter Magazine, International Songwriters Association & Jim Liddane: All Rights Reserved

Postscript 1
One of the people with whom Sonny Curtis recorded was Norman Petty. who also managed Buddy Holly, The Stringalongs, and Jimmy Gilmer & The Fireballs.

Click HERE for an interview with Norman Petty

Postscript 2
Since 1967, we have spoken with hundreds of songwriters and music publishers, building up a huge collection of detailed interviews which is unmatched anywhere.

Click HERE to see a list of those currently on this website. And remember, we add new ones every month!

Chip May on KAMC-TV Lubbock, Texas


ISA • International Songwriters Association (1967)
internationalsongwriters@gmail.com






Cookies Policy • Privacy Policy • Copyright

Legal Notice
This site is published by the International Songwriters Association, and will introduce you to the world of songwriting. It will explain music business terms and help you understand the business concepts that you should be familiar with, thus enabling you to ask more pertinent questions when you meet with your accountant/CPA or solicitor/lawyer.

However, although this website includes information about legal issues and legal developments as well as accounting issues and accounting developments, it is not meant to be a replacement for professional advice. Such materials are for informational purposes only and may not reflect the most current legal/accounting developments.

Every effort has been made to make this site as complete and as accurate as possible, but no warranty or fitness is implied. The information provided is on an "as is" basis and the author(s) and the publisher shall have neither liability nor responsibility to any person or entity with respect to any loss or damages arising from the information contained on this site. No steps should be taken without seeking competent legal and/or accounting advice
Home • Interviews • Writing A Song • Obituaries