Introduction by Jim Liddane
The impression is often given that during the sixties, the professional songwriter was made redundant - that the self-contained band (the ultimate example being The Beatles) and the singer-songwriter (the ultimate example being Bob Dylan) took complete control of the charts. But it isn't true.

The swinging decade was also a marvellous time for people like Mitch Murray, Peter Callander, Tony Hatch, Chris Andrews, Les Reed, Geoff Stephens, Don Black, John Barry, Roger Cook, Roger Greenaway, Hal Shaper and Tony Macaulay - all essentially non-performing, "backroom" songsmiths.

And there was Barry Mason.

Gerald Mahlowe interviewed Barry Mason for the International Songwriters Association's publication "Songwriter Magazine".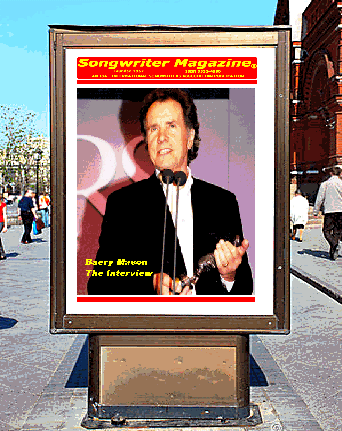 Prologue
Born in Wigan and brought up in Blackpool, Barry Mason was always a dreamer. As a child, he loved songs and singers and show business, and would stand on the busy Blackpool sea-front thinking how wonderful it would be to be a singer or an actor.

With school and national service over, he headed for the dreamer's ultimate destination, Hollywood, where he spent three years without making any real headway.

Back here, it was initially the same story. He was understudy to Albert Finney at the Royal Court Theatre, he managed to wangle a very brief appearance in the Finney movie "Saturday Night and Sunday Morning", singing the big Adam Faith hit, "What Do You Want?", and he had a short-lived spell in pop management.

It was via management that he stumbled into songwriting and after a couple of minor hits came a stream of very, very big ones. The dreamer had found his niche.

In the sixties, with Les Reed, he wrote "Here It Comes Again" (No.4 UK, No. 27 US), "I'm Coming Home" (2 UK), "Everybody Knows" (2 UK), "The Last Waltz" (1 UK, 25 US), "I Pretend" (1 UK), "Delilah" (2 UK, 15 US), "Kiss Me Goodbye" (50 UK, 15 US), "Les Bicyclettes de Belsize" (5 UK, 31 US), "Winter World Of Love" (7 UK, 16 US), and "Love Is All" (12 UK, 19 US), and "Love Me Tonight" (9 UK, 13 US).

In the seventies, he found new hit partners. With Tony Macaulay, he wrote "Love Grows (Where My Rosemary Goes)" (1 UK, 5 US). With Roger Green-away, he wrote "There Goes My First Love" (3 UK), "Can I Take You Home Little Girl" (10 UK), "You Just Might See Me Cry" (2 UK), and "Say You'll Stay Until Tomorrow" (40 UK, 15 US). With Lakis Vlavianos, he wrote "When Forever Has Gone" (2 UK).

It will not surprise you to learn that his songs have sold an estimated 50 million records.

You have a very illustrious track record, which I would naturally like to talk about later on. But what are you working on at the moment?
I've always got several projects I'm working on. I've got a couple of shows in various stages of development; I've bought the publishing to The Tics; which is a children's series on BBC Radio 5 - we hope to make that into an animated film; and I've just started my own one-man show, where I go out with just a piano player and sing bits of my hits, sing some new songs, but mainly chat, talk about the story behind the songs, about my life: it goes down very well.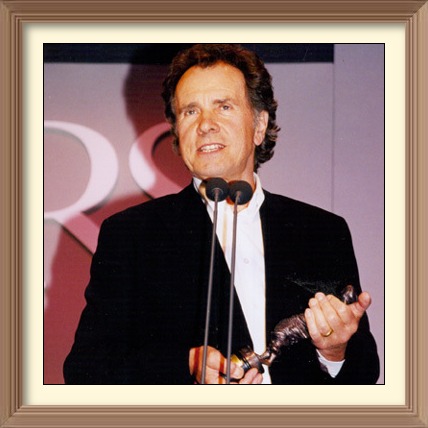 How many times have you done the one-man show?
I've done about a dozen, I suppose. I did a little tour and I've done a few for charity.

What size audience do you play to?
About 400 or 500. I'm also working on some songs in the studio at the moment. I'm going to do an album for Europe. Some new songs and some I've had in the drawer for a long time - not obviously commercial ones, but ones I've always liked.

Didn't you do an album once before, for Magnet Records, in the seventies?
That's right. I was glad to do it but it wasn't quite right. I was trying to sell myself too much as a singer, I think, and I'm not a singer at all, really - not as such.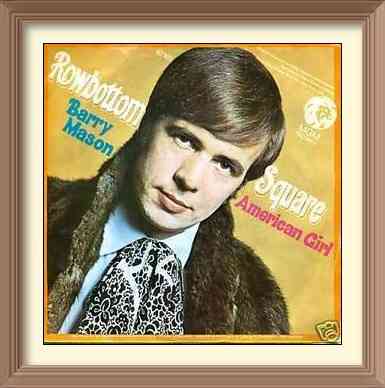 I just love to interpret songs, to feel the lyric. I think I've got the answer to the way I want to do it now. I'm a middle-aged man, so I'm not looking for stardom; I'm looking for satisfaction. Just a little album that might do well in Europe.

Were the new songs written alone?
No. Almost everything I write, ninety-nine per cent, is with somebody and I find that great fun. You meet about this time in the morning (10 a.m.), usually, have a cup of tea, chat, and then...

Ease yourself into it?
Absolutely right. One will say, "What have you got?" and one of us will produce an idea. I'm good at getting verbal ideas. I might be watching television and an old movie might be on, and they'll come out with a line that might be a bit corny in the movie, but I'll think, "Well that's a great idea for a song". And I'll make a note of it. Or I'll remember a bit of a tune I've got in my head.

You are mainly a lyricist, though, aren't you?
Yes, but I like to contribute to the melody if I can. I have written a few melodies in my time. The theme for "Midweek Sports Special" (TV) - that's mine. Anyway, once we've agreed on an idea, we'll work on it and in a day, the back of the song will be broken, although the lyric may not be finished.

Who are your current collaborators?
My main collaborator is a guy called Henry Marsh - he used to be in Sailor (successful mid-seventies band) - and we've been working for a couple of years now. We've done this musical for America called "Malibu", about a surfing band, we're working on this album I'm doing for myself, and we're both representing a singer-songwriter called Stephen Kane. We've signed his publishing and we're going to produce his records.

You have your own publishing company, obviously.
Yes, Barry Mason Music.

Do you have an administration deal?
No, I do my own. I have a girl to help me and I put my own stuff in it, mainly, but I've now got Stephen Kane in it.

Didn't you used to have a company called Marksmen Music?
That was with Mark McCormack (high powered American agent). His company, IMG (International Management Group), used to handle my financial affairs and we formed a publishing company together for a while. Mark was the producer of a show called "American Heroes", which I wrote with Don Gould and an American guy called Michael Johnson, and which is the best thing I've ever been involved with - and there's a story there.

Mark heard the demos for the show and said, "I want to put it on". And he found us this big American millionaire named John to back it. And John came to England, came to the studio, heard the songs and said, "Yes, I'll finance it - no problem". So he flies us to America, where we do a workshop, knocking the show into shape and re-writing every night.

And the work-shop is directed by Tom O'Horgan, who did "Jesus Christ Superstar" and "Hair" in America, and it costs $250,000. And we're in the hotel one night, all set to open on Broadway, and we're watching the news, and we suddenly see our backer with three members of the FBI and a suitcase full of cocaine! It was John DeLorean, the car man who got £32 million off of the British government! So we almost had the first British musical to be financed by the British government!

Was there an album released?
The album was another story. WEA paid us a fortune for it - it was their number one project - and a week before it was due to be released, WEA got done for chart rigging! So nobody would touch their product. They couldn't sell a record!

Isn't that the trouble with musicals? You spend so much time on them and they may never get staged.
Right, which is exactly why, last year, I decided to tackle a show from that end of the problem - in other words, work out something that would be very easy to put on and then figure out what to write. So I started with the idea of no cast, no music, no set - and tried to get as near to that as I could! And I came up with a one-woman show called "Beryl", about this girl called Beryl Marsden, a singer in Liverpool who's never really made it but has never stopped trying.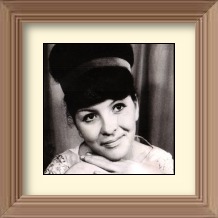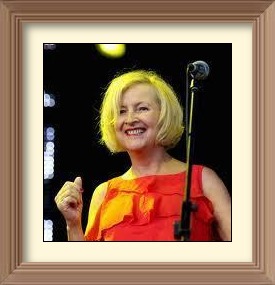 Beryl Marsden 1963 & Beryl Marsden today


A real person?
Yes. She's an unsung hero to me. She's had the most amazing, horrific life, terrible things happened to her in childhood, but she's still out there, smiling.

No relation to Gerry (Marsden, of Pacemakers fame)?
No, but a contemporary of The Beatles and friends with them all. She's in her middle forties now, but a lovely looking woman and a wonderful singer. So we're trying to get that on in Liverpool at the Playhouse or the Everyman next year.

What, for you, is the big attraction of musical theatre?
Well I've written so many pop songs and you hear them on record, you hear them in lifts, you hear people singing them, and that's wonderful, very satisfying. But it must be so much more satisfying to be in a theatre, to see, say, a boy and a girl fall in love, to suffer with them, then finally to see them sing a goodbye song as they part. That must be the ultimate emotional experience. And that's the sort of thing I want to do.

Have you had a show staged yet?
Yes. I did one called "Miranda", about a mermaid, an old story, which ran at the Charter Theatre in Preston for ten days, and was packed out, went very well. But I was in the middle of the "American Heroes" thing at the time and I couldn't devote much attention to it, so I just presumed that critics and producers and would-be backers would go and look at it. But nobody did.

So it never went any further?
No, but if I did it now, I'd know better. I'd know you have to get a limousine and take two or three of these lazy buggers up there, fly them by helicopter or whatever, to see it. You can't rely on them just to go.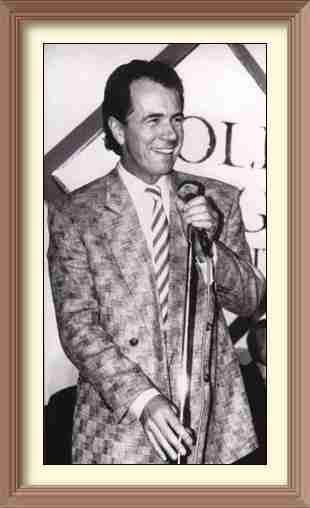 /

If we could turn to records now - what recent covers have you had?
I get a lot of stuff in America and the continent. Barbra Streisand did "Why Let It Go" on her album which came out at the beginning of last year ("Till I Loved You"). Then I had half the David Hasselhoff album ("Looking For Freedom"), all new material - he's a huge superstar in Europe and America (due to starring roles in the TV shows "Knight Rider" and "Baywatch")

Did that sell?
Huge, massive. Three million. Then I wrote most of Engelbert's album the Christmas before last, which did over a million in Germany and Austria alone - all new material. Then he (Humperdinck) had a "Best Of...." - I'm always getting those - which had about five of mine on.

Who did you write the Streisand song with?
Alan Hawkshaw. Then I had a thing called "G.I. Joe", which I wrote with Simon Climie (of Climie-Fisher), done by a girl named Katja, a Dutch girl who's quite big on the continent. And another called "Don't Stay For The Sake Of The Children", which I wrote with Ed Welch, a Dutch release with Julie Forsyth, Bruce Forsyth's daughter, and Dominic Grant (who used to be in Guys 'N' Dolls) quite a lot of things, really.



At this moment, it appears that it is just over here that you're not in the limelight?
I never give anybody any songs for England - they don't seem to like middle of the road songs very much. It's a strange market over here. I don't know if I'm crazy, but I think there is an MOR market. If someone like Barry Manilow does the right album, it sells a bomb here. Neil Diamond used to do albums and sell here. Michael Bolton is MOR, really, and he sells millions.

I think there's a huge MOR market here but people seem to be afraid of it; record companies just don't go for it. They seem to be embarrassed that anyone over 25 buys records! Yet the biggest demographic of all is the Elvis Presley generation - 50-year-olds. I saw this marvellous thing on telly the other night, about a guy who's head of a very respected research company. He was talking about the new TV franchises and about the advertisers and the markets they're going to cater to, and he was saying that anybody who ignores the over-50's market does so at their peril.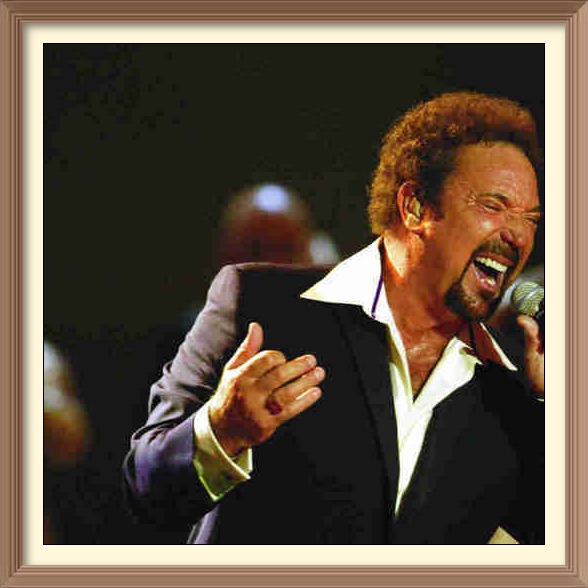 Tom Jones

An artist you've been strongly associated with, Tom Jones, surely proved something with his big hit song from the show "Matador". What was that if it wasn't MOR?
That was great, the "Matador" album, but since then, he seems to be looking for something else. With all due respect, I think he should just be looking for great songs, great ballads. If you do a great ballad, no matter what people think, everybody buys it. I mean, "The Power Of Love" (Jennifer Rush) was the biggest record of the year - everybody bought it. And the second biggest record of the same year was "I Know Him So Well" (Paige/Dickson). Both songs very big MOR ballads.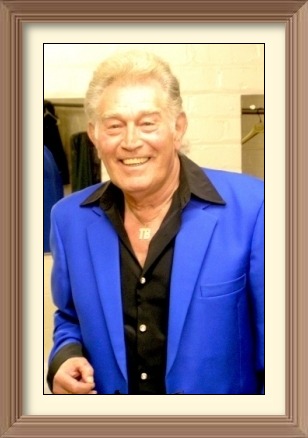 Tommy Bruce

Let's go back. How did you get into songwriting?
I met this boy called Tommy Bruce and I spent my last few pounds making a demo of him singing an old Fats Waller song, "Ain't Misbehavin'" - and he had a hit (No.3, UK, 1960). Suddenly, I was his manager, not knowing anything about the business.

But the important thing was, I was in the business - and when people ask me what to do to become a songwriter, I always say, "Try and get into the business in any capacity, then you're a step nearer to it".

So Tommy had this one hit, didn't have any more, and I lay in bed one night thinking, "I'm sure I can think of a song for Tommy". And I thought of this little song called "You're My Little Girl", luckily remembered it the next day, put it on the tape recorder, got it written out by one of Tommy's band, and it was cut as a B-side. I'd written my first song! Then I began to write with various backing groups.

The first person I wrote with was Peter Lee Stirling, who later became Daniel Boone (two UK hits, early 70's), and was originally Peter Green, and he was with a group called The Beachcombers, who became The Bruisers, who backed Tommy Bruce! And my first chart thing ever was a thing called "Blue Girl" for The Bruisers, which I wrote with Peter (No.31, UK, 1963), and my first significant hit was "Don't Turn Around", also written with Peter, which The Merseybeats did (No.13, UK, 1964). And then my first international hit was "Here It Comes Again" for The Fortunes - I was writing with Les Reed by then.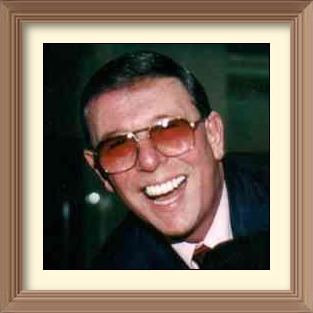 Les Reed

You were introduced to Les Reed by a music publisher - Stuart Reid. Did you hit it off straight away?
Certainly, as far as writing went - socially we weren't that close. But there's something happens when he plays that piano. It's almost like a faith healer touching somebody. They say a faith healer touches you and you feel the heat. When Les plays the piano, I feel the heat. He can play "Chopsticks" and make it sound like a symphony.

You used to get together on Sundays, I think
Yes, at Les's little house in Woking (Surrey). He had the sweetest wife, June, who made us endless cups of tea - which is just what a writer needs. He wants to be fussed over and looked after! Les's company published most of our early material and it was called Donna Music, after his little daughter. And he had a little picture of this three-year-old girl on all the sheet music, like a little logo.

How long before you had that first hit with Les?
Before we had a hit? Oh, three or four years, I would think.

You were getting things recorded before that?
Odd things, yes.

Who did the demos?
Les did most of them and they were ridiculously simple by today's standards. Les would do a piano track and put a voice on it, maybe double-track the chorus, maybe do some harmonies on it. If he felt ambitious, he'd put the piano on twice - once just playing rhythm, then a second layer, more floral.

If Les was the publisher, what would happen next?
Well Les had a deal with Francis, Day & Hunter (since bought by EMI), so technically, they were the promoters, but we fixed the records, really, because we had a relationship with people like Gordon Mills (who managed Tom Jones and Engelbert Humperdinck). Les knew Gordon from his old days in the John Barry Seven and I knew him as a poker-playing friend - he was part of our gang.

I always remember Gordon coming to one poker game and saying, "I've found this singer in Wales and I'm going to manage him". I said, "Shut up and deal, Gordon!" Well, it was Tom Jones. Gordon took me to see him in some grotty little hall somewhere and I said, "He's too good to be commercial. His voice is too good". Because he was right against the grain at the time. Bobby Vee was a big star then, with this pretty voice, very delicate and very smooth - and here was rough, tough Tom!

What can you recall about your 'breakthrough' song, "Here It Comes Again"?
It was a piece of luck, as a lot of things are. Usually, Les and I would work together, build the song from scratch, but this time, Les had done the tune separately. The Fortunes had just had a big hit with "You've Got Your Troubles", a fabulous Cook & Greenaway song, and Les had done the arrangement, so we were in the pole position to present them with their next song.


The Fortunes


Your song had a similar feel to "You've Got Your Troubles"
Of course - it was tailor-made for them. They'd done this little bit of counterpoint singing in "Troubles", so we put a bit of that in our song ... it was just tailor-made.

What was your feeling when the song happened?
I thought, "I've cracked it, wonderful, I'm rich!" And then the following year (1966), Les and I wrote and wrote and wrote and didn't have any hits. We had stuff coming out every week, or it seemed like it; but for maybe 18 months, we didn't have any hits. Then we had a slew of them.

Yes - in 1967 you had a rather famous Sunday afternoon where you wrote three big hits and ended your barren spell: "Everybody Knows" (The Dave Clark Five), "The Last Waltz" (Engelbert Humperdinck) and "I'm Coming Home" (Tom Jones).
Yes, we did have one magical afternoon. What I remember particularly is that we were writing "Everybody Knows" and we couldn't find a middle eight. As it turned out, there wasn't one; the song was finished and we didn't know it. It was the most utterly simple song. So we're struggling over that, and it's getting dark in Woking, and we have another cup of tea, and Les starts telling a story about how, when he was young, he always knew when the village dance was over, because he could hear the compere in the distance saying, "Take your partners for the last waltz". And he knew his Mum and Dad would be home soon.

There was a long pause and I said to Les, "Has there ever been a song called 'The Last Waltz'?" And 20 minutes later, words and music were finished.

Did you think, because it flowed so quickly, that it had to be a hit?
No. I'm always surprised that anything's a hit. I'm a born pessimist. I've had songs I've been so excited about and nothing's happened. A song called "So It Goes", from "American Heroes", is the best song I've ever written and nothing's happened to it yet. What I remember about "The Last Waltz" is making the demo and people laughing at us. It was 1967, everybody was into flower power and smoking dope and tripping out - and we were doing a waltz!

One source quotes over 500 covers of "The Last Waltz"
I've heard it in every language there is. One record came back in Japanese and it said on the back: "Written by Earry Mason". Instead of a 'B', they'd put an 'E'. But hearing it sung in Japanese, Swahili ... it's really strange.

Was that your biggest song in terms of covers?
Either that or "Delilah".

That, too, is said to have over 500 versions.
Well it's possible, because you could have five or six different versions in one country - like France. Les and I often had different versions of the same song in the Top 50 somewhere. I once had 26 per cent of the German Top 50!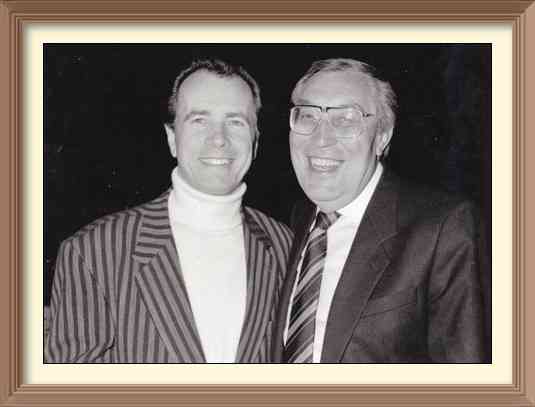 Barry Mason with Norman Newell
[Picture courtesy PPS]


"Delilah" was about jealousy. Are you often inspired by a theme?
Normally, it would be a line, especially a title line, that would be the inspiration for me. For "Delilah", I was inspired by "Jezebel", the old Frankie Laine hit (pre-UK chart). I used to love "story songs" when I was a kid. I did a thing called "Drive Safely Darlin"'

Tony Christie?
Yes. Which was a story with a sad ending: "A stranger stood there in the rain and I knew without a glance/He said, there's been an accident - she didn't stand a chance/Drive safely darlin". Tony Macaulay always says that if the song had had a happy ending, it would have been a much bigger hit. (No.35, UK, 1976).

How come you were suddenly writing something called "Les Bicyclettes De Belsize"?
Absolutely weird, that was. They asked us to do the score for a film with that title - a beautiful, arty film, no dialogue, about a boy on a bike, who falls in love with this girl on a poster. So Les and I do four or five songs, and the day comes to present them to the moguls, and they say, "Great. Wonderful songs, boys - but where's the title song?" So I said, "With all due respect, you just can't write a song called "Les Bicyclettes De Belsize. It's not possible". And they said, "We must have a title song. We're in the studio tomorrow. Please!"

So Les and I walk back up Charing Cross Road (London), quite depressed, go into Francis, Day & Hunter, find an office with a piano, get two strong cups of tea - our drugs! - and that afternoon, we wrote it. And ironically, it was the only song in the movie that meant anything. The others were lovely songs but none of them sold, while "Bicyclettes" is now a standard. So that was a lucky break. We were forced to write it.

Isn't Sinatra supposed to have recorded - but not released - one of the others -"Julie"?
Well I don't know if he ever actually cut it, but I think he was going to. Then Simon Dee (English DJ/presenter) did a cover version of it and they say that stopped Sinatra doing it!

Another big Engelbert song for you was "A Man Without Love". Was that written with Les?
No, that was a big Italian hit and Gordon Mills said, "Do a lyric for Engelbert and make it romantic". Then Gordon brought me another one from Italy and said, "Do a lyric for Tom and make it sexy". And that became "Love Me Tonight".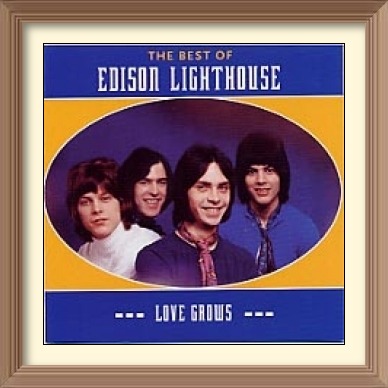 Edison Lighthouse


Your partnership with Les Reed broke up around the end of the sixties and you bounced straight into Tony Macaulay...
That's right and we did "Love Grows (Where My Rosemary Goes)" for Edison Lighthouse.

I read that that was written at a party.
There are lots of stories about that song! You find this happens - you don't mean it to, but you forget what happened and you make up your own stories! As I remember, it was written on the end of my girlfriend's bed when she was ill!

You didn't have so many hits with Tony.
No. If we're talking about collaborators, we must mention Roger Greenaway, because I had several very big hits with Roger. For The Drifters we wrote "There Goes My First Love" and "Can I Take You Home Little Girl?", and we also wrote a No. 1 country song for Tom Jones called "Say You'll Stay Until Tomorrow", which was a very under-rated song. It was number one in the number one country chart and even writers in New York can't get into that! So for somebody from Wigan!.... I was quite proud of that. I remember I cut some country sides in Nashville with The Jordanaires (Elvis's legendary back-up singers) and this producer said, "You can't write country music! You have to live here for 20 years to know what it's all about!" And straight after that, I had a country number one with Joe Stampley.



That is very much the Nashville attitude to English songs, though, isn't it?
Not just to the English, but to other Americans as well. If you come from New York, they think you can't write country music. But it's changing now.

You had two UK number 2 hits in 1976. One was "You Just Might See Me Cry", for Our Kid......
That was written with Roger, as well.


And the other was "When Forever Has Gone", for Demis Roussos.
That was very satisfying because his record company said to me, "Barry, we want to break Demis in this country - have you got any songs for him?" I said, "No, but what you should do is let me write with his regular melody writer". So I went to Paris to write with Lakis Vlavianos, who has written the melodies for most of his big hit songs - a great guy and a wonderful musician. So I helped a bit with the melody, I did the lyric, and between us, we managed to keep his full musical flavour, but tailored it for England. And it worked.

You worked with another European giant, too - Charles Aznavour.
I wrote three songs with Aznavour, which weren't hits, but it was a magical experience. I went over to see his show in Brussels and was so enraptured, it was halfway through before I realised he wasn't singing in English! What a performer. I liked him very much. A nice guy, very natural, very down to earth. As was Demis Roussos. Demis had tons of money and tons of everything else going on at the time, but he was just a natural, nice guy.

What did you do for Elvis?
With Les, I wrote a song called "Girl Of Mine" for Elvis and there were two versions made of that. One with just the rhythm section, for the fans, without The Jordanaires or the violins - and that's the version I've got. I haven't got a version with the full orchestra.

How about Rod Stewart?
I did one of his earliest songs, words and music, called "The Day Will Come", which was inspired by "Eve Of Destruction" (the 1965 hit by Barry McGuire). It was the fashion at the time, so I wrote this thing about the end of the world, the big atomic fear.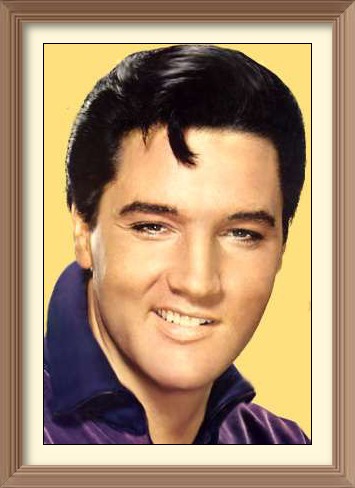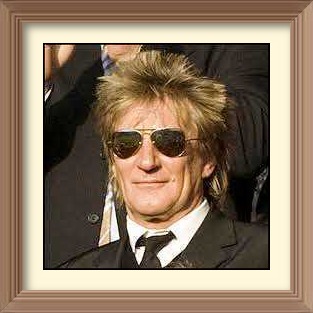 Elvis Presley & Rod Stewart

David Essex?
He sung a song called "High Time", which I wrote with Tony Macaulay. That was quite early in his career and it wasn't a big hit.

You have even worked with Morecambe and Wise.
That's a lovely memory. I produced an album for them - a bunch of lovely old songs plus a couple of new ones I wrote. They were so professional, so easy to work with. Ernie's a very good friend of mine.

It doesn't seem as if publishers have played much part in your success over the years.
No, but that's not to put them down. They can be great. They were very good at getting covers abroad in the old days. But there is something I think is very unfair. Les and I would sign a 50-50 contract in the old days with Francis, Day & Hunter - which is now EMI.

That's 50 per cent for the publisher and 50 per cent split between the two writers Well today, that would be a grossly unfair contract. There's no written law against it, but it's just unacceptable today. But that isn't my main point.

EMI would sub-publish with their own companies in France, Germany, Holland, whatever, and the deal is, they leave, say, 40 per cent there - let's say 50 per cent to make it easier. So when they make 100 francs in France, for instance, 50 would stay in the local company, 50 would come back to England. Now that 50 francs is halved; so they've got 75 francs out of that original 100, and the writers are splitting 25. That is grossly unfair.

But, at the time, it was accepted. But surely now, those contracts should be changed. Remember that now, they're not doing any work whatsoever - they're not promoting the songs. They're purely a collection agency for my and Les Reed's money.

So what sort of deals will you do as a publisher yourself?
I'll take 25 per cent, something like that. But the important thing is I will get the best deal I can abroad, because I'm not dealing with myself! So it's to my advantage to give away as little as possible - and whatever comes back is split in the way we've agreed.

That's another thing that's pretty much unacceptable today, wouldn't you say? "Life" deals?
It's too long, really, isn't it? But the publisher should get an extension if he can say, "I've got a big cover now". He should keep it longer then, because it's very hard to get covers. In fact, if a publisher said to me today, "I can get you a big cover", but he wanted life of copyright, I'd let him have it.

Finally, may I ask you what your biggest wish is for the future?
I want to get a hit musical - that's the big thing. No - forget that. My biggest wish is healthy kids - I got three. That's really got to be it, hasn't it?

Copyright Songwriter Magazine, International Songwriters Association & Gerald Mahlowe: All Rights Reserved

Postscript
Since 1967, we have spoken with hundreds of songwriters and music publishers, building up a huge collection of detailed interviews which is unmatched anywhere.

Click HERE to see a list of those currently on this website. And remember, we add new ones every month!



An Evening With Barry Mason


ISA • International Songwriters Association (1967)
internationalsongwriters@gmail.com






Cookies Policy • Privacy Policy • Copyright

Legal Notice
This site is published by the International Songwriters Association, and will introduce you to the world of songwriting. It will explain music business terms and help you understand the business concepts that you should be familiar with, thus enabling you to ask more pertinent questions when you meet with your accountant/CPA or solicitor/lawyer.

However, although this website includes information about legal issues and legal developments as well as accounting issues and accounting developments, it is not meant to be a replacement for professional advice. Such materials are for informational purposes only and may not reflect the most current legal/accounting developments.

Every effort has been made to make this site as complete and as accurate as possible, but no warranty or fitness is implied. The information provided is on an "as is" basis and the author(s) and the publisher shall have neither liability nor responsibility to any person or entity with respect to any loss or damages arising from the information contained on this site. No steps should be taken without seeking competent legal and/or accounting advice
Home • Interviews • Writing A Song • Obituaries