Introduction by Jim Liddane
Marijohn Wilkin was born in Kemp, Texas, where her mother was the church pianist. She grew up in a musical family, and began singing and playing the piano at an early age.

In the early 1950s, Wilkin moved to Nashville and it was there that she wrote her first hit song, "Long Black Veil," which was recorded by Lefty Frizzell in 1959. The song became a classic in the country music genre and has been covered by many artists over the years including Johnny Cash, The Band, Joan Baez, Bruce Springsteen. Jerry Garcia, Dave Matthews Band, Dolly Parton, and Emmylou Harris.

The song's haunting melody and lyrics, which tell the story of a man who is hanged for a crime he did not commit, have made it a classic of the country music genre.

That same year, she co-wrote "Waterloo" with John D Loudermilk. The song was first recorded by Stonewall Jackson and reached the top of the Billboard country chart, before moving over onto the Billboard pop charts also. It has been covered by many artists over the years, including Johnny Cash, Brenda Lee, and Roger Miller.

Perhaps her most famous song (and her own personal favourite) however is "One Day At A Time" - a gospel song that she penned with Kris Kristofferson. The song was first recorded by Marilyn Sellars in 1974, and later that year, was also cut by the singer-songwriter, Connie Smith. Her recording became a hit on both the country and Christian music charts and the song went on to chart in the UK, Ireland, Canada and Australia, with more than 200 cover versions by such stars as Cristy Lane, Lena Martell (who took it to number 1 in the UK), Joan Baez, Dolly Parton, Gloria (who took it to number 1 in Ireland spending 90 weeks on the chart there), Johnny Cash, Willie Nelson, Merle Haggard, Glen Campbell, The Oak Ridge Boys and Randy Travis.

The song's message is one of hope and encouragement, urging listeners to take life one day at a time and to trust in God to provide strength and guidance and has, over the years. become a standard in the Christian music repertoire.

In addition to her songwriting, Marijohn is also a successful music publisher and record producer, while her son Buckie, is a singer and songwriter in his own right, scoring a Top Ten hit in 1964 with "G.T.O.", which he wrote and recorded under the name Ronny & The Daytonas.

When MaRijohn received her first copy of "Songwriter Magazine" in 1981, we ,ight have been forgiven for thinking that she was already at the peak of her career. After all, songs written by her had been recorded by such stars as Patsy Cline, Eddie Cochran, Johnny Cash, Charlie Pride, Don Gibson, Burl Ives and Jimmy Dean. But since 1981, her reputation as a songwriter has gone on to even greater heights. In recent years, she has had songs released by the Beatles (from the BBC Sessions), Rod Stewart, the Chieftains (with Mick Jagger) and many more. Indeed, her work is nowadays, even more popular than it ever was.

Mary Murphy interviewed Marijohn Wilkin for the International Songwriters Association's publication "Songwriter Magazine".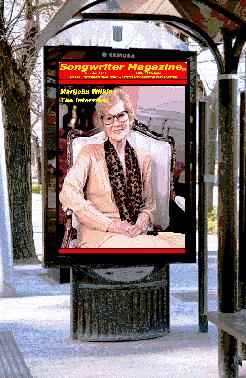 "I'm only human, I'm just a woman
Help me believe in what I could be, and all that I am,
Show me the stairway, that I have to climb,
Lord for my sake, teach me to take
One day at a time..."

It's a defiant anthem of triumph over despair, known by millions. Hauntingly simple Both in tune and lyric, it came forth from the head of Marijohn Wilkin in the mid-1970s when she was struggling in the mire of personal torment, disillusion and unhappiness.

Marijohn is in her early 60s now and alive and well in Nashville, Tennessee. She lives in a condominium on Music Row, just around the corner from her office which houses Buckhorn Music, named after her son. On a warm breezy southern afternoon, with dog Misty on her lap she talked about one of the most moving nights in her life.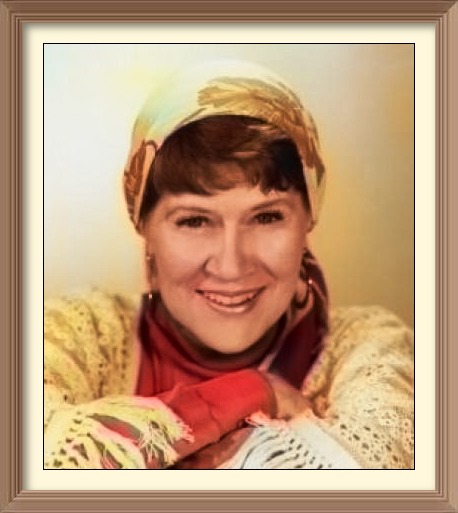 "One Day At A Time" was number one in Ireland and I was over in Belfast, in a club. Gloria began to sing it and I will never, ever forget the way people stood up, joined hands and sang along with her. She hadn't introduced me to the audience yet, so I just sat back, overwhelmed by what was going on all around me. The incredible atmosphere that was created was a truly unforgettable experience".

No one, but no one, would swop places with Marijohn if they knew how low she had to sink before personal unhappiness finally forced that song out of the darkest corners of her subconscious.

An only child, she grew up in a little town in Texas, the daughter of a relatively prosperous baker, Ernest Melson, and his wife Karla.

Mrs. Melson once remarked that she was born "grown up". She wasn't allowed to mingle with other children, was treated as a small town mini-adult and was expected to be a model child. Little wonder that she sought solace in music and found it in the piano.

Her father died of cancer when she was 13 and "from that day on my mother and I almost reversed roles, literally at the expense of my personal happiness. Daddy made me promise to get a college education and not grow up illiterate like him. A month after he died, she graduated from high school and went on to Baylor College.

My mother worked as a matron in one of the dorms so, again, I was different from the others, having Mother with me".

The expense of Baylor, her growing feelings of alienation and falling grades due to unhappiness necessitated a move, so she enrolled at college in Abilene, Texas. There, Marijohn began to thrive. She was accepted as the first and only female, into the renowned Hardin Simmons Cowboy Dance Band. They travelled all over America and she sang at now Franklin Delano Roosevelt's third inauguration.

While at college, she met, fell in love with and eventually married Bedford Russell from Dallas. "I don't like to talk about that time in my life because my husband was killed during the war, not long after we were married". One of the many cruel ironies of her life was the fact that Bedford was actually killed by British bullets when they attacked an Italian submarine on which he and other war prisoners were being transported.


Marijohn drew the threads of her life round her and moved to Lovington, New Mexico where she taught school. "I met a man there and married him on the rebound. We had a son, Buck, who was born ten years to the day that Daddy died". Buck was only two weeks old when she was bed-bound for a year with phlebitis. When she recovered, she moved to Tulsa, Oklahoma with her son and got a divorce.

"I took it as a personal failure and now I had a child as well as my mother to support. In Tulsa, my great friend, Anita Dugger made life bearable and I also met and married Art Wilkin".

Young Buck was discovered at eight years of age by Red Foley and the Ozark Mountain Jubilee programme. The family moved to Springfield, Missouri, where the programme was based. Buck was introduced each night by 12 year old Brenda Lee and Marijohn worked in a piano bar and sang backing vocals to make money.

In later years, Buck would emerge as a major songwriter and recording star under the name Ronny & The Daytonas, whose hit "G.T.O." topped the US pop charts.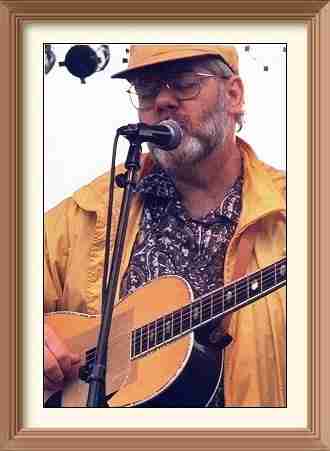 Buck Wilkin

"You know, it's a funny thing, but I never thought about it until you asked me right now - I never planned to be a songwriter. It just happened and I guess I went along with it".

By now, Marijohn had moved up to Nashville, to work as a song plugger with Jim Denny's Cedarwood publishing company. Her first song was recorded by Red Foley and slowly but surely the momentum gathered pace and she began to have hit after hit, the biggest being "Waterloo", which reached Number 1 in the USA, recorded by Stonewall Jackson.

Unfortunately, success and crazy hours and the high life began to take their toll. Marijohn was drinking too much, was desperately unhappy and attempted suicide twice. She took herself off to Europe in the late 1960s to clear out her head and maybe go back to college. "I was tired of reading nothing but Mickey Spillane and Billboard magazine".

She returned to Nashville around the time when Kris Kristofferson was having a huge hit with "Why Me, Lord".

"Around then, my mother, Mr. Denny and my business partner died. I had to commute to Texas to look after my mother's 85 year old brother, money was scarce and I knew I couldn't take much more. My husband and I were about to split up as well. I was living on a houseboat and the final straw came when the man who minded my boat also died. It seems like all the men and father figures who were important to me died. Damn this, I said. After everything else, that just tripped me out..."

She finally sought help and went to see a minister. "I was his first counselling case and I'm sure I scared him to death", she laughed. "He told me to think about God. That's all he said, nothing heavy. On my way home, I kept saying "Thank you Lord". When I got inside, I headed to the piano and was soon humming. Before I knew it, out came "one day at a time, sweet Jesus, that's all I'm asking from you".

"I got so excited! I had no recorder, so I just scribbled it down on the back of an envelope. Most of it came out whole and perfectly formed. I rang Kris, who started with me in Cedarwood, because I couldn't get the first line. He came over with Rita Coolidge and that's where "I'm only human, I'm just a woman" came from. It was always inside me but it took an awful lot of pain and suffering to get it out. I wouldn't wish it on anyone".

Since then, Marijohn has been writing and singing gospel songs and appeared on the now disgraced PTL Ministry run by Jim Bakker. "I am friends with him and I believe he was misled by the financial men behind him".

She feels no urge to stand on street corners and preach to the unconverted "No", she smiled "My music has reached more people than I ever could on a street corner"

Copyright Songwriter Magazine, International Songwriters Association & Mary Murphy: All Rights Reserved

Postscript
Since 1967, we have spoken with hundreds of songwriters and music publishers, building up a huge collection of detailed interviews which is unmatched anywhere.

Click HERE to see a list of those currently on this website. And remember, we add new ones every month!

ISA • International Songwriters Association (1967)
internationalsongwriters@gmail.com






Cookies Policy • Privacy Policy • Copyright

Legal Notice
This site is published by the International Songwriters Association, and will introduce you to the world of songwriting. It will explain music business terms and help you understand the business concepts that you should be familiar with, thus enabling you to ask more pertinent questions when you meet with your accountant/CPA or solicitor/lawyer.

However, although this website includes information about legal issues and legal developments as well as accounting issues and accounting developments, it is not meant to be a replacement for professional advice. Such materials are for informational purposes only and may not reflect the most current legal/accounting developments.

Every effort has been made to make this site as complete and as accurate as possible, but no warranty or fitness is implied. The information provided is on an "as is" basis and the author(s) and the publisher shall have neither liability nor responsibility to any person or entity with respect to any loss or damages arising from the information contained on this site. No steps should be taken without seeking competent legal and/or accounting advice
Home • Interviews • Writing A Song • Obituaries