Introduction by Larry Wayne Clark
On the morning weíre scheduled to meet, moments before Iím about to walk out the door, I receive an anxious phone call from Roger Cook.

Heís called to ask whether we can reschedule. Seems heís having a bit of a songwriterís emergency. Cook and co-writer Henry Gross (best known for his Ď70s pop hit 'Shannon') have written a song that Art Garfunkel is slated to record the next day, backed by teen heartthrobs ĎN Synch. One problem: Garfunkel has a handful of concerns about the lyric though he loves the song. Can they do an eleventh-hour rewrite and fax it up to New York, where the session will be happening? Can they? For Garfunkel and ĎN Synch? You got it. ('Thatíll be my next yearís income,' explains Cook. 'Maybe the next two years.')

Heís calling me from the Gross residence, where the two have been working on the rewrite since 8:30 that morning. I tell Cook that, as excuses go, this is a whole lot better than 'the dog ate my homework,' wish him well with the revisions and agree on a late afternoon meeting instead.

He lives on a sleepy street in Franklin, a picturesque town rich in Civil War history located 20 minutes south of Nashville. Itís a lovely home, built in the Ď20s, with a wraparound verandah and a garden in which Cook takes great pride ('herbs, tomatoes, lots of Impatiens'). The house is spacious and comfortable, high-ceilinged, appointed with antiques. Itís obviously a work in progress, daily visited by workmen who have shortly before quit for the day. Cook, friendly and easy-going, looking tanned and fit and younger than his 58 years, leads me into the kitchen and offers refreshments. We settle down with chilled glasses of Chardonnay.

Outside two girls - 10 and 15 years old - are playing, attended by a nanny. At various times in the next hour and a half, they will come into the house and one of them will be heard playing a distant piano. Two dogs - an elderly golden retriever named Belle and a basset hound named Herbie - investigate the visitor with great relish. Roger Cook is obviously a man comfortable within his environment as well as his own skin. Heís the working-class lad from war-ravaged Bristol who discovered that wealth and applause could be his for a song - and songs poured out of him as water from a faucet. Heís a natural tunesmith with a flair for breezy, singer-friendly melodies teamed with simple words that stick to the brain forever.

'Iíd like to teach the world to sing
In perfect harmony...'

'I see that worried look upon your face
Youíve got your troubles, Iíve got mine'

'I donít believe virginityís
As common as it used to be...'

Snippets of his hit songs can bring the memories swirling back for those of us who were listening during the past 35 years of popular music. And the hits continue right up to the present day, at least in country music circles. Cook found success early, during the heady days of the Ď60s British pop scene. After singing with a series of vocal groups that went nowhere, he found a true partner in singer-songwriter Roger Greenaway. Recording as 'David & Jonathan' they enjoyed success on both sides of the Atlantic, scoring a U.S. hit with their cover of Lennon and McCartneyís 'Michelle.' More importantly, they discovered a knack for creating songs together, which eventually led to their quitting the road and devoting themselves to full time songwriting.

Consequently the Cook-Greenaway imprint became almost instantly ubiquitous and, over the next several years, the hits tumbled out at an impressive rate: 'Youíve Got Your Troubles (Iíve Got Mine)' and 'Here Comes That Rainy Day Feeling Again' for The Fortunes, 'Long Cool Woman (In A Black Dress)' for The Hollies. And of course one of the most irresistible pieces of ear candy ever, The New Seekersí 'Iíd Like To Teach The World To Sing,' which went on to gain even greater fame as a long-running Coca-Cola advertising theme. Cook and Greenaway won the Songwriter Of The Year award in England in 1971 and again in Ď72.

By the mid-70s, now a wealthy man, Cook had begun to tire of the British music scene. America beckoned. He settled in Nashville, where the second great partnership of his career unfolded. Cook had met British-born Canadian-raised singer-songwriter Ralph Murphy in London, where both worked for the same publishing firm. Cook persuaded Murphy (then in New York) to join him in Nashville where they launched Picalic, an independent publishing company. Thanks to a catalogue of excellent songs and the tireless efforts of the two partners, the company prospered. Cook himself had huge hits with Crystal Gayleís 'Talking In Your Sleep' and Don Williamsís 'I Believe In You.' The Bristol boy had taken America by storm.

If the Ď60s had been a dizzy time in pop music, the Ď70s were the Music Cityís wildest days...parties, cocaine, free-flowing booze and frolicsome bed-hopping...the truth in Nashville was a quantum leap removed from the haybale corniness of 'Hee Haw.' Cook and Murphy did not need to be asked twice; they became eager participants in the festivities.

But all parties must come to a stop. Cook saw two marriages hit the rocks; eventually cash flow problems brought the curtain down on Picalic Music. Cook endured for three more years but the fun had gone out of it. Married now to his third wife, Kitty, he returned to England only to find that it was no longer home either. In 1995, the Cooks once again uprooted and headed for the States. Signing on as a staff writer for a young, assertive publishing company called Island Bound, Cook once again saw his songs glide easily to the top of the charts as superstar George Strait released first 'One Night At A Time' in 1997 and 'I Just Want To Dance With You' in 1998. Both went to Number One. A hitmaker in the Ď60s, Ď70s and Ď80s, Roger Cook had now shown himself to be a force to reckon with in the Ď90s. In 1998 he was inducted into the Nashville Songwriters Hall Of Fame.

Disarmingly candid and down to earth, Cook happily shared his philosophies of life, love, friendship and of course songwriting during our time together.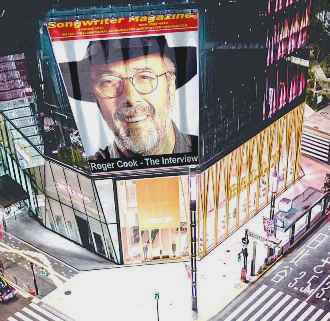 Where exactly are you from?
Born and bred in Bristol, England. I was born in the time of The Blitz. The Blitz just destroyed the town centre in Bristol - all the old 12th, 13th, 14th century buildings got destroyed. ĎCause the docks came right into the centre of the city. And we had an aircraft works called Filton; they make the Concorde still. They were legitimate targets so the Germans bombed the crap out of Bristol. And I was born during all of that.

Thatís something thatís hard to understand for people over here, except maybe for those who remember Pearl Harbour.
I remember when I was growing up, until I was maybe, oh, 16 or 17, they didnít rebuild Ďcause Britain was broke. That war broke Britainís back and there was no money around to rebuild the city centers. For years as a kid, Iíd go downtown and it was just blackened stumps of buildings everywhere, looked like the centre of Berlin almost. And slowly in the mid-Ď50s they started to rebuild and eventually built a new town centre for all the shopping and that.

Was there music in your family?
My father was a musician; played anything he put his hands on. My mother played the piano. All of us children sang. Three of the others actually played guitar and sang. Several of the family couldíve gotten into it professionally but they didnít take it that far. Youíve gotta have that tunnel vision. I had that, you knowónothing was gonna stop me.

What did your dad do?
My dad, before the war, was a banjo player. Banjo bands were big; thereíd be three or four banjos playing in one band [does a surprisingly good imitation of a Dixieland style banjo]. But then the banjo lost its popularity and he had to get a real job, which he did. He went and started working for the aircraft factory.

How big a family?
There were seven of us, living in a tiny house - you canít imagine - a tiny little terraced house. And there was no money around until, shoot, until I started making money, I suppose. We never had a car. There was no phone in the house, no refrigerator; there wasnít any hot water till I was about 14 years of age. My mother used to put a copper[pot] on the stove and get it hot, and her and my father would carry it between them to the bath and fill it up. And - I wonít belabour the point - but my eldest brother used to get in first. He had the first bath. Then I got in. The water was just a little grey but it was alright. But by the time it got to my youngest sister, it was just scummy water. It was horrible! Anyway, the truth is, all around us, everybody was poor. But everybody ate well, everybody ate what they needed. So we all grew up skinny and hard. It was a neat way to grow up, actually. I didnít know I was poor until later.

When did you get the fire in your belly to do something with music?
I always sang. When I was 10 or 11 Iíd be going in for boy soprano contests, trying to win talent contests here, there and everywhere. And I sang in the church choir which gave me this great grounding for harmonies. I found the love of music there.

And when I was 15 my brother formed a harmonica band so I learned to play harmonica, bass harmonica. That was the first time I got up in front of people in a band of any kind. Then when I was about 17 I met some lads and formed a group called The Sapphires. We all discovered our love of singing, you know, and I got to arrange the harmonies. And it was when I was 18 I wrote my first couple of songs for that band, in 1958.

We stayed on the road for about two years, The Sapphires. We had a good time, went all over England, all the air bases and that, you know, doing shows. And then they broke up and I formed another band called The Londons, can you believe that? Me and two girls. We did a lot of TV work.

Still based in Bristol at this time?
Yeah. Meanwhile I was having to learn to do a real job so I learned how to paperhang and paint, you know, doing house contracting and stuff. Then The Londons broke up and I was left with just the one girl, Julie here [indicating old photo] from The Sapphires. And we won a TV contest and actually ended up doing a couple of summer seasons and making a record which got released on EMI in England. This was 1962. It was a useless record but back then it was great.

Who were you modelling yourself after musically in those days? Were you listening to American stuff?
Oh yeah. In England, thatís what we did. The big American songs got covered by British artists. That went on a long time till Cliff Richard came along and a guy called Tommy Steele, who actually started singing original British songs written by people like Lionel Bart. And out of that came The Beatles. The Beatles, as you know, came from skiffle. Originally there were thousands of skiffle bands, The Beatles being one, and they made the transition from skiffle - which was Lonnie Doneganís music - to adding an electric guitar and an amplifier. That was the huge difference. Overnight you had rock Ďní roll.

It was Buddy Holly and The Crickets that made everyone want to have more than one person singing in the band. Couldnít have just a lead singer anymore. ĎCause we thought The Crickets were singing, doing the bom-de-bom-bom- Oh-Boy! But it wasnít, it was four guys they hired to come in and do the do-wops. But we didnít know that. So it was Buddy Holly and The Crickets who forced bands to have more than one singer, to sing backups.

When did The Fortunes begin happening in your life?
That was 1965.Roger [Greenaway] and I were on the last tour with a band called The Kestrels; they were the last band I joined before Roger and I started working together. It was Rogerís band basically, a doo-wop band. I took over the bom-bom-bom-ba-bom-bom-ba-bom [sings 'Blue Moon' bass riff] - did all that - and we stayed together for about nine months. And then one of the guys wanted to have a solo career. Roger said, 'well, thatís that' - in the middle of a tour we were - he said, 'thatís that, weíll break up.' And he said, 'Rog, you stay with me, weíll work something out.' So we took some dancing lessons; we were going to go on the road, dancing and singing. And we started writing a song at the end of this Kestrels tour. It was 'Youíve Got Your Troubles (Iíve Got Mine).' We wanted to do it ourselves, you know. A publisher of ours took it to George Martin and said, 'these boys write for me and they sing pretty good,' and George heard it and said, 'yeah! I really like them, tell them to come in.' So we went to see George Martin and he said, 'Iíd like to produce you boys, I like your sound.' Of course he had The Beatles, he had Cilla Black, Gerry and The Pacemakers, all those people. This was like meeting God.

Meanwhile, without our knowing it, the song had gotten to this band called The Fortunes - at least their producer Noel Walker got hold of it - and they had gone in to cut this record. And we were very unhappy about it...well, we were unhappy for about half an hour. Then we heard their record and it was so obvious that we had written what was about to become a huge hit. I mean, the hair standing up on your arms, all that stuff. We werenít too worried then about the artist thing.

So we were still with George; we went in the studio and he cut several other things with us. Then we ended up cutting 'Michelle.' We had a big hit with that. Then Roger and I wrote a song called 'Lovers Of The World Unite' which was a big hit in England too. Huge hit.

So David & Jonathan went out and we earned really good money, great money for those days, you know.

Where had you first met Greenaway?
Well, Iíd known him from Bristol from the mid- to late Ď50s. His band and mine were like head to head, trying to win all these talent contests and that. So we were kinda, you know...

Rivals?
Big rivals. Then they got called up into National Service - they were all about a year older than us and they got called up at the age of 18. And that just put a stop to their career for two years. And we were all expecting to get called up too, all of us boys, but then five months before I was due to go in and do my two years service, the Korean war ended and they ended conscription. We were so happy. We actually ended up playing bases where they [members of The Kestrels] were serving. They came to see us.

Eventually Greenaway and I got together in 1964 and wrote our very first song. We didnít write half a dozen songs that didnít make it - the first song we wrote was a world hit!

'You Got Your Troubles' still sounds great. Was that counterpart section in the last verse part of the original song?

Yeah, we wrote that.

So you were riding pretty high.
Oh man. We had two or three hits that year. We wrote a whistling tune called 'I Was Kaiser Billís Batman,' which was a hit all over the world, you know. Probably the last whistling hit ever. Guy named Whistliní Jack Smith. Then we had a Top Five hit with Gary Lewis and The Playboys called 'Green Grass Round My Window.' Then we had 'Lovers Of The World Unite,' big European and British hit for Roger and I. Then we decided David & Jonathan were coming off the road. We werenít able to write as much as we wanted to and that was becoming a problem. So we came off the road and started having two or three hits a year then; we were really getting very strong. And then, I donít know why, we suddenly got very hot, 1969. I think we had six or seven hits that year and the following year we had 11 hits, with three of four of them big American hits. The following year we had another nine hits. There was a two and a half year period we were never out of the charts. We woke up one Christmas morning, we had Number One, Number Two, Number Four and Number 33 on the charts.

Were you in Bristol all this time or did you eventually move to London?
I moved to London in 1965. Lived there till 1975.

So this was the time of Swinging London?
Absolutely. This was pre-Flower Power and, like, England ruled the waves. And if you wrote a hit song in England, chances were you were gonna have a hit song around the world. It was bloody marvellous, man.

Always working with Greenaway?
Yeah. We had an awesome time. And then in Ď75 I just suddenly started to get very bored; it started to get very formulated on the radio in England. Roger and I had just come off being Songwriters Of The Year for two consecutive years. I wanted to do something else and I thought I could live in America. So I came here. I spent three months in New York, which I really liked. Spent six weeks in L.A.

Were you married now?
Oh yes, I was married and had three children. I said to my wife, 'Iíve gotta go, Iíve gotta find out whether we could live there.' And she understood. She wasnít happy about it at the time but she understood. And I came over. I didnít really want to bring up a family in New York, although I loved the town musically. Went to L.A. and I could just never get hold of it, it wasnít tangible.

And then somebody said to me, 'why donít you come out to Nashville, you know, for a week?' I said, 'Iíve got nothing in common with Nashville, Iím a pop songwriter.' And this guy said, 'oh youíll love the musicians, youíll love the people.' So I came out just for a week, and that was it. I met all these people and I heard all these songs being written here, and I said, 'wow! I think I could come here and write and be happy.'

Then I went home and said to my wife, 'how about moving to Nashville?' She said alright, so we packed everythingóanimals, all our furniture, antiques, everythingóinto a big van, just lugged it all over the Big Pond. Bought a big farm out in the country. Big mistake. Within, like six months, my wife had a nervous breakdown from the silence of it. After being used to London, you know. So that was a big mistake. We ended up splitting up anyway. I worked really hard at it for two years and couldnít get a hit in this town. And then one day I wrote a song with a guy called Bobby Wood, 'Talking In Your Sleep.' Crystal Gayle. And that transformed my career overnight here. It was a pop song but it was cut country.

Marvellous song.
Thank you. Well anyway, overnight we had the BMI Song Of The Year and suddenly I was an entity in town. I was a hit Nashville songwriter.

Did you set out purposely to write that song without rhyme, was that a conscious decision?
Oh yeah. Iíve done that lots of times. In fact, itís something I really like to do. It sets you free. Youíre unfettered when you donít have to rhyme. You just concentrate on nice words, you know. More songwriters should do it, but not many do.

You have to choose your words really well to make them memorable...
You have to paint pictures, yeah.

Itís interesting that both you and Bobby are currently enjoying something of a renaissance [Bobby Wood is a co-writer on the Garth Brooks/Trisha Yearwood duet 'In Anotherís Eyes' and LeAnn Rimeís 'Commitment,' both sizeable hits]. He had a bit of a dry spell there.

Well, I did too. I had...well, I had a lotta problems. Itís hard to write when you got problems. I kept writing but I was writing 'guess-what-I-mean-by-this' kind of songs.

Enigmatic stuff.
Yeah! So, for three years before I left here I couldnít get a hit. And then I went back to England [in 1989] and I did get a hit, with a guy called Daniel OíDonnell. And I had two re-releases that were huge smashes. An old song called 'Somethingís Got A Hold Of My Heart,' which was Number One for five weeks in England. And another song called 'Softly Whispering I Love You,' an old hit from the Sixties which was re-released. So while I was in England I had three hits, you know. Which was really nice. So that kinda kept me going. But I never had a gig in England, I never had a [writing] job. It had become such a young industry; I guess it probably always was. Here I was pushing fiftyóeverybody saying, 'yeah, Cook, he wrote great songs, whatís he doing now?' Not really interested. Iíd done it, I was gone, just like the generation of writers I grew up with. And I thought, 'sod that,' you know. I woke up one day and Kitty and I, we looked at each other and I said, 'what are we doing here, why donít we go back home?' Nashville being home. So we came back here and, within a year, I had a big Number One.

You strike me as a lucky guy in some ways...
Damn lucky!

I mean, obviously youíve got an enormous talent and you work hard -rewriting a song at 8:30 this morning, for instance - but still, I think youíve got the old horseshoe right where you need it.
I donít know what weíd do without luck. I tell you what, you look at anybody, they could have turned left in their career but they turned right. Whether itís a Paul Simon or The Beatles - The Beatles never had to get together. They never had to be going to the same art college together. Itís just [snaps fingers]...

Unpredictable.
Isnít it though?

Talk about one of your partners in crime, Ralph Murphy. Where did you meet him?
Ralph was signed to the same company I was in the early Ď60s, Mills Music. And he had some success in Europe too as a songwriter, good success. And when he went to live in America - which he did in about 1973, he moved to New York - he went to work for Mills Music there, as a plugger and kind of general manager. He was still writing all that time. He was my friend, my big buddy, in New York. I used to always pop in to see him.

Then when I decided to settle in Nashville I had more money than, you know, more money than I could use at the time. So I said, 'Iím not gonna sign as a writer anywhere, Iím gonna form my own publishing company.' I called Ralph up and said, 'Ralph, why donít you come down and weíll do it together? Letís be partners in a venture together.' ĎCause he had the expertise. He had the everyday running of a company down, which I didnít have. I was kind of a novice to it. So he came down to join me and we had a very successful company; we had about 14 Number Ones.

Picalic is still talked about as one of the outstanding independent companies.
Well, we couldnít keep going. We were into the banks and then, one day, BMI and ASCAP got together and made this pact: no more advances [to publishers against future royalties]. They just informed us and overnight 50% of the publishers in town folded. All the big companies bought up all the little companies. We hung on for about two more years, Ralph and I, but in the end the bank wants their money. We were about $300,000 into themósitting on a worth a million and a half or more, even back then in the Ď80s, you know. But they forced us into selling the company. We had to settle for half of what it was worth. Buyerís market.

Sold it to EMI?
Screen Gems, who got bought by EMI. Itís just fishes in a tank, really, around this town. They bought all these songs and I was with Screen Gems for three years before I went back to England. They inherited me with the buying of the company. And nobody called me or took me out to lunch in three years! Itís like I was a forgotten person. It really hurt my feelings.

And youíd had big hits!
Yeah. Well, maybe I had it coming, you know, my ego needed deflating a little bit soís I could find out where ground zero was again and rebuild. But I went downhill for a few years, just wasnít interested in writing anything commercial. I know it sounds weird but I wasnít. Iíd done it for 20-odd years by then and I couldnít have cared less. I had an income; Iíd had a lot of hits.

I didnít really get hungry for hits again until the last year I spent in England, after I went over there for five years. And then I suddenly thought one day, 'Iím hearing all these songs in my head, you know, and I canít get them cut here in England. Thereís no way. Where can I go?' So Kitty and I came back here.

Where had you met Kitty?
Sheís an Indiana girl I met about 20 years ago. We were eyeing each other but she was going out with my best friend then and I was going out with her best friend. And then about 12 or 13 years ago, I was in the club one night - I was separated from my second wife and she was separated from her husband - and we just got to talking. I was looking into her eyes and I said, 'one of these days...' And she said, 'well, when?' And I thought, 'I stand a chance here!' So I called her up within two days and we started going out and eventually got married. That was our little one that just came in [referring to the 10-year-old girl who entered and left the kitchen moments earlier]. My baby. Thatís the fruit of our loins.

Just the one?
Yeah, and Kitty had a daughter already so Iíve got two children at home here.

And you had three from before?
Three others, grown, from the first marriage. Iíve got three grandchildren. My daughter Katy has just been signed to Curb Records [as a pop artist] here in town. She just made a record. Katy Cook. In fact sheís coming in today from London to shoot a video here. Sheís a beautiful girl.

You seem to have a really strong melodic sense that draws from different sources...you mention the church. Your comic song that I heard the other night,'Razor Blade Of Love'óthat sounds like British music hall.
Thatís pure music hall. But the great thing about growing up in England when we were kids - and the Beatles reflect this, the Stones - was that we had one radio station, the BBC. And they had three separate channels. [Radio] One was the only one where you heard pop music, but they never had any real pop music programs. Youíd be listening to pop, then the next record would be a classical record. Then you might hear a Scottish jig. So in an hour, you might hear three pop records. But what was great about it was that, growing up, musically we heard everything - from light comedy to Beethoven, Mozart, Duke Ellington, bluegrass music, the blues. So we had it all in our heads. I pity kids growing up now and listening to the radio and theyíre plugged into one station and itís all [does a rap/hip hop imitation].

Melody seems to be taking a beating these days.
Well, the singers donít have the ranges. But, you know, you can listen to some stations and hear some of the young bands and theyíve got really good pop melodic ideas. Itís actually getting better out there. Thereís more acoustic guitars coming back into the line-ups now, itís not all dance music or rap.

And then thereís ĎN Synch, Back Street Boys, which is pure mid-Ď60s pop but with todayís musical backing.

How did you meet John Prine?
We met because he came to cut a record at Cowboyís [Jack Clementís legendary studio] - Bruised Orange it was - and I was in and out of Cowboyís all day long. And [Prine] was a bit of a hero of mine Ďcause two of his songs I loved, 'Hello In There' and 'Sam Stone.' When I got to meet him we were a bit shy around each other at first, you know, as you can be, but then my girlfriend (who became my second wife) became very good friends with the girl who would become his second wife. And because they were so close John and I were thrown together a lot. We found out we both liked to play dominoes, we both liked to smoke dope and do other things We both liked to write songs at four oíclock in the morning, you know, after a session of Jack [Daniels] and cokes. And we started writing songs, really good songs. Wish weíd had a hit with all of Ďem.

Your first hit together was 'Love Is On A Roll' for Don Williams.
And of course the second one was 'I Just Want To Dance With You' [George Strait hit]. They all had somethingó they were very catchy tunes and they had the little wrinkles on Ďem lyrically that you get with John and myself. Nice cute ideas that sounded good. Iím really proud of our friendship. I really rate him high, I think heís a great songwriter.

How did you end up playing ukulele rather than guitar?
I was singing with doo-wop bands so I never needed an instrument, ever. And then I was doing a pantomime - do you know what a pantomime is? - they have them in England. Itís a Christmas show where you have 'Widow Twanky' or 'Puss-in-Boots' or...itís probably just in England.

Anyway, I was doing a pantomime and there was this tall, lanky guy with glasses - John, his name was - and he said, 'do you wanna buy a ukulele?' And I said, 'I donít know.' He said, 'Iíll teach you four chords if you want to' and I said 'how much?' He said, 'six quid' and that was about a third of my wages, you know. I said, 'ohhh...I donít know.' Then he showed me. And I so enjoyed having this instrument in my hands and I thought, 'I could write songs on this.' So I bought it for six quid. It was a great investment.

So how wild and crazy did it get back in the Ď70s here in Nashville?
As crazy as you can imagine.

Ralph told me he remembers you giving away a car.
[trying to remember] I drowned a car. I drowned my Rolls-Royce. We were too wild...

I donít know if it was a Rolls-Royce. Apparently you gave one to [British drummer] Tony Newman?
Oh! I gave my 1956 Cadillac to Tony Newman. Which he drove for 11 years and then gave me back in ruins. Totally ruined [laughs]. Iíve got it out in the garage now - all painted up, primed and ready to go.

Okay, now what about that Rolls-Royce?
I drowned a Silver Shadow. We had a flash flood here and I was trying to take back streets, trying to avoid all the rubbish. Iíd gone through a lot of big puddles, and suddenly I was in this puddle and it was up to here and I thought, 'Iíve gotta get out, Iím gonna drown!' I let the windows down, let the water in around me, pushed the door open, swam away and watched my car going Ďround in the water with the lights on. Beautiful Silver Shadow, just brought over from England.

Anyway, I waded to a womanís house (her house was under water too) and she let me make a phone call. And they said, 'thereís hundreds of [drowned] cars, we canít get to you till morning.' I said, 'this is my Silver Shadow!' 'Sorry buddy, first come first served.' Very democratic. So it was 12 hours under water, anyway, all the leather, all the veneer, motor seized up...my lovely left-hand-drive Silver Shadow.

It was as wild as you can imagine. Just imagine yourself with all the money you could ever use and all the drugs in town you could ever use...just crazy. And broken marriages, you know. Broken marriages do more damage than they seem to at first. Once you lose that anchorógoing home at night, the family thingóitís kind of...

Harlan Howard says divorce is the best thing for a songwriter.
Oh, itís great for a songwriter, yeah. You canít write about that stuff unless youíve gone through it. He might be right.

What role did Kitty play in getting you anchored again?
I remember [when] we first got together, it must have been about 1986-87, and she was still a little crazy then herself. But she was a nurse. And we went out one day and I remember going to the country. And she said, 'you donít look great, really, you look terrible. Youíre not gonna live long, you know. The way youíre going at it, your days are numbered.' I said, 'what do you mean?' She said, 'your liverís gonna give out, somethingís gonna give out, youíre gonna die.' And the fact that she was a nurse, I think, really worried me. I thought, 'really? Is that whatís gonna happen? Iíd hate to die in my early 50s.'

So that was the point when I started cutting back. And one day, about a year before we got married, I gave up cocaine.ĎCause thatís the craziest thing, cocaine. Leads to Jack Daniels and coke at night...then you take one to bring the other one down, another one to go up again...before you know it, itís four oíclock in the morning and youíre a mess. And I did this for years, you know. But every songwriterís got some kind of story like that; heís been up and down. The great thing is, if you hit bottom and youíve got any resiliency in you at all youíre gonna bounce. And I went all the way down.

Well, you look great!
Yeah, Iím feeling good. Iím a good boy now. We sit down in the evening, Kitty and I, Iíll have a glass of wine with my meal, and thatís it. From about 6:30, 7 oíclock on I donít drink anymore. I donít go out, I donít leave the house. We get up at 6 in the morning, you know; Iíve got a healthy life. Itís not really that boring.

How prolific are you?
I write a song a day.

Really?
Yeah. Over 200 hundred songs a year I give my publisher. I write at least four songs a week. I donít write on weekends.

Along with that goes a lot of ordinary songs, you know, but when youíre that prolific youíre gonna come up with half a dozen songs a year that really are great songs. And if one of them gets recorded, thatís my income, you know; thatís my living.

How did the affiliation with Island Bound Publishing happen?
Well, I called Ralph from England - he was still here of course - and said, 'look Ralph, Kitty and I are thinking of coming back. I donít want to start another publishing company - for one thing I canít afford it, you know, I went broke the last time - do you think I could get signed in town?' He said, 'leave it to me.' He got back to me and said, 'Iíve been talking to some people. Thereís a company called Island Bound - youíll love them, itís like a Picalic-sized company, you know, about six signed writers, couple of good hustlers, young people at the top who are really good. Good ears. I think youíll get a good deal with them with a really healthy draw.' And thereís a really funny story with this too.

When I came over he arranged a time for me to go and see them. I gave them a call and went over and I thought I recognised the building but I wasnít sure. I got in there and was talking to Julie [Daniel, Island Bound co-owner] and told her what my expectations were, you know, and she said, 'great, we can meet those, everythingís fine, weíd like to sign you, weíre really excited about it.' After that she said, 'weíve got a [writerís] room upstairsówould you like to go and see it?' She took me up. It was a real nice room, lots of window space, and I thought, 'Iíve been in this room before!'

Before I married my second wife I went out with what is now my wifeís best friend - I told you I had a girlfriend and my best friend had a girlfriend? well, this was the girl - and she lived in this flat. I had slept, smoked dope, made love and everything in this room I was standing in. Itís a big town, Nashville, why I should be taken to this room is kinda wild. Iíd already written songs in the room! Isnít that wild? I couldnít believe it. I said, 'yeah, this roomíll do just fine, you know.'

That is a strange story.
Yeah. The chances of my ending up in this same room Iíd lived in and slept in in Nashville for about three years, you knowóitís unbelievable. She could have taken me to another room and I might not have ever recognised the building.

Here we are on the brink of a new millennium, and youíve been having hit songs over a span of four decades. Itís quite remarkable.

I canít do anything else. But you know what? Itís not like a job where Iím gonna retire from it; I love what I do. I love being a songwriter.

You must if youíre writing 200 songs a year.
Itís so much easier now...you write songs for 40 years, itís gonna get easier. Whatís hard to come by is really unique ideas. But I guarantee they come more to me at my age than they come to young guys, you know. Unique, off-the-wall ideas.

Whatís your favourite Roger Cook song?
I donít know. Some of my favourite songs...like every songwriter, some of my favourite ones have never been recorded, you know. The one I have the most attachment to, I guess, is probably 'Youíve Got Your Troubles.' Thatís because it was my very first hit and it changed my life. Iíve written songs that were better constructed or have more genuine lyrical content but Iím really proud to get up and say, 'this is a song I wrote in 1965; it was a hit around the world and you might know it.' And people say, 'yeah, yeah.'

Itís kind of a young manís song too; itís got a sweetness to it that canít be manufactured.
Itís also saying, 'hey Buddy, donít bother me, Iíve got my troubles,' you know. That was fresh in 1965. And like you said, that counterpoint that came in at the end - that was something you only heard in music halls. The next time you heard a pop song that had it was within about a year when the Beatles put out 'Help' and they put a counterpoint in it. I still like to think that John actually heard our record, you know...

Did you get to know the Beatles?
Yeah. Absolutely. Couldnít help it - same producer, same studio. And Paul used to book us; Roger and I used to do backup vocals for groups he used to produce.

You sang some studio backups for Elton John, I read somewhere.
Did the first three albums, yeah. We did quite a lot of session singing, Roger and I. Then one day that got boring too, so I got out of it. In fact, I passed all my work over to Elton John. I said, 'call this guy, heís got a great pop voice.

' All these circles within circles. I watched Elton John on TV the other night singing 'Stand By Your Man' on a Tammy Wynette tribute.
I saw Graham Nash the other day, got to talking to him. Of course heíd left the Hollies before I wrote 'Long Cool Woman (In A Black Dress)' with Allan [Clarke]. I said, ' I found the actual original lyric with all the scribbl- as Iíd even changed pens - and I was thinking of framing it and sending it to Allan.'

Do you still enjoy Nashville as much as ever? Itís obviously grown and changed a great deal.
Iím enjoying it. Iíll tell you what, Iíve been here 25 years and Iíve got 25 yearsí worth of friends. You make better friends when youíre in your 30s; youíre a little more careful about who you let into your life. Consequently you make friends that last. Not like the hot and cold friendships you make when youíre younger, in your 20s. Iíve made friendships here that will last for the rest of my life, you know.

[Afternote: Art Garfunkel did indeed record the Cook-Gross song. ĎN Synch, unfortunately, did not participate.]

Copyright Songwriter Magazine, International Songwriters Association & Larry Wayne Clark: All Rights Reserved
ISA ē International Songwriters Association (1967)
internationalsongwriters@gmail.com