Introduction by Jim Liddane
Born in Ontario, Canada, Gordon Lightfoot is frequently referred to as Canada's greatest songwriter. His work has covered a wide variety of genres, and his own hits include 'For Lovin' Me', 'Early Morning Rain', 'Steel Rail Blues', 'Ribbon of Darkness', Black Day In July,' '(Remember Me) I'm the One', 'If You Could Read My Mind', 'Sundown', 'Carefree Highway', 'Rainy Day People' amd 'The Wreck of the Edmund Fitzgerald' (1976).

In addition, his compositions have been covered by hundreds of recording artists, including Elvis Presley, Johnny Cash, Hank Williams Jr., The Kingston Trio, Jerry Lee Lewis, Neil Young, Bob Dylan, Judy Collins, Barbra Streisand, Johnny Mathis, Herb Alpert, Harry Belafonte, Sarah McLachlan, Eric Clapton, John Mellencamp, Peter, Paul and Mary, Glen Campbell, The Grateful Dead, Nico, Olivia Newton-John, Gene Clark, Dan Fogelberg, Jimmy Buffett, and Jim Croce.

Larry Wayne Clarke interviewed Gordon Lightfoot for the International Songwriters Association's publication "Songwriter Magazine".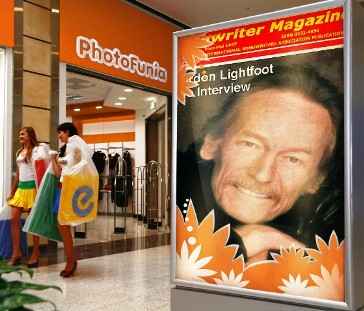 Prologue
He speaks softly and without self-aggrandisement, seemingly unaware when he mentions names and song titles that live in the realm of near-legend. The unmistakable twang of small-town Ontario is clearly, unapologetically, audible in his still-boyish speaking voice. Fastidious in all things musical, he refers often to "tuning,'' giving the word almost a metaphysical tinge, as though describing a state of grace.

But, whatever traces of the Canadian hometown boy remain, we're only too aware that this man's stature in the music industry is gigantic. Now a lean and fit 61, Gordon Meredith Lightfoot, the pride of Orillia, Ontario, is the author of many unforgettable songs, songs that have transcended genre to be covered dozens, even hundreds, of times by the likes of Elvis, Barbra Streisand, Jerry Lee Lewis, Peter, Paul & Mary—even his personal hero Bob Dylan.

If you lived in Canada during the '60s and '70s (as this writer did), Lightfoot was everywhere, a colossal presence. Like any minstrel worth his salt, he scattered the seeds of his minstrelsy with abandon and they took prolific root in the musical soil of the time. Coffeehouse singers offered worshipful covers of "For Lovin' Me" and "Early Morning Rain"; the ambitious ones might even brave the dense wordplay and rhythmic complexity of the "Canadian Railroad Trilogy," perhaps Canada's foremost modern-day anthem, celebrating the vast country and its pioneers with a suite of interwoven songs rich in imagery, but never jingoistic.

In 1968 Lightfoot hosted an hour-long special on Canada's CBC-TV network, bringing his sound and image to an audience beyond the folk community (where he already enjoyed fair-haired boy status among peers such as Ian & Sylvia, Peter, Paul & Mary and Joni Mitchell). Poet, troubadour, doe-eyed heartthrob, Lightfoot was a true star—made all the more appealing by his reluctance to act like one, even as his sound moved away from coffeehouse balladry to a more commercial folk-pop brew that yielded hits like "Sundown," "Carefree Highway" and the epic "The Wreck Of The Edmund Fitzgerald."

Today the sweet tenorish tones are gone, diminished by time, cigarettes, booze, and hard living. Yesteryear's romantic leading man now sings his story with the bruised timbre of a sadder-but-wiser character actor. But Lightfoot is still Lightfoot. If the albums occur infrequently now (his long association with Warner Reprise recently ended), they still bear the authentic stamp of his unique poetic vision. His latest opus, 1998's A Painter Passing Through, could not be more aptly titled. It seems hardly fanciful to regard the man who made us hear the ring of hammer on steel across the raw Canadian wilderness, who lovingly sketched the pastoral beauty of "Pussywillows, Cattails," and who made Don Quixote gallop across our collective mind's eye "in a blaze of tangled hooves" as a painter, one wielding a palette of remarkable vividness.

Passing through? Perhaps, as indeed we all are, but Gordon Lightfoot is a long way from his journey's end. Married for the second time, with two children (five and ten) currently living at home, his life seems mellow and fulfilled. A recently filmed live concert in Reno, Nevada will be shown as a PBS (Public Broadcasting System) television special later this year. In 1999 Rhino Records released Songbook, a 4-CD 88-song Lightfoot retrospective, to great critical acclaim. In '97 he received a Governor General's Award, Canada's loftiest hon. And people keep rediscovering those classic songs: Sarah McLaughlan's cover of "Song For A Winter's Night" made an appearance in the movie Miracle On 53rd Street, while Stars On 54's disco version of the haunting "If You Could Read My Mind" was heard in Studio 54—proof indeed that no amount of misarrangement can capsize a great song. As if to drive that point home, rap artist Elwood is the most recent (if least expected) visitor to the Lightfoot catalogue with his version of "Sundown."

I've met Lightfoot and spoken to him by phone several times before. I renewed our acquaintance by long-distance phone in mid-May. Friendly and remarkably candid on many subjects (including his decades-long problems with the bottle, which he quit in '82), he seems however slightly uncomfortable about delving into the ethereal aspects of his amazing writer's gifts, preferring to give the nod to a good work ethic, good timing and, especially, good luck. Some of our conversation follows:

Are you at a point in your life now where you're entertaining thoughts of setting the record straight and doing an autobiography?
Not yet. It's so convoluted that it'd be kind of difficult, you know. I'd almost like to leave it alone. The ghosts from the past sometimes have a way of reappearing and causing turmoil and difficulty in the present.

You've said that when you were helping to compile the material for the boxed set you found that experience to be a haunting one at times, digging among those ghosts.
Well, some of those old ghosts are still lingering around [laughs]. It was an experience that reminded me of certain times throughout my adult life...some of them were, as you say, painful to deal with and some of the others were quite uplifting. You try to balance it off. I don't think I've got a clean sheet yet but I've been in a pretty good state of repentance since about 1982.

You've been a good boy.
Well, not really [chuckling]. You know, there's a time in your life when you don't really let your conscience be your guide and I just think that I got deep into that background at times [working on the boxed set].

You've moved since I spoke to you last. You'd been in your Rosedale home since, what, the '70s?
Yeah, I was in there a long time. That was a good house; I got a lot of positive, good solid songs written in that house. Twenty-five years altogether.

Are you still in Toronto?
Oh, yeah. About five miles north-east as the crow flies, out in North York. It's quite a nice house and it's got a good little workspace in it.

Have you consecrated it with some new songs?
Yeah, I've turned out a couple of songs here since I moved in. One of them about the house itself. The other one a sort of...I don't know what you'd call it, a kind of a song about society. I like writing songs about society occasionally [chuckling].

You've been in Toronto all these years but, looking over the details of your life, I realise how much of your career touches on the U.S.—beyond just the Number One singles and albums and things like the new PBS special. You studied music in LA. You were managed for years by Albert Grossman out of New York. You recorded your first album in New York and did some later recording in Nashville. Was there ever a time when you seriously considered moving south of the border?
Yes, in a way. At one time I went as far as renting a place in LA for a while but I wasn't really happy out there. I really like Toronto a lot; if I'm away from it too long I miss it. So I came back here. Early on I learned the process of getting my U.S. work papers together while I was with the Albert Grossman office; I was always able to [work in the U.S.]. So I just never bothered moving down there again. I guess I'm a Canadian at heart.

Of course, in retrospect it was the smartest thing you could have done. You've become somebody who's looked upon as a true Canadian voice...
..."Canadian Icon"! Everybody's an icon now [laughing].

Well, Gordon Lightfoot certainly is. Let's talk a little bit about this PBS TV special—are you happy with how it turned out?
Yeah. It was a one-take, as you know, but I think we did pretty well with it. The energy level was good. It was done at the Pioneer Center in Reno, which is a 1400-seater, and we had a really great live audience there. There were a couple of things where I don't know if I achieved perfect tuning or not, but the look of it is good. It's supposed to air sometime around the end of the year. That's about all I know about it. I just worried a lot getting ready, and I thought really carefully about the selection of the material.

Barry Harvey [Lightfoot's business manager] told me he thought you were in great voice during the taping.
The singing kinda looks after itself, to a degree. I think it helps that I resort to physical exercise; it helps build up lung pressure.

I was reading somewhere that your first public performance was singing "I'm A Little Teapot" in Sunday School.
No, that's not so. No, I think the first significant tune that I ever sang was "Too Ra Loo Ra Loo Ral (An Irish Lullaby)" in Grade Four. I recorded it on a lathe at school for a parents' day event to be broadcast over the public address system. And it came out quite well. So after that I started getting involved in singing competitions and all that stuff.

So that's all it took to hook you!
Yeah, I got started really early.

When was your first recording trip to Nashville?
I was down in '61 with a group of artists from Toronto. That time there was a guy here in Toronto named Art Snider with a record company called Chateau, he got some artists together—and I was one of them—and we went down and got some real ace musicians. Got some real good sides, but like I've said before, I came out sounding like a cross between Jim Reeves and Pat Boone.

Some of your early successes came with Marty Robbins' Number 1 version of "Early Mornin' Rain" and other covers by people like Ian & Sylvia. Was it always your plan to be a songwriter-artist or was there ever a time when you thought you might just write songs?
I was always able to do the gig as well. When I first started singing I had a whole repertoire of covers with a few of my originals interjected into the set. But after a period of two or three years it got so I was able to run on my own material. There was a lot of really good folk material around too during that period from about 1962 to about 1968. Didn't last long. The Beatles came over top of everything real big in 1963.

Was that pretty disastrous?
Well, it sorta kicked the stuffing out of the Folk Revival, but that's okay because I guess that's the way it was meant to be. Several artists survived and a number of them are still performing today...James Taylor, Dylan, Paul Simon.

Do you think there'll ever be another folk craze of that sort?
I don't think so, Larry. I don't think so. That ultra-modern side is always gonna win because it [involves] that young crowd.

But it was a young crowd listening to the folk stuff back then, wasn't it? Somehow it became romantic and important for them.
Well, I'm talking about the real young ones [laughs]—like the 14- and 15-year-olds! Some of the production that you hear on these mainstream pop stations—God! All these people must live in New York or LA and they're pumping out this stuff and, boy, it is smooth.

What was the effect on your writing when you heard Dylan? A lot of people, going back to that time, claim he was pivotal in what they were doing.
It was so basic in its nature. I think both Ian Tyson and I agreed at that time that, if he could do it, at least we could sit down and write one! It was like an inspiration toward the work ethic, I suppose; get your tail down and get busy. Because he was really putting the stuff out, doing a lot of writing.

Is "The Wreck Of The Edmund Fitzgerald" still your own favourite among your songs?
I would have to say so, yes. I have some others that are pretty close but it's the most meaningful; I think it really means a lot to quite a few people. We had a get-together last year, Larry, up in Sault Ste. Marie, Michigan and had over 800 people there. They had me set up [to perform] at a lectern. It's quite a big deal. One Sunday we flew down to Detroit and played at the Mariner's Church, just two acoustic guitars and bass during a memorial service. I think it was the tenth anniversary [of the wreck]. So it's an on-going thing and it's important, you know. I have to honour my place in it. We keep a scholarship too at Traverse City, at North-western Michigan College.

Is it true you wrote and recorded that song within the same month as the ship went down?
It happened right at a time when I was on a roll—it was time to write, I had it turned on, no distractions or anything of that kind. [the wreck] came into the picture right in the middle of that roll. A TV item, then the newspaper items, then an item in Newsweek magazine. Then I was reading another news item about it where they spelled the name wrong — they spelled Edmund with an "o" instead of a "u"—and I said: "That's it! I'm gonna get the name right and also try and get everything in chronological order." So I started working on it. There was a kind of a melody and a chord pattern already [started] for me to try. And it worked out.

You used an interesting turn of phrase, "I had it turned on," as if referring to a kind of songwriting radar, or what a lot of people call "being in the zone." Do songs ever come to you really fast, with no effort?
Yeah, and you wonder just how the hell you did it. All of a sudden, there's the song. I can remember that with a song called "I'm Not Sayin'"—probably it goes back so far I don't know if anybody remembers that one. That's one of those two-minute songs.

It's well documented that you quit drinking in 1982. What was that about? Was it a matter of what it was doing to your life, or did you feel your health was jeopardised? Maybe concern about your vocals?
It's what it was doing to my life. It was hurting the show too, of course, but that improved after I quit because I started getting more into my tuning; I started to really get serious about tuning and it's a whole new ballgame now.

What is it with performers and the bottle, and other substances? Is it masking insecurity?
It's like fuel.

At least you can look back on it. Unlike, say, Hank Williams for example, who died before he was 30.
Well, I was able to write afterwards, anyway. But it took a while.

Did you think when you stopped drinking that you wouldn't be able to write?
Yeah. Yeah, I thought that way.

There seems to be that myth of the doomed Dylan Thomas-type character where we say, "it's a shame about the way he lives but, man, the writing is so good!"
Yeah. Well, it got to the point where it was doing...it was going to kill me, actually. I was on the verge of having cirrhosis. So I heard about a doctor and I went to him and, the very first session, he made me promise that I would not drink anymore.

And you made that promise?
Yeah. Well, he had to talk me into making it, and I had to make it before I left. Or wait another three weeks for another appointment. So I had to shake his hand. He had a big poster on the wall of his office with "salute!" across the top of it, so a couple of days later I wrote a song called "Salute." But he did; he made me shake his hand and I stayed with it for six weeks. Then I fell off the wagon for one night and I went back on a regular re-visit—you had to go back once a week, you know, for the first couple of months, to report in. And I told him I was off the wagon and he threatened right then and there to put me on Antibuse. I said "no, thank you!" and he said, "well, you be here next week, I'll see you then." It was luck, it was just pure luck. I found a good doctor.

You didn't join AA or become involved with any 12-step programs?
No, didn't do any of that.

But you're taking pretty good care of yourself now, from all reports.
Now if I could stop smoking these cigarettes, I'd be okay!

I guess you're entitled some little bit of sin. Are you still working out?
Yes, I am, on a rigorous schedule.

Do you do this at home or go to a gym?
I go to a gym. I don't have a trainer, I can train myself. My workout is a two-hour one and, when I'm home, I do that three times a week. And it takes some doing. I do it in the morning. I get up and help get the kids to school and I do it then; it's all finished by quarter to 12.

Have you given up your famous canoe trips now?
I don't do that anymore. I don't have time for it anymore. My canoes are all stored.

You must be missing it. You did it for years.
Well, it's funny, I don't feel the need. I did 10 trips; the last one was in 1986. I was out for 33 days one time in the Northwest Territories. I would get inspired and I would remember things from up there in the tundra—the animals and wildlife and what vegetation there was because, believe me, there wasn't much, mostly just rock—and it left me with some real lasting impressions.

Well, you refer to yourself as a painter in your latest album.
I can [draw from] lots of imagery.

Let's talk about your actual writing techniques and habits. Do you write with the guitar?
Yes. I take the guitar and I work on stuff, say, while I'm watching a game on TV. And if I get something I'll throw it down real quick onto my little recording machine, which is just a basic cassette machine with a counter. I store ideas that way and [later] I refer back to the tape. And then at some point I make [an index] sheet so I can find stuff. So what I have is a whole procession of ideas about 10 seconds long maximum. I keep 'em short 'cause it doesn't take much just to start.

Do words and music tend to come together?
It gets tougher to try and think of how the words should go but, by mouthing [syllables] with the music, I can sometimes come up with something. I get a lot of ideas too when I'm driving, or even in the shower.

Those are two places where a lot of songwriter claim to get inspired—on the road and in the shower. Some say they get ideas mowing the lawn. It almost seems like the white noise inherent to those activities is somehow beneficial.
Well, let me join the crowd! [Laughing.]

Have you traditionally waited until you were coming up to record an album before thinking, "I better get busy and start harvesting these ideas"—is that how you go about it?
Yeah, I've been in that spot several times and felt something snap inside myself that tells me it's time to get to work. I was working on a movie a long time ago way out in Port Alberni on Vancouver Island [note: Lightfoot played a role in the film Harry Tracy, Desperado] and was in a store buying a shirt and I said, "working on this movie's not for me, I've gotta get home and write some songs!" The same thing would happen when I'd be on a canoe trip, trying to paddle a canoe 20 miles a day, after about 18 days sometimes you think, "God, it'd be an awful lot easier to be home writing songs."

When you do get into the writing do you tend to do it in a binge-like way and spend long hours at it?
I used to do it that way during the stretch when I was single, which lasted about 19 years. I had a long period of time between marriages; that was the time when I was really able to pour it on and work for long stretches. It's not like that now; I have two young children. I've written two albums since I got married again, and that was 11 years ago. I'm not complaining, it's cool, but that's just the way it goes. Family—they need your time and you gotta give it to them.

Well, I guess maybe you're at a point in your life where your priorities are allowing you to willingly give it to them.
But we're getting to tour; I'm getting to [enjoy] that perk. We're playing 50 shows this year and 50 shows next year too, and we're getting real good crowds. We've got that part of it going.

Do you go through nightmare periods of not being able to write...
...Yeah, right now! [Laughing.] I'm mean, I'm looking at being able to start at the beginning of the year. I hope! I hope I can get started next January, get settled down around here in this new place, try and get some more tunes out.

So now that you're living a fairly...
...Sheltered life!...

...Well, put it that way if you like. It sounds like a fairly calm and collected existence but, looking back over the years, what's your take on how to make it in this industry with all its peaks and valleys and wild temptations?
God, you know, there's a certain element of luck involved in the overall picture and I was very fortunate that Ian & Sylvia helped me out in the beginning. Because I don't think without them anything would have ever happened—I just sometimes think that way. I would have been able to make a living, but... It was through them that I was able to get involved with the American management. And believe me, I was tentative too—because I'm such a conservative person by nature and kinda shy—about getting involved in some of the deals when things would come to me. I used to find it hard to sign things. Like signing a contract with management for seven years would cause me to stop and wonder. But in the aftermath of that decision, I found that I got quite a few cover recordings because their publishing connections were really good. So I would call that luck. To a certain degree.

Copyright Songwriter Magazine, International Songwriters Association & Larry Wayne Clark: All Rights Reserved

Postscript
Since 1967, we have spoken with hundreds of songwriters and music publishers, building up a huge collection of detailed interviews which is unmatched anywhere.

Click HERE to see a list of those currently on this website. And remember, we add new ones every month!

For more interviews with famous songwriters and music publishers, click here

ISA • International Songwriters Association (1967)
internationalsongwriters@gmail.com






Cookies Policy • Privacy Policy • Copyright

Legal Notice
This site is published by the International Songwriters Association, and will introduce you to the world of songwriting. It will explain music business terms and help you understand the business concepts that you should be familiar with, thus enabling you to ask more pertinent questions when you meet with your accountant/CPA or solicitor/lawyer.

However, although this website includes information about legal issues and legal developments as well as accounting issues and accounting developments, it is not meant to be a replacement for professional advice. Such materials are for informational purposes only and may not reflect the most current legal/accounting developments.

Every effort has been made to make this site as complete and as accurate as possible, but no warranty or fitness is implied. The information provided is on an "as is" basis and the author(s) and the publisher shall have neither liability nor responsibility to any person or entity with respect to any loss or damages arising from the information contained on this site. No steps should be taken without seeking competent legal and/or accounting advice
Home • Interviews • Writing A Song • Obituaries