Introduction by Jim Liddane
Born in Southhampton, UK, singer-songwriter Mike Batt has written material for Cliff Richard, Vanessa Mae, Art Garfunkel, Barbara Dickson, Alvin Stardust, Katie Melua and David Essex to name but a few.

Signed to Liberty Records in London at the age of 18, he became their head of A&R just ten weeks later, going on to sign Tony McPhee's band The Groundhogs, and producing their first album 'Scratching The Surface'.

By the age of 23, he was producing the Wombles, releasing eight hit singles, and earning in the process four Gold Records.

As a songwriter, his hits include 'Bright Eyes' (for Art Garfunkel) and 'Nine Million Bicycles' (for Katie Melua), while his material has been covered by many internationally established performers. He is the only composer to have won the Ivor Novello Award for 'Best Film Music' two years in succession ('Watership Down' and 'Caravans').

Heís collaborated with Tim Rice, co-written with Andrew Lloyd Webber amd worked with acts ranging from Linda Lewis to Steeleye Span.

He formed his own record label Dramatico in 2002, working with a small group of artists including Katie Melua, Carla Bruni, and Marianne Faithfull.

As a conductor and producer he has worked with some of the worlds top orchestras.

Jim Birmingham interviewed Mike Batt for the International Songwriters Association's publication "Songwriter Magazine"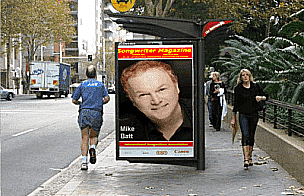 Youíll always be associated with the Wombles - but you were in the music business before that.
I worked for a publishing company and was signed as a songwriter to Liberty/United Artistes. Iíd got the job after applying to an advertisement which said "Liberty Records are looking for talent". Coincidentally it was the same ad. that Elton John had answered when he hooked up with Bernie Taupin! I was signed as a songwriter and artiste and then was offered the job as Head of Production which was great. There I was 19 years old and it gave me the key to the city really. It was a dream start to my career.

Did you have people covering your material at that point?
No, I was just a baby songwriter then. I remember Jeff Lynne coming in when he was with Idle Race and I was wheeled out as the companyís new hope, the songwriter that everyone should emulate, and I played him a load of quite rubbishy songs really, but they had a certain wackiness and Iím sure Jeff thought "I could do better than that". So Iím probably responsible for Jeff Lynne starting to be a songwriter!

What was the first piece of music that you had a direct input on that was released?
I had singles out, even though people werenít covering my songs at that time. I had a song called "Mr Poem" which is quite embarrassing to look back on now - I found a copy in the attic the other day and just managed to not destroy it! Then I had a single of "Your Mother Should Know" the Beatles track, which I had done as a Vivaldi string arrangement with me singing over the top of it, that became whatís known as a turntable hit.

And from there, I had a couple more singles but I started to be torn two ways. I liked being an artiste and I also liked having the office and being able to get into any club in town. The money wasnít great but I was only 19 and it was a fantastic time. I started to sign a few blues acts including the Groundhogs and a big black guy called Big Joe Williams who used to walk around with a walking stick, and he would cut a notch into it every time he did a gig or recorded - the story being that when it broke he would retire. The deal we did was $150 in his hand and a bottle of whiskey, he didnít want any royalties, he didnít trust us to pay them and he signed his name with a cross. But I wanted to concentrate my efforts on the two things that were my passion, one being songwriting and the other was arranging and conducting. I thought it would better to go my own way - to be a producer - and that was when I started writing advertising jingles, just to pay the rent really. So I would do just whatever came along, if they wanted a jingle for some crazy product I would just say yes.

Iíve always seen you as the sort of songwriter who just gets down to it, the craftsman rather waiting for the muse to hit you.
I donít think of myself as just a craftsman. That sounds almost pompous like Iím trying to get more credit than just being a craftsman, but I do think if you lie around all day hoping the muse will appear, you will be disappointed most of the time. Iím not saying I put a suit and tie on and go in to the office at 9.00am every morning and start writing but if I have a deadline say, and have to be in Abbey Road by next Wednesday with four songs written, all scored for a 90 piece orchestra, thatís the kind of adrenaline kick that would make me turn up at that studio with four songs. Two of them might be brilliant and two might be crap, but theyíd be there.

How did you get the Wombles commission in the first place?
That came from my jingles work. The agent I had, rang and said these people are doing a TV programme called The Wombles and they want a tune so will you come and meet them. I met them and suggested a song might be better rather than just a tune as it could introduce the characters to the kids and the rather crazy nature of the show. So they went for that. I was living in a houseboat in Weybridge at the time with a young baby and a wife and I remember writing the tune on this little fold-up piano. I didnít have any lyrics at the time except for the "underground overground" line and I was writing the lyrics on the train on the way in to the meeting where I was going to be playing the song and I remember seeing a little girl playing on the floor of the carriage with her mum looking on, and just thinking to myself "I wonder if that little girl will ever know this song?" which of course shortly afterwards she would.

Thatís really leaving it to the last minute - you going to present the song to somebody and youíre still writing the lyrics?
Exactly. I remember a recording session for Allan Clarke from the Hollies when they were recording a track "Soldier Song" for which I had written the first two verses and whilst Allan was recording those verses I was writing the third verse. It was the verse where the whole story paid off so it had to be good.

Thatís flying by the seat of your pants!
It is, but if it turns out utter crap, youíve always got the chance to say "sorry guys, weíll have to come back another day". Though if you are on a tight budget with a jingle company or film company, you canít take that option. There were many times when I would be up all night with endless cups of coffee and my copyist would pick up the stuff at 3.00am while I worked on with the piece. So I would work on the main score, and they would copy it out for the individual instruments. I would then turn up for the session.

So where did you do all your training for that? Being able to score for an entire orchestra is quite a skill.
It must be a natural ability, Iíve never been trained. Iíve learned everything I know about orchestration from reading books and listening to records. I would go on holiday with a manual on orchestration rather than say, Rolf Harrisís autobiography, which incidentally I have just read and itís excellent. But by being just bare-faced about it and going along to sessions with a baton and standing in front of an orchestra waving my arms about until I was told "actually thatís not what you do", eventually I got it right. It was almost like designing your own university career. I would listen to the way composers would write strings and I would incorporate similar voicings without copying the ideas but just to get a flavour.

The Wombles tracks were good pieces in their own right, did you find it frustrating having all these excellent musical ideas and being obliged to put them in a Womble framework?
Yes I did. Iíd be thinking, if this same song didnít have the word Womble in it and was sung by say Marc Bolan, people would be saying it was a rock classic, but I did get off on the fact that you were there creating a temporary kind of art, although it has endured. But you just think - well thereís more where that came from and I will do other projects that are more serious. Trouble was when I did other projects, people didnít take it seriously. I mean in the UK, you try getting on the "Old Grey Whistle Test" with your latest singer-songwriter album, when only a year previously you were jumping about on "Top Of The Pops" in a Womble costume.

How old were you when you first realised how much music meant to you?
Twelve or thirteen I would say. I only really started to show any musical talent when my dad bought this old piano. He could play just on the black keys and I thought it sounded brilliant - and he wasnít musical at all, he thought. In fact he probably was deeply musical but just hadnít been trained. We went to stay at a house on holiday and they had an old chord organ there which I played on and realised I could write tunes on it.

What about earliest influences?
I joined a record club as a youngster where you could get six EPs for free if you bought one full price or something. The first album I bought was Schubert's 9th Symphony and I knew every part, everywhere the various instruments came in. And when my parents would go out on a Saturday morning, I would stack up all the furniture and write violins on the left and cellos on the right. I would conduct all the furniture. And they never got a note wrong! The first actual pop record I bought was "Island Of Dreams" by the Springfields.

Favourite songwriters?
Cat Stevens was my model when I was young and particularly in his early days with things like "Matthew And Son" - it was such an original way of writing. I used to go up to Decca with the idea of becoming the next Cat Stevens, so he was an influence.

Is there a song youíd like to have written?
"The Fool On The Hill", by Paul McCartney. An odd choice but who would ever write a song about a fool on a hill, someone whoís a bit demented?

Is there a song you have written that you are particularly proud of?
Probably "Railway Hotel" - it seems to be popular with a lot of people. The DJs Steve Wright, Paul Gambaccini and Simon Bates have all said they like it. Though it was never a big hit, it was covered by about six people, including Andy Williams. The best version Iíve heard of it was by The Fureys with Davey Arthur, but whenever Iíve spoken to anyone who was going to record it, Iíve always said - whatever you do donít put drums on it or it will just turn it into a country waltz. But they still do!

Have you ever been really disappointed with a version of one of your songs, where you wish they hadnít bothered to cover it?
Unfortunately the answer makes me sound a bit ungrateful or churlish but almost every time someone has covered one of my songs Iíve hated it. One favourite song of mine is called "I Watch You Sleeping" which I wrote for my son for an album Cameron Macintosh was making about Xmas and thought it might be like a little nativity song. And Iím very proud of it. Itís very emotional. John Denver did a version of it and made a complete pigís ear of it - where I had 3/4 bar followed by a 4/4 bar, he just added the extra beat and changed the tempo. It wasnít the fact that heíd changed it - I have heard altered versions of my songs which I have liked - but it was just so bloody awful - I thought why did you bother? Sometimes I actually sit on material until I can produce it myself.

How do you present demos of new works?
Well, I have a friend Andy Hill who is a marvellous songwriter and he spends weeks and weeks on demos. In fact. I have never heard a finished master of one of his songs ever sound as good as his demos. Mine donít always. I will do piano vocal demos if I have to.

Your album "The Hunting Of The Snark", you made into a musical and it went into the West End but came off after a short time. What happened there?
There were several things against it. It was the year of the Gulf war so there were no Americans in town. We had some bad reviews from theatre critics who didnít like the idea of someone who wasnít from a theatre background doing the whole show. The visuals were so stunning, but the critics felt that perhaps they overshadowed the music.

You are an artist in your own right but I think I'd be right in saying youíve had more success with other people covering your material. When you see someone like Art Garfunkel, David Essex, Barbara Dickson etc. doing well with one of your songs, do you think "oh good" or do you think, "that should be me"?
No I never think that, because I still operate as an artiste, Iíve a new album out called "Bright Eyes At The Railway Hotel" which are re-recordings of all my favourite songs that Iíve written - whether Iíve had hits myself with them or not, which I have had in Europe. When I couldnít get arrested in the UK because of the Wombles, I was taken a bit more seriously over there, regularly selling 200,000 album copies in Germany. So I still have a career as an artiste.

Youíve covered such a wide range of styles with your music - country, rock, classical. Do you write a song and then cast it afterwards?
It depends, I could be working with an artiste and I write for them specifically. I rarely just write a song - Iíve almost never done that. I did it once with Tim Rice, but even when Iíd done "A Winterís Tale" with Tim, it was because David Essex had phoned me and said "can you write me a song for Xmas?"

What music do you listen to for enjoyment?
I like Moby, Travis, the Dixie Chicks, but Iím not a buff on anyone. I might hear something on the radio and like it but not know who it was. I like a bit of early blues but I donít follow the charts. Though I used to. In fact I used to have a jukebox and my secretary would put the Top 30 tracks on it each week but itís so transient and so fickle these days that I just donít want to hear it.

You did an album "Classic Blue" with Justin Hayward. Do you have any further plans to do an entire album with just one artiste?
I love doing that. I love it when an artiste says "write me an album". Iíd love to do one with Garfunkel, for him to call and say come on then "write me that album youíve always said".

I remember an album that Jimmy Webb did with the Fifth Dimension where heíd written everything and between each full song there were these little musical gems that would lead you from one track to another. Iíve always thought Garfunkel could have a ball with something like that. It could be anyone, anyone that I really respect. I would say right - "Iíll get the RPO, give me six months and weíll make an album in three days".

Copyright Songwriter Magazine, International Songwriters Association & Jim Birmingham: All Rights Reserved

Postscript
Since 1967, we have spoken with hundreds of songwriters and music publishers, building up a huge collection of detailed interviews which is unmatched anywhere.

Click HERE to see a list of those currently on this website. And remember, we add new ones every month!
ISA ē International Songwriters Association (1967)
internationalsongwriters@gmail.com






Cookies Policy ē Privacy Policy ē Copyright

Legal Notice
This site is published by the International Songwriters Association, and will introduce you to the world of songwriting. It will explain music business terms and help you understand the business concepts that you should be familiar with, thus enabling you to ask more pertinent questions when you meet with your accountant/CPA or solicitor/lawyer.

However, although this website includes information about legal issues and legal developments as well as accounting issues and accounting developments, it is not meant to be a replacement for professional advice. Such materials are for informational purposes only and may not reflect the most current legal/accounting developments.

Every effort has been made to make this site as complete and as accurate as possible, but no warranty or fitness is implied. The information provided is on an "as is" basis and the author(s) and the publisher shall have neither liability nor responsibility to any person or entity with respect to any loss or damages arising from the information contained on this site. No steps should be taken without seeking competent legal and/or accounting advice
Home ē Interviews ē Writing A Song ē Obituaries