Introduction by Jim Liddane
Very few people leave their jobs with major publishing houses and start up successfully on their own. One of the exceptions was John Spalding, who after twenty-odd years in the employ of various well known companies, made a success of his own Bocu Music. The jewel in Bocu's crown was the entire works of Abba, but John shepherded around 9,000 titles in all - amazingly, without the aid of a computer!

Gerald Mahlowe interviewed John Spalding for the International Songwriters Association's publication "Songwriter Magazine".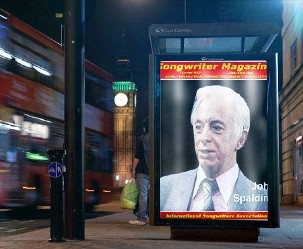 Have you always been in the music business?
Yes, ever since I left the army in '55.

How did you get into it?
I was always happy with figures and I wanted to do something with figures in a musical atmosphere because I was a frustrated drummer! So like a lot of people who came out of the army and wanted to get into the business, I bought the Melody Maker, and saw a job advertised for a copyright manager in a music publishers. It was a company called Cecil Lennox in Charing Cross Road, and I went for the interview and got the job. They were owned by a guy called Eddie Kassner of Kassner Associated Publishers and I wasn't there long before they started having a lot of hits - which was nothing to do with me - but I mean they had things like "Rock Around The Clock" and they had hits with Ruby Murray, like "Evermore", and that's how it all started.

How long were you with Eddie Kassner?
I was with him from '55 to '59 and then I started a company called Dominion Music.

Your own company?
No, it was an American company, and I started the English office for the guy who ran it, Michael Stewart, who many years later took over CBS Publishing and CBS Records. One of our first big things in '59 when I got there was "Never On A Sunday", and we also had several hits with Johnny Mathis.

Were you still with Dominion when The Beatles came along and revolutionised English music publishing?
Yes. It was unbelievable - you started seeing these ridiculous sales. As I remember, it also stopped the Americans asking for ridiculous advances all the time; they became more interested in sort of exchange deals... "I'll give you something if you give me something". Before then, of course, it was really just one-way traffic.

Did Dominion benefit at all by that explosion?
Yes, because under our Dominion banner, we looked after a few tunes of a company called Jobete Music, which went on to become the publishing wing of Tamla Motown. And three of those, I think, went on The Beatles first album, which sold a million. Things like "Please Mr. Postman" and "You Really Got A Hold On Me", they were Dominion copyrights. All of a sudden, we thought, "This is what it's all about!".

You were looking after other American publishers at Dominion?
Yes, four or five smaller ones, including Aldon Music, which was Don Kirshner's company. I'll never forget - we had these four little rooms where you couldn't swing a cat, and one week, we had seven in the Top 20! We were up there with things like "The Locomotion" (Little Eva), "Will You Love Me Tomorrow?" (The Shirelles), "Happy Birthday Sweet Sixteen" (Neil Sedaka) - all those came out of just one deal, with Aldon. Later on, Aldon was taken over by another company, then Screen Gems took it over, and now, bringing it up to date, EMI own Screen Gems.

What was your next move?
United Artists bought Dominion Music, so all the staff then worked for United Artists and we moved to Knightsbridge.

When was this?
It must have been the late sixties. And we finished up in Mortimer House, opposite the Middlesex Hospital. We were all in one place together - the film company was in there, the record company was in there, the publishing company, TV company, everything.

What was your official title there?
I was Director of Administration for the publishing company, also a Director of the company and a Director of the record company too. In fact, I started the record company for them. It was very early days.

Once again, you were working in the English offices of an American company?
Right. We had very big times there. We had Creedence Clearwater Revival, all those groups which did very well. And the strange thing is that today, I look after a company called Prestige Music, which draws most of its material from the Fantasy Records operation in San Francisco, and I look after the publishing of the Creedence things. If there's anything funny about working for conglomerates, it's when somebody takes something away, then they get taken over and that company comes back in another form and there you are with the same copyrights again!

When did Bocu come into the picture?
Well it was actually formed way back in 1961. I was doing a little bit of accounts work for a publisher called Elton Box, affectionately known as `Boxy', of Box and Cox. He was a lovely guy, a beautiful guy. Box and Cox had a few hits, like "See You Later Alligator", "Galway Bay", and Boxy himself wrote "I've Got A Lovely Bunch of Coconuts". And Box was operating here, Cox was operating in America, and Box found out that Cox was doing some extra business over there which he wasn't putting through the company! So he thought he'd better start something over here! And that's how Bocu was formed ... the `Bo' as in 'Box', and the 'Cu' from an eccentric teacher/piano player/organist called Ivor Cutler, who was signed to the company. So that's where Bocu comes from, and it's strange because people think it's really just an Abba company, but it's nothing really to do with them, it's not owned by them or anything.

How did you get control of it?
Well Box kept the company for a number of years, then he got a little bit uninterested, and he was getting on a bit then, and I was still looking after the financial side of it for him, and he sold the company to me. That must have been about '73.

There were no Abba copyrights in it at that time, of course?
Oh no.

You'd bought Bocu, thinking you might go your own way?
In a way, yes. I was still working for United Artists at the time, but I didn't want any conflict of interest, so somebody else was looking after Bocu then. Being loyal to U.A., I made sure they had "Waterloo", which was Abba's first hit, and it was after that that I really thought about doing something with my own company. But it took a long time before I did it. It was a good five years after that before I made the break.

How did you get "Waterloo" for United Artists?
Because of my connection with Stig Anderson, their manager. I'd done lots of bits of business with Stig over the years and he's the sort of gentleman that if he gets on well with somebody, and something big comes up, he doesn't go and look for somebody else; he wants to keep the same people. I've probably been doing business with him for about twenty years now, one way and another.

When did you first hear from Stig about Abba?
Well that's probably going back to 1973, when they had a tune called "Ring Ring" and nothing happened to it. I think it got into the Eurovision in Sweden, but it didn't get through. It finished number three or something. So it was really in 1974, when they won Eurovision with "Waterloo", that the whole thing started. They were really an overnight success with that Eurovision. It was a fantastic night. The next day, the four members of Abba, Stig, Carole Broughton, who's now my co-Director, and me - just the seven of us - sat in the hotel, drinking champagne and opening telegrams. It was really unbelievable.

At that time, was Stig placing the Abba songs one-by-one in England?
Yes. U.A. got the first couple, but when it came to the first album, called "Waterloo", Stig gave each track to different publishers here. He looked after so many English publishers - he was the really good publisher for Scandinavia - he gave a track each to the publishers who were giving him material for Scandinavia. So people like RAK and Valentine Music and Screen Gems got one each. For ten years and no advance! That's Stig! Bringing it up to date, Bocu now own the lot, because those ten-year deals have expired and through my association with Stig, I have all the Abba titles.

When did you make the break from U.A.?
I finally left United Artists about ten years ago and really made Bocu full time. I had this opportunity - I could take all the Abba tunes, and that would really take care of my finances.

You'd had a promise from Stig that you'd get all the Abba Songs?
Well, yes, because we were mates. We must have been mates for ten years before he decided he was going to give all his stuff to Bocu.

And is it a deal that stretches into the future?
Yes. I made sure of that! 2000 and something! It takes me up to my retirement! I was really lucky in that way. Abba sort of gave me the money to buy other things - I was able to pursue some of the other publishers I've known for years.

American publishers?
Yes. We do loads of country material, deals in Nashville, we've been looking after Steve Kipner, we've had things with Olivia Newton John, we've had lots of other hits in the company. I get a bit annoyed when people think it's only Abba. And we also had a hit in 1980 with "What's Another Year" by Johnny Logan, so we're probably one of the few publishers that have had two Eurovision number ones!

Tell me about your staff
We've got about five people here, we've never had more than that, and I'd rather have five people working one hundred per cent than ten people working fifty per cent! We're all workaholics, so we carry on.

How many titles do you have?
We look after other companies, and all together, maybe about 9,000 titles. Prestige Music, which I have, accounts for about 3,000 of those. It's a sort of jazz company, it's got a lot of the stuff that's recorded on Riverside, Milestone, Fantasy and Prestige - American jazz labels - but also it's got "Good Golly Miss Molly" and all the Creedence Clearwater songs. I also bought some smaller companies, like Marquis, Verulam and Jonjo, they're now part of the Bocu set-up, even though they're run separately. They've only got about 200 or 400 each. Bocu has a 50/50 company with Jonathan King, too, which gives us some very old masters, like the first two Genesis masters which Jonathan made, and all the old Zombies stuff like "She's Not There", plus "Everyone's Gone To The Moon", of course, by Jonathan himself. All these things are now in our group.

You must have a computer?
Well, no actually. I still do all the administration by hand.

Really?
Yes. I've seen too many mistakes on computers.

Is 9,000 a comfortable number to manage?
Well you have to remember that a lot of them, like the jazz copyrights, just trickle on, some of them earning only a pound or two a year. Of that 9,000, when you actually look at the earnings, I suppose only 500 of them really mean anything. A song's big one day and after it's run, it dies for a little while. Then you get the nostalgia thing and out it comes again. Just lately, I've really been digging into the old catalogue and we've been quite successful on that score. A few weeks ago, for example, we got down to making a tape of some of the things we thought would be good for television and then sent them out to all the advertising agencies.

And we've got four ads on television at the moment. We have "She's Not There", the British Telecom ad.; we have the Kia-ora ad; and we had "Good Golly Miss Molly" on the Crown Paints ad ... You have to think of these ancillary rights, these days, not just straightforward publishing. If you make the right calls to the right agencies, you can be talking about £10,000, £20,000, £30,000 just for that one usage. That's not bad money. It takes a lot of records or a lot of performances to earn that. Similarly with the old masters we own, with Argent, The Zombies, these sort of groups that have been about for 10, 15, 20 years - there are a lot of record companies about now who are dying to get hold of old masters, so we're doing things with Ace Records and Razor Records, those sort of independent companies.

You've acquired those old masters - but you haven't got your own label, have you?
No. It's so easy to start a million things and they either half take shape or never get looked after properly.

Does the cost put you off?
No, it's just that I like keeping a small nucleus of people, and the bigger you want to get, the more people you've got to get, and then perhaps you've got to move as well.

So do you ever make new master tapes?
We do, like any other publisher, but we'd rather take them to a record company and let them do the rest. We did an album with Arthur Greenslade, for instance, doing instrumentals of Abba tunes, which we flogged to RCA, and that was very successful. But we're basically just publishers.

What do you do about promotion when one of you songs is out on record?
You can't do a promotion on every single that comes out, but if we have one which looks like it's going to go, our people here always take care of the local radio stations, and the record company concerned usually takes care of the TV stations and probably Radio 1 & 2. I would say, from what I hear about other publishers, we're pretty high in promotion.

You've talked about Abba and about subpublishing American copyrights -how do you go about finding English talent?
We still get loads of tapes every day from people, some that know us and some that don't - they pick your name up from a magazine or something. And we give these things a fair hearing, pick up odd things sometimes. Most of it you know is not going to be right, otherwise the people concerned would probably come round themselves.

Do you have a system?
We have a session about once a week with our Promotion Manager, my co-Director Carole Broughton, and me, and we just listen to them all. If there's something with potential, we'll follow it up, but if it's something really bad, we just send it back and say, "Sorry, not for us". In this business, there's a certain amount of time you can spend doing things which don't bring in any money, and the other time you must spend with things you know are going to bring in money. You can't do one without the other - well, you can, but the money runs out!

How many English writers do you have?
Well we've probably got about half-a dozen who we see regularly. We've had them so long now, they're more like personal friends. Whatever's needed, we feel we can go to these writers and say, "Look, this is what we need, please do this". Some of the European publishers we deal with want English lyrics written, and our own writers will do that. A couple of those have been quite successful; we had a Spanish record that went quite high where it was an English writer who wrote the lyric. And we've got record deals for a couple of our writers, and we got two songs by one of the guys on Frida's album (Frida from Abba), that was her second album. In fact we've had English writers' material on both her albums.

She did very well in Europe, not so well here
Yes. Very well in Scandinavia, of course. The girls (from Abba) haven't exactly retired, but they've probably got more money than they need, so they're enjoying themselves. If they feel like making a record, they do it. Agnetha's not under contract to us anymore. I understand she's with WEA in Los Angeles, now, but that won't be anything to do with us, either records or publishing.

Obviously you're publishing Benny and Bjorn's part of the musical "Chess"?.
Yes, that's been very big for us. In fact, I did most of the negotiation with RCA to make the deal. They've written another four or five tunes to go into the American production and they hope to be on Broadway in April ('88). We've worked on that material and had a few locals (local covers). It's a heavy deal, mind you! Not too much in it for Bocu!

You don't publish Tim Rice? (lyric writer for "Chess")
We do look after Tim as far as "Chess" is concerned. Tim and Bjorn and Benny put all the "Chess" songs into one company which did a deal with Union Songs in Sweden, and of course Union has a general agreement with Bocu, so they all come to us (for the UK). Tim did write most of the lyrics but Bjorn also wrote some. Anyway, all that's in one pot.

What does Stig do these days?
He's still involved; he's built up a very good publishing empire. He hasn't found another Abba - in fact, I tell a lie, he found this group Europe. But they were talking telephone numbers, or they wanted half his company or something, so at the end of the day, he didn't take them.

You haven't been involved with a big English group, someone like a Duran Duran, as far as I kno
w No, I just think the opportunity hasn't come up. Abba was different because of my relationship with Stig, but these big bands come up basically via the record companies in the first place, and the publishing is probably not available. It goes straight to that record company, if they're clever, or sometimes the band have already made a decision. I mean, I was at the Ivor Novello Awards and I was making some headway with groups of today like Curiosity Killed The Cat, but they're into all sorts of things and they're asking the earth and so you think, "I'll keep with my catalogue". Small is beautiful!

What do you think of the state of music publishing today?
There is good and bad. There aren't too many independents about now that haven't been taken over. I must be one of the smallest left. There's a lot of conglomerate things going on; all of a sudden, you find a CBS or a Polygram don't have their publishing anymore and they need to buy something. Polygram have now got Dick James, they bought his company out (having sold Chappell's), and CBS will be looking for something now (having sold CBS Songs). There are quite a few majors who keep making overtures about buying Bocu, but so far I've resisted.

Why do you resist?
Firstly because I don't think it's a good idea to sell copyrights. You've worked a long time to build them up and it's really your bread and butter. I can honestly say that most of the people I have dealt with have become personal friends and I feel I'd be letting them down if I sold out. Secondly, I'm a bit of a workaholic, so why should I give up? I'm not going to start again! I don't think now is the ideal time to start a publishing company again! No, I'm quite happy keeping the company.

Copyright Songwriter Magazine, International Songwriters & Gerald Mahlowe: All Rights Reserved
ISA • International Songwriters Association (1967)
internationalsongwriters@gmail.com