Introduction by Jim Liddane
Johnny Marks achieved what is probably the most dreamed-of, sought-after, and elusive goal of all songwriters: immortality.

For he wrote that one song that will be forever remembered, sung round the world, be continually recorded and played on radio and television, sell in mass quantities each annum and bring joy to countless generations to come.

He, like his song, has achieved athanasy.

One hundred years from now, people will still be singing his song.

Indeed, to date, that one song has been recorded by almost 900 singers and instrumentalists, including Bing Crosby, Gene Autry, The Cadillacs, Dean Martin, The Chipmunks, Burl Ives, The Temptations, Alan Jackson, Ray Charles, Perry Como, The Four Aces, John Denver, Destiny's Child, Marty Robbins, Clink Black, Dolly Parton, Marle Haggard, Hugo Winterhalter and His Orchestra, Paul Anka, Ella Fitzgerald, Lawrence Welk and His Orchestra, The Platters, Honk Locklin, Craig Douglas, Al Martino, The Supremes, Percy Faith, The Jackson 5, Engelbert Humperdinck, Rosemary Clooney, Nancy Sinatra, Crystal Gayle, Fats Domino, Dion, Neil Diamond, Ringo Starr, Helen Reddy, Harry Connick Jr. The Ventures, Hank Snow, Anne Murray, The Seekers, Chicago, Barry Manilow, and countless others.

Harvey Rachlin interviewed Johnny Marks for the International Songwriters Association's publication "Songwriter Magazine".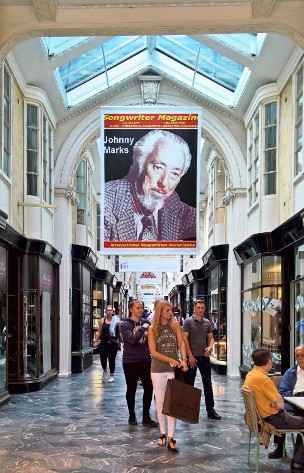 PROLOGUE
The classic is the perennial "Rudolph The Red-Nosed Reindeer". Depending upon which statistics you read, it may be the biggest, world-wide hit of all time (Irving Berlin's "White Christmas" may be the other) and "Rudolph" was indeed called one of the two most valuable songs in the world by "This Week" magazine. It has been recorded by over 500 recording artists, had sold up to 1980, over 128,000,000 records, 7,000,000 copies of sheet music, 25,000,000 copies of 140 different arrangements for orchestra, band, choral and various instruments and has been translated into virtually every language. Gene Autry's recording alone has sold over I1 million copies, making it Columbia Records' all-time best-seller. The song was voted into the Songwriters Hall of Fame in 1972 and is the title of the longest running special in television history.

Phenomenally popular songs are often believed to be hundreds of years old or in the public domain ("Happy Birthday To You" suffered from this ill fate). Despite widespread misconception, "Rudolph" was only written (and published) in 1949. And also, despite its universal appeal, there were recording artists who initially turned it down (but later went on to record it).

For John D. Marks, born November 10, 1909, Christmas songs have been his fortune. His other Christmas songs included "I Heard the Bells On Christmas Day" (recorded by over 70 artists beginning with Bing Crosby in 1956, followed by Frank Sinatra, Harry Belafonte and Roy Price and selling over 4'/z million records - the lyric is adapted from a poem by Henry Wadsworth Longfellow); "Rockin' Around the Christmas Tree" (an international hit for Brenda Lee in 1960); and "A Holly Jolly Christmas" (a hit for Burl Ives in 1963). Marks has been aptly called `Mr. Christmas of the Music World'.

The musical talents of Johnny Marks however, were not limited to yuletide ditties. He was a successful composer of TV commercials (in 1967 his GE commercial won the Gold Medal Award of the International Film and TV Festival), television scores (those TV shows he has written for have starred James Cagney, Ethel Merman, Mickey Rooney and Red Buttons) and country songs (within the last year he has written two hits for Porter Wagoner). I had the privilege of meeting with John Marks in his 130-year-old house in Greenwich Village in New York City. An affable host, he reminisced, sang "Rudolph", played piano, sat for some photographs and reflected upon much of his 71 years, 45 of which were spent as a songwriter. It was quite enjoyable and I came away with the impression that he was really Santa Claus - he looked like a slimmed down version of that figure!

How did you come to be a songwriter?
I have been writing songs since I was about nine or ten years old. I just liked writing songs. I wrote them then and they were pretty bad, but there was an inkling that something may someday merge and I just kept writing songs.

Do you have any musical background?
I took piano lessons when I was roughly eight years old and after two year my teacher told my parents that I was hopeless and they were stopped. But the reason that I was hopeless was that when she came she would assign us to learn a little piece by Schubert and I was to play it. What would happen was that when I forgot what Schubert had written, I just made it up myself and went along. She took a dim view of my rewriting Schubert, but looking back, it was sort of the beginning of my writing and I think that an eight year old making up his own parts of Schubert was doing pretty well.

Do you recall the first song you ever wrote?
I have to guess at it. I think it was a version I wrote of the poem "Trees". Did you ever hear of a poem "I Think That I Shall Never See, A Poem Lovely As A Tree"? I remember that I set it to music and I would have to say that it was easily one of the worst songs ever written, but it was there in a song, and there were several others, but you're talking about over 45 years ago or more, so I don't remember all the details.

You just gave me your background when you were around 9 or 10 years old. What happened between that point and the past you got your first treat or your first song published?
My fast song was published in 1936 in a Joan Crawford picture, and it was called "Summer Holiday" and is long since gone and forgotten.

How did you get a song into a Joan Gawford movie, especially your first song?
I brought it to a publisher who published songs for MetroGoldwyn-Mayer and he liked the song and he put it in the picture.

Did you write both the words and the lyrics?
Then I was writing the music mostly. What I did was I wrote the music with all of the people that I collaborated with and then I would work with them on the lyrics. In general that is my recollection. Sometimes I wrote all by myself, but finally, around 1949, 1 started writing strictly by myself. And that was because of all the problems of making appointments and meeting other writers and them not showing up. I just thought if I could writ by myself I would eliminate on handicap.

Were you knocking on door for a long time?
What I did was play in night-clubs at night and during the daytime I called publishers t play my songs and slowly I got one song published and then two, and as I became more successful, I stopped playing in night-clubs and just wrote songs.

How long was it before you had your first song published from the time you started?
It was 1936, my first song.

When did you start?
Around 1929 or 1930.

It took you six years?
The reason I hesitate is that it is all so long ago, it is sort of hard to remember. I am not a mathematician and you seem to be; maybe it was six years.

Have you had any notable collaborators?
Yes. For three years I wrote with Carmen Lombardo, the brother of Guy Lombardo and he sang and played in the famous Lombardo band; we had one big hit together in 1939 called "Address Unknown", a big record with the Ink Spots. In 1946 when I came out of the army we had a fair hit which we wrote together called "What Have You Got To Lose But Your Heart?" The four year interim was spent in the army.

Did you write songs in the army?
I did write songs in the army. 1 don't know if you would want to publish the titles, but I'll give them to you. I wrote for army shelters when I was in France. One of them was called "I Would Like To Shack Up With A Wac Up in Des Moines". The other was a very popular song, the most popular song in European theatre - so much so that I was asked to play it for General Eisenhower when he came through and that song, I will give you the first four lines but you won't dare print them!

Those are strictly for army shows! I was with General Patton from Normandy right through to Salzberg, and I was with a Special Service Company. I was the company commander and our mission was to entertain the front line troops, so we were always up in the front.

You entertained the troops in the front lines?
We had four little GI Shows and we had motion picture projectors, etc. and we entertained the troops.

Of course, I want to talk about Rudolph. Can you tell me how that song came about?
I had seen at some point in my life a little book about Rudolph and I have a book which you can see over at the piano, and in it I write down songs, ideas and melodies. I wrote this one down (Rudolph). Ten years went by it was easily one of the worst songs ever written. Some place I have the original lyric and you would not recognise it. Since it was that poor I just forgot about it, but I was walking along the street and I got a different melody than I had had - the melody that you now know.

So then I got excited about that and I came home and finished off the music and rewrote the lyric to fit the new music I had written and that is the song as you know it. The interesting thing is the chance of fate. I sent it to a lot of big artists, like Bing Crosby and Dinah Shore, among others, and as you know the big record of the song turned out to be by Gene Autry. We became very close friends afterwards and he told me that he had gotten my song that I had sent through the mail, liked it, took it home with eight other songs to pick four for the next record session. He then decided against doing Rudolph because he didn't think it would fit his image, but his wife was in the room at the time and said `Gene, I think that song about "Rudolph The Red-Nose Reindeer" is one of the greatest songs I ever heard. Do me a favour and put it on one side of a record for me and put what you think is a hit on the other side.' And of course the rest is history.

Do you have any anecdotes about Rudolph?
Back in the Vietnam War days, I was sent about on a USO tour by ASCAP to entertain the troops in Vietnam with some other songwriters. Our first stop was Tokyo. And the custom there is that these girls give you a bath. Well . . . if that's the custom I'll practice it! And while the girl is scrubbing my back what did I hear? She's humming "Rudolph"! I turned to her and said what in the world are you singing? She looked at me in disbelief and said with utter scorn, 'Don't you know "Rudolph The Red-Nose Reindeer"?' I said `yes' and that was the end of that. I didn't tell her I wrote it. She wouldn't have believed it. Nobody ever does.

Copyright Songwriter Magazine, International Songwriters & Harvey Rachlin: All Rights Reserved

Postscript
Since 1967, we have spoken with hundreds of songwriters and music publishers, building up a huge collection of detailed interviews which is unmatched anywhere.

Click HERE to see a list of those currently on this website. And remember, we add new ones every month!
ISA • International Songwriters Association (1967)
internationalsongwriters@gmail.com






Cookies Policy • Privacy Policy • Copyright

Legal Notice
This site is published by the International Songwriters Association, and will introduce you to the world of songwriting. It will explain music business terms and help you understand the business concepts that you should be familiar with, thus enabling you to ask more pertinent questions when you meet with your accountant/CPA or solicitor/lawyer.

However, although this website includes information about legal issues and legal developments as well as accounting issues and accounting developments, it is not meant to be a replacement for professional advice. Such materials are for informational purposes only and may not reflect the most current legal/accounting developments.

Every effort has been made to make this site as complete and as accurate as possible, but no warranty or fitness is implied. The information provided is on an "as is" basis and the author(s) and the publisher shall have neither liability nor responsibility to any person or entity with respect to any loss or damages arising from the information contained on this site. No steps should be taken without seeking competent legal and/or accounting advice
Home • Interviews • Writing A Song • Obituaries