Introduction by Jim Liddane
Born in Pinner, Middlesex, Tony Hatch started his career with the newly-founded Top Rank Record Company working as a producer for such future stars as Adam Faith and Bert Weedon, while releasing records himself as a pianist on that same label. Then in 1960. a song he had penned - 'Look For A Star' - propelled an unknown Gary Mills to fame and fortune in the UK, while the same song created an all-time record in the USA by reaching the Top 30 via four simultaneous different versions - including one by the legendary Billy Vaughn and another by Buzz Cason later to join The Crickets.

After this initial spectacular success, Tony Hatch went on to pen Bobby Rydell's hit 'Forget Him', before writing for and/or producing such legendary American acts as Chubby Checker, Connie Francis, Pat Boone, Big Dee Irwin and Keely Smith.

During the sixties, Tony penned material for The Searchers, Benny Hill, Scott Walker, and his future wife Jackie Trent - amongst others. He also arranged and produced the 1974 Number One for Sweet Sensation 'Sad Sweet Dreamer', while either writing for or producing such acts as the Searchers, David Bowie, Mark Wynter, the Settlers, the Viscounts, Julie Grant, the Overlanders, Roy Budd, the Brook Brothers, Jimmy Justice, the Montanas, Miki & Griff, Emile Ford, Craig Douglas, Bruce Forsyth, Sue Nicholls, the Breakaways, Norman Vaughan, Buddy Greco, Sacha Distel, Anne Shelton and David Parton.

Perhaps best known however was his collaboration with Petula Clark, which resulted in her becoming an American superstar via such Hatch songs as 'Downtown' (originally penned with The Drifters in mind), 'I Know A Place', 'You'd Better Come Home', 'Round Every Corner', 'A Sign Of The Times', 'I Couldn't Live Without Your Love', 'Who Am I', 'Don't Sleep In The Subway', 'Colour My World', and 'The Other Man's Grass Is Always Greener'. He also penned 'Call Me' - which brought Chris Montez back to the American charts for the first time since 1962, and 'You're The One', an American hit for The Vogues.

In addition to his commercial songwriting, he also became involved in musical theatre ('The Card', 'Rock Nativity'), and of course in penning many top television themes, most notably 'Crossroads', 'Emmerdale', 'Mr and Mrs', 'Seagull Island', 'Airline', 'Hadleigh', 'Sportsnight' and the song which was voted the world's most recognised television theme - 'Neighbours'.

In 2013, he was the recipient on an OBE and he has also written a best-selling book - 'So You Want To Be In The Music Business'.

Jim Birmingham interviewed Tony Hatch for the International Songwriters Association's publication "Songwriter Magazine".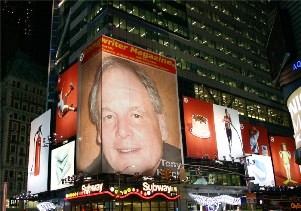 Did you have a musical family background? I mean, you started piano lessons at the age of four.
As in many households of the 40's, the piano was an important part of family life. My father played piano by ear and couldn't read music whilst my mother could only play from music.

At what age did you start writing songs?
I went to the London Choir School when I was ten. The school provided choirs for four London churches. I was at All Souls in Langham Place, became Head Chorister and also took organ lessons. The School's 60 choirboys also augmented the St Paul's Choir for the annual performances of The Messiah and Bach's St Matthew Passion and provided choristers for radio, records and early television. This gave me great experience at an early age and I had no difficulty in learning to read music, and grasping the theory of harmony and composition.

My first compositions were anthems and hymn tunes which were performed at All Souls. My first "pop" efforts were around the age of 16 when I left school and went to work for a small music publishing company. My first published song was "Crazy Bells", written when I was 17 with a good friend Paul Lacey, and recorded by Gerry Dorsey, (in his pre Humperdinck days!).

You have written under some pseudonyms over the years - Fred Nightingale, Mark Anthony etc. Why?
Mark Anthony was my first nom-de-plume and was used because Pye Records was concerned that other composers and music publishers might think I was favouring my songs over theirs. With my first successes as Mark Anthony, of course, it didn't take long for everyone to know who Mark Anthony was so I reverted to my real name. Fred Nightingale was used only once and for a specific purpose. I wrote "Sugar & Spice for the Searchers to follow their Number One hit "Sweets For My Sweet" and thought that if they knew the true identity of this "not-so-cool" composer, the Searchers wouldn't want to record it. They now say they knew all along it was my song! It charted at #2.

Who were your influences at the time?
I was influenced more by songwriters than record producers and greatly admired Carole King, Gerry Goffin, Bacharach & David, Leiber & Stoller, Brian Wilson, The Bergman's, Mancini, etc.

When you were on National Service, you still managed to work as a musical director. How did you swing that?
Correction. Firstly, although "called-up", I didn't do National Service which would have meant a two year stint anywhere in the world. Instead, I signed on for a three year term with the Band of the Coldstream Guards which was based in London. There I did music copying and music repairs (imagine the state of a march card after a heavy fall of rain!). I converted dozens of four part hymn tunes for marching or concert band; scored special arrangements for the Band and played piano in the Dance Band.

Secondly my part-time work was more than just as a musical director. I worked part-time as a record producer for Top Rank Records and subsequently at Pye Records until I could be there full time. I didn't need to "swing" anything. Regulations permit a serviceman to undertake part-time work provided his duties are completed satisfactorily.

You had a Top 50 hit under your own name in 1962 ("Out Of This World"). Did that not encourage you to go on and produce more of your own stuff?
I really enjoy arranging and producing my own orchestra for records and, although I didn't have hit singles (apart from "Out Of This World"), I have a large catalogue of instrumentals with Sanctuary Records which, thankfully, they keep releasing on different compilations. One such compilation is due out this week - a 3 CD set called "The Essential Tony Hatch" featuring TV themes, songs and other instrumental items. Pepe Deluxe also sampled my instrumental "Sounds Of The Seventies" and called it "Woman In Blue". This became the music for last year's Levi Jeans ad and a chart dance hit. (It may say Pepe Deluxe on the label but a lot of it is me!)

How do you present demos of new works?
I move with the times and run Cubase Audio for Apple Mac using soft synths and synth modules bought and kept over the years. That's where most of my songs and themes start and my instrumentals are initially created. Alternatively, I book a few days in a project studio and work with another writer, or singer/songwriter as I did last year with Emma Bunton. Technology is so good these days that I even wrote and demoed a song last month with someone I haven't even met!

Your career has covered such a long period, from the early sixties right up to the present. What would you say was the biggest change you experienced in the music industry in that time?
There have been two major changes and I have to mention both. Firstly, one big change has been in the actual making of records due (almost entirely) to digital technology. You wouldn't believe how basic the technique was in those days. When I first came into the business, I remember 'wire' recorders, mono tape machines and song demos which were cut on acetates! Stereo was just being unveiled but at first, like CDs later, it was only considered suitable for classical music and we had to fight hard to get the industry to use it for pop records. We went from 2-track analogue machines to 24 track digital in just over ten years and studio design was at last being taken seriously. I recall the late (and wonderful) MD/arranger Peter Knight arriving at a rehearsal session with Petula Clark in the early 60s carrying one of the first cassette recorders and from then on, the days of writing everything down the rehearsal details on manuscript paper were over!

The second major change, of course, has been the proliferation of a huge and varied range of music styles to satisfy so many individual tastes. Until rock'n'roll came along and Presley injected some sex into a record, most pop music was pretty bland. Mantovani, Winifred Atwell and Eddie Calvert regularly hit the charts and we thought songs like Guy Mitchell's "She Wears Red Feathers", Alma Cogan's "Bell Bottom Blues" and Eve Boswell's "Pickin A Chicken" were actually good! The 60s changed all that. Just look at the range of styles covered by the Beatles.

Nowadays there's something for everyone as any large record store will prove. Having said that, in so many cases, the song is still where it all begins. People may be critical of the manufactured boy and girl groups (and everyone knows that technology can make a singer sound better on record than live) but no one can deny the quality of today's pop hit songs. It's all about strong melodic content, emotive lyrics and structure. It's not hard to produce a great arrangement and a great record if you start with a great song. Cathy Dennis, to me, is the best of today's songwriters and I just wish she'd finish the 'bleedin' song we started writing together last July!

How did you react when you knew Paul McCartney had covered the "Crossroads" theme? Did you like his version?
I was thrilled to hear he had recorded it and I loved it. It was originally incorporated in his album track called "Lonely Old people" and I think he included "Crossroads" because he thought (erroneously!) that they were the only people watching the programme!

Do you follow the current music scene?
Yes, of course, but although I tried to follow rap and hip hop. they left me behind!

Are you still writing regularly?
Yes. Besides pitching songs to various artistes I'm working on a new instrumental album and considering a couple of musical theatre projects.

Copyright Songwriter Magazine, International Songwriters & Jim Birmingham: All Rights Reserved

Postscript
Since 1967, we have spoken with hundreds of songwriters and music publishers, building up a huge collection of detailed interviews which is unmatched anywhere.

Click HERE to see a list of those currently on this website. And remember, we add new ones every month!
ISA • International Songwriters Association (1967)
internationalsongwriters@gmail.com






Cookies Policy • Privacy Policy • Copyright

Legal Notice
This site is published by the International Songwriters Association, and will introduce you to the world of songwriting. It will explain music business terms and help you understand the business concepts that you should be familiar with, thus enabling you to ask more pertinent questions when you meet with your accountant/CPA or solicitor/lawyer.

However, although this website includes information about legal issues and legal developments as well as accounting issues and accounting developments, it is not meant to be a replacement for professional advice. Such materials are for informational purposes only and may not reflect the most current legal/accounting developments.

Every effort has been made to make this site as complete and as accurate as possible, but no warranty or fitness is implied. The information provided is on an "as is" basis and the author(s) and the publisher shall have neither liability nor responsibility to any person or entity with respect to any loss or damages arising from the information contained on this site. No steps should be taken without seeking competent legal and/or accounting advice
Home • Interviews • Writing A Song • Obituaries