Introduction by Jim Liddane
One day in July 1961, I heard a song on the radio called "Every Breath It Takes". It had a majestic melody, literate lyrics, a wonderful production but above all, it boasted a voice of almost operatic quality. And I was immediately hooked.

To most people of course, Gene Pitney remains a legendary pop singer, whose stage appearances worldwide sell out within hours, and whose hits stretch from "24 Hours From Tulsa" in the sixties, to "Something's Gotten Hold Of My Heart" in the nineties.

They include such classic hits as "Town Without Pity", "Only Love Can Break a Heart", "Half Heaven-Half Heartache", "The Man Who Shot Liberty Valance", "I'm Gonna Be Strong". "Love My Life Away", "Heartbreaker", "It Hurts to Be in Love", "True Love Never Runs Smooth", "Mecca", "Just One Smile", "I Must Be Seeing Things", "Princess In Rags", "Somewhere In The Country", "Backstage" and "Last Chance To Turn Around".

More than enough you might say for any one man!

But what some people might not realise, is that Gene Pitney has had another quite separate career - writing Number One songs - usually not for himself, but for others, penning hits for such people as the Rolling Stones, Roy Orbison, Bobby Vee, Ricky Nelson and even the legendary Phil Spector.

Having said that, he still finds time to write a few for himself!

I spoke with him on behalf of "Songwriter Magazine" and the International Songwriters Association, and asked him about his career, and about the songs associated with that career.

You actually grew up in a town called Rockford! What were your early influences?
Yeah, an aptly named town for a pop singer, I always thought! I grew up liking music as a kid, and I was quite adept at a number of instruments while at school, but outside of playing and listening to music, I was mainly an outdoors person - in other words when all the other kids were playing baseball and football or watching TV, I was away fishing and trapping, collecting things - just a little bit of a loner in my own way I think.

Is it true that you are actually a qualified taxidermist?
Yeah - I went to the NorthWestern School of Taxidermy! I wouldn't want to try it today, because today, it's a whole different ball game, but if all else fails, I am qualified to do something other than just stand there and sing!

Now you started out recording under various names, like Jamie and Jane, that was with Ginny Arnell, later as Billy Bryan, and then re-emerged as Gene Pitney on Festival, but before you became a recording star in your own right, you were already a successful songwriter. You had a Roy Orbison single for example.
That's right, "Today's Teardrops" by Roy was a big hit, but not my biggest.

That was "Hello Mary Lou" which I gave to Rick Nelson, and I've spent a lifetime trying to analyse why it was as big as it was. It sold millions worldwide.

I also wrote "He's A Rebel" for the Crystals, which was an American Number 1, and of course, "Rubber Ball" which was given to Bobby Vee and which established him as an international star.

Yet, although you wrote some songs for yourself, you usually looked elsewhere for your own hits. Why was this?
Well. the trouble was, it turned out that I was not a "travelling songwriter". In other words, once I started recording myself, and started travelling on trains and buses and planes, I found I could not write!

Now the odd thing is that most people, perhaps 99% of songwriters, are probably inspired by all that travelling, seeing new places and new faces every day and all that, but I soon realised that I wasn't. I always had my head focussed on where I was going and the show I had to do, and so the songwriting got a little bit left behind there.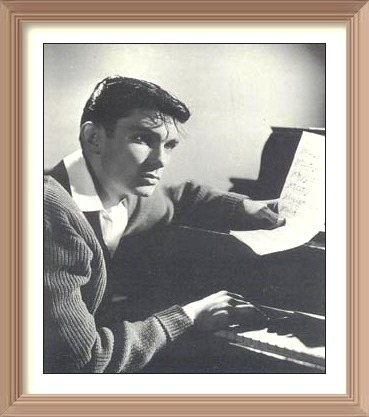 Gene Pitney, at the Brill Building,
New York City, in January 1960


Did you never think of keeping songs like "Rubber Ball", "Today's Teardrops" or "Hello Mary Lou" for yourself?
Sure, but I had a great and aggressive publisher, Aaron Schroeder, who was very hungry! He was just starting out too, and when I would send in my songs, he would get to work straight away.

For example, I wrote and then recorded "Hello Mary Lou", but at the time, I had another song out on the market so the record label held it back. Well one evening, I was in Philadelphia doing some promotion on my current record, and I was sitting in a car with a promotion man listening to the radio, when on came Ricky Nelson, and what was he singing? "Hello Mary Lou", and I had never even been told he had recorded it!

Back in 1960, you met another songwriter and producer, Phil Spector for the first time. What was he like then?
Well Phil was a lot more sophisticated than I. I had just driven in from this tiny town in Connecticut, while Phil had flown in from Los Angeles - I actually had dinner with him the night he landed - and of course, in Los Angeles, he had been already very successful with the Teddy Bears and "To Know Him Is To Love Him", and he was very unique - very West Coastish!

In those early days, you were known as a bit of an expert in double-tracking, or multi-tracking. Did you learn this yourself?
Yeah, but it was one of those things that I learned by necessity. Aaron Schroeder was my publisher, and back then, we didn't have much money for demos, you know, for full orchestras and vocal groups and whatever, but because I could play piano, guitar and drums, it became possible to keep costs down by me doing most of it.

So when I went into the studio to do these demos, I would do lead vocals and play piano first, then put guitar on while singing harmony to the lead voice, put on drums, then bass, and then finally, put on all the backing voices - often seven or eight voices. In fact, my first big hit, "I Wanna Love My Life Away" was done really as a demo, but released as it stood, and it made the Top 10!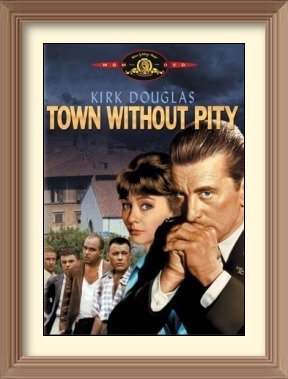 "Town Without Pity 1961"


Your first international hit was "Town Without Pity" from the film of the same name. That song received an Academy Nomination, and you got to perform the song yourself at the Oscars!
Yeah, it was absolutely frightening. I mean, I was a really green kid from a very small town, and all of a sudden, here I am, rubbing shoulders with all the people I had idolised all those years, I mean the Kirk Douglases, the Burt Lancasters, the Marilyn Monroes, and of course, the host, Bob Hope.

And the big thing in those days was that the show was totally live - nothing whatsoever was recorded in advance. The odd thing about it was - I wasn't worried about the millions of people watching the show worldwide, but I was worried about my home town and my parents tuning in, and seeing me miss my cue or hit a wrong note or whatever.

And when I got up on the top tier to start my descent, the producer came up and said "Right, what I want you to do is sing the beginning of the song up here, and when the instrumental break comes, I want you to walk down these six steps until you get to the lower level where Mr. Hope is, and while you're walking down the stairs, don't look down", and all I could picture was me tumbling down the stairs past Bob Hope, and crashing into the orchestra pit!

But, it didn't happen. You know, I saw it for the first time recently, and the weird thing is, on TV I don't look at all nervous - but I was actually petrified!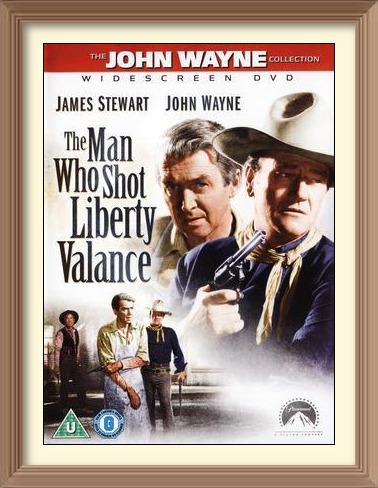 "The Man Who Shot Liberty Valance 1962"


In 1962, you recorded "The Man Who Shot Liberty Valance", another movie hit directed by John Ford. Are you a movie buff, or how did you manage to get chosen to record two giant Hollywood blockbusters in the space of just two years?
Not really, I mean the success with "Town Without Pity" was a bit freakish. The film was released before the record came out, and hadn't done too well, but then about six months later, my record of the song was issued by the record label, and that went Top 10.

It was quite a dark lyric.
Yeah, but you know, I didn't notice that at the time, and I don't think you really do unless you set out with the intention of writing something to shock, but I realise now looking back that it was probably one of the first, if not the first, protest song in pop music.



Now when the record became a hit, there was a lot of interest in the movie, so the studios re-released the film and all of a sudden, mainly due to the song, the film became a hit! Next thing is, we're being inundated with songs from films, soundtracks, scores etc., and most of them we passed on.

But when "Liberty Valance" came in - well the song had been written by Burt Bacharach and Hal David, John Ford was directing, it starred Jimmy Stewart, John Wayne and Lee Marvin - I mean, you couldn't turn it down, and we didn't, and am I glad!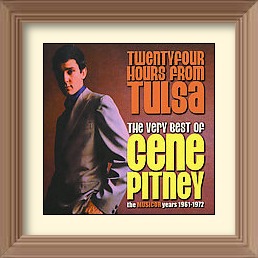 "24 Hours From Tulsa"

Over here, on this side of the Atlantic, your best-known record at that time, was probably "24 Hours From Tulsa". Tell me about it.
Yeah, well that was a Bacharach-David song, I had great success with those two guys, and it was the song that broke me not just in the UK, but worldwide really. I had gone to the UK and it was my first trip, and somebody had set up a tour, but when I got to London, I could tell that the people in the record company were not too happy.

They weren't exactly saying I shouldn't be doing it - it was a ballroom tour - but I could see they were not too pleased. So I went to the promoter and told him I was not going ahead with it, and of course, it was one of these "I'm gonna sue you" discussions.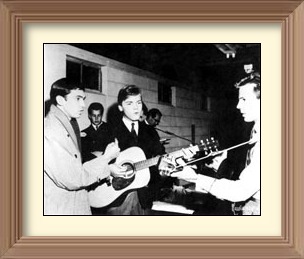 Gene Pitney, Brian Hyland and Bobby Vee 1964

But anyway, I decided that while I was in London, I might as well promote the new record "24 Hours From Tulsa", and because I now had so much free time, I was on radio and TV almost every day during my stay. It turned out huge, actually, it was the first record that got me known outside of the USA, and opened up a global market for me.

It was a very good song, with a good tune, a good title, and a good story line. In other words, it had all the ingredients.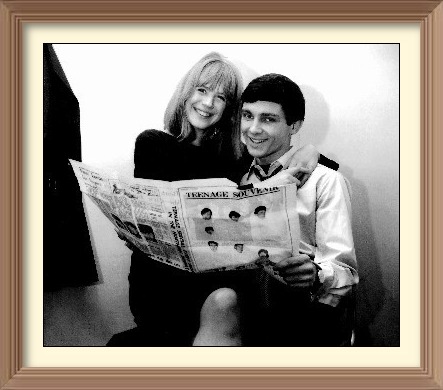 Gene Pitney and Marianne Faithfull, London 1964

Around about then, you met the Rolling Stones and you actually wrote on of their singles. How did you meet them?
My publicist was Andrew Loog Oldham, who was the manager of the Stones. And one day, he said to me that he had this group - they had no records out then - but he had great faith in them, so I went to watch them, and they were incredible. We'd never seen really long hair before - there was a guy on the tour with me and he had a photograph taken with them, and when he got home, his wife looked at the photo and said "who are those ugly broads?"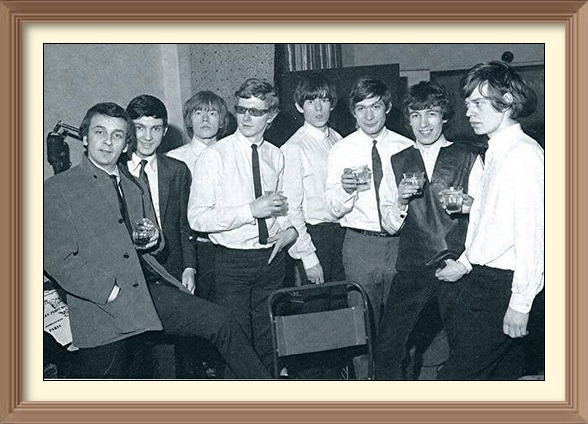 From left: Phil Spector, Gene Pitney, Andrew Loog Oldham
& The Rolling Stones, pictured in London 1964


Everybody associates you with big ballads, dramatic love songs, etc., so how on earth did you come to pick a song like "She's A Heartbreaker", which was a real rocker, and indeed, a huge US hit for you?
Well for much the same reason that I recorded songs in different languages - for much the same reason that I made some country albums with George Jones - because it was a challenge to see if I could do it.

I was working in New York on a new album, and every evening, I would drop into the Musicor Records office, before going down the hallway to the studios. And every evening, there were these two guys, Charlie Foxx was one of them, hammering away on a piano in a writer's den near the Musicor offices, working on this song.

And every evening I'd listen to it, as it progressed, saying to myself - "that's a hit ". And when I was finally finished the album, I found I liked their song better than anything on the album I had just made!

So I asked them if I could have a shot at singing their song, and the funny thing is, that even though I come from Connecticut, I seem to have an ability to sing country and R&B - don't ask me how. Anyway it worked!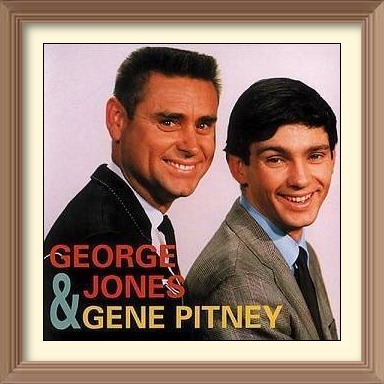 George Jones & Gene Pitney

Now right in the middle of your pop career, you had a quite separate country career, with hit singles, some with George Jones, others with Melba Montgomery. Did you ever think of doing what Jerry Lee Lewis and Conway Twitty were doing - moving totally over to country?

I ask this because suddenly, in the middle of having these hit singles, you seemed to drop the whole thing.
Well, I really only did it originally because it was there - if you know what I mean! George Jones was also on Musicor, and the guy who ran the label asked me one day if I would like to try and sing country.

But the minute George and myself sat down in the motel in Nashville to look over songs for the album, I realised right then and there, that there was no way that he was gonna change one iota of his phrasing to suit mine - I was gonna have to change to suit his.

And the beauty of it was that when we got in the studios and we started the very first song, everybody just stopped playing, just listening to the blend - a combination of the high sound that I have, and that beautiful low bass sound that he has - it just seemed to be like magic, and I had no problems with him whatsoever - it was just automatic.

But after a few singles, which sold well, and a couple of albums, I just dropped out of it. You see, it was really before you could cross over from pop to country and back again, as you can do nowadays. In fact, some experts said at the time that the experiment was hurting my pop career, as some pop radio people were taking it that I had moved over to country.

Tell me about my favourite Pitney song - "Something's Gotten Hold Of My Heart"
Yeah - that one made it twice for me, once back in the sixties, and then again in the nineties. I was in London in 1966 I think, and Ron Richards called me and asked me to listen to this song, sung by one of the writers, Roger Cook.

But although I loved the song, I was nervous because Roger's demo version was so good. I was sure I couldn't do it any better. But they assured me that Roger was not interested in a singing career, so I took the song, and of course, it went Number One back in 1967.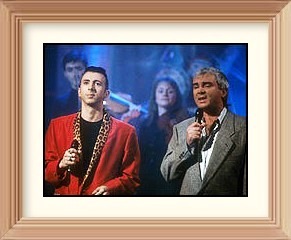 Gene Pitney & Marc Almond

Anyway, twenty-five years go by, and I am back in England, when somebody asks if I would like to do a duet on one of my songs with Marc Almond. And I almost turned it down! I was tired, I was in the middle of the tour, and the weather was bad. They wanted me to travel up from Bristol where I had been singing the previous night, go into a studio at 11am, do the track and then appear that night in Manchester.

But it seemed so off-the-wall, such a weird situation, that I thought - why not? So I went in and did my part - I never met Marc, he was in the USA while I was touring the UK - and then I went back to finish my tour.

The next time I heard the song was when Marc and I met in Las Vegas to make the video, about three months later, and he had of course, by then added his vocals to my track. I really liked the finished recording - and it gave me another hit!

Copyright Songwriter Magazine, International Songwriters Association & Jim Liddane: All Rights Reserved

Postscript
Since 1967, we have spoken with hundreds of songwriters and music publishers, building up a huge collection of detailed interviews which is unmatched anywhere.

Click HERE to see a list of those currently on this website. And remember, we add new ones every month!


Bob Sirott Interviews Gene Pitney


ISA • International Songwriters Association (1967)
internationalsongwriters@gmail.com






Cookies Policy • Privacy Policy • Copyright

Legal Notice
This site is published by the International Songwriters Association, and will introduce you to the world of songwriting. It will explain music business terms and help you understand the business concepts that you should be familiar with, thus enabling you to ask more pertinent questions when you meet with your accountant/CPA or solicitor/lawyer.

However, although this website includes information about legal issues and legal developments as well as accounting issues and accounting developments, it is not meant to be a replacement for professional advice. Such materials are for informational purposes only and may not reflect the most current legal/accounting developments.

Every effort has been made to make this site as complete and as accurate as possible, but no warranty or fitness is implied. The information provided is on an "as is" basis and the author(s) and the publisher shall have neither liability nor responsibility to any person or entity with respect to any loss or damages arising from the information contained on this site. No steps should be taken without seeking competent legal and/or accounting advice
Home • Interviews • Writing A Song • Obituaries