Introduction by Jim Liddane
Guy Chambers was born in Hammersmith, London, in 1963. His father was a member of the London Philharmonic Orchestra, while his mother worked for a London-based record label.

In 1977, his dad accepted a post with the Liverpool Philharmonic, which meant that Guy ended up attending Quarry Bank School in Liverpool (John Lennon's old school), before moving back to London in 1980 to study at the Guildhall School of Music.

After graduating in composition from the London School Of Music in 1985, Guy began touring as a musician with Julian Cope and the Waterboys among others. He joined World Party in 1986 and co-wrote with Karl Wallinger on the bands most successful album "Bang". He was also involved with The Lemon Trees, which he formed with his friend and fellow musician, Phil Thornalley.

Meanwhile, he worked both as a session musician and songwriter, co-writing several songs for artists such as Kylie Minogue, Tina Turner, and Beverley Knight while his production and writing credits included Queen, Diana Ross, Will Young, Tom Jones, Brian McFadden and James Blunt.

Chambers' most successful collaboration to date however, has probably been with Robbie Williams, involving sales of more than fifty million units. The two first worked together in the late 1990s, when Chambers co-wrote several tracks on Williams' debut solo album, "Life Thru a Lens." Since then, Chambers has co-written and produced many of Williams' biggest hits, including "Angels," "Millennium," and "Feel."

A most prolific writer, musician and producer (he has been involved in more than 200 albums, 100 singles and 20 movies to date), Guy Chambers can truly say that he has done it all.

He has produced hits for and collaborated with countless stars, including Beverley Knight, Katy B, Rufus Wainwright, Melanie C, Brian McFadden, James Blunt, Kylie Minogue and Delta Goodrem, while his work has featured in an array of movies, such as 'Arthur', 'Bend It Like Beckham', 'Kinky Boots', 'Love Actually', 'Lock, Stock & Two Smoking Barrels' and 'Finding Nemo'.

And as for awards - well you name it, he has won it. including three Brits, three Ivors and a Q Classic Songwriter award.

Jim Birmingham interviewed him for the International Songwriters Association's publication "Songwriter Magazine".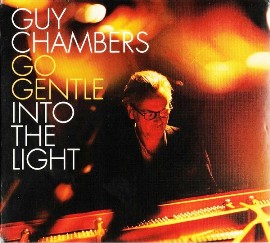 When did you first realise how much music meant to you?
I was very young, about eight. My dad was a musician - a flute player in the London Philharmonic Orchestra, so from quite an early age I was taken along to rehearsals at the Festival Hall. I would just sit in the dark and listen to Mozart etc. So classical music was very important to me as a kid. Also I was in a choir from about the age of seven so hymns were a big influence on me. Pop music-wise it was really what my mum was listening to - The Beatles, Burt Bacharach - things like that.

What difference has it made to you having such a formal musical education as a pop songwriter?
I think it gives you a certain amount of discipline. I work 9 to 5 everyday and I'm very fussy about the structures of songs. I'm good at analysing what's wrong with a song and I think that comes from the classical training. I'm a bit like a song doctor! Somebody will have a song and I'll help to sort it out to make it work. Having said that I don't think you need any of that to write a good pop song.

So what would be a typical Guy Chambers day?
I've got three kids so it's an early start. I walk to school with the kids, maybe do some Tai Chi, I usually start at around noon. I walk to the studio in Primrose hill. There'll be an artiste waiting for me and we write up to 6pm although I might work a bit longer to finish things off. So I don't work really long hours but when I'm working, it is very intense, it's total concentration.

Do you write all the time even if there isn't a project on the go or is there always a project on the go?
There's always projects on the go, it's really busy but I do write at home sometimes. If I'm feeling relaxed I might go to the piano and write something without about the end point to it just for fun, I think you need to do that. You can get bogged down.

You've had so many covers of your songs - have you ever been really disappointed with what you've heard?
Oh yeah, but I'm not going to tell you who they are!

"Angels" has become such a classic song. How far into your writing with Robbie Williams were you when that happened, and how did you actually write together?
It was about the third song we wrote and normally I would just have an acoustic guitar and we would write very simply, starting at the top of the song and just working our way through in a very logical way. Rob was unusual like that, a lot of people I work with now want to write the chorus first and work back from that. But Rob tended to write from the top and work through quite logically and very effortlessly. Most of the writing we did was reasonably easy. It only started getting difficult towards the end when he'd moved abroad.

I saw you years ago when you were in a band called The Lemon Trees. Is performing something you miss or is it something you never really liked?
No I love performing. Not with the Lemon Trees - that was a nightmare as I'd put myself at the front which was a huge mistake. But with Rob - I really miss performing with him - it was incredible. I do miss it and I'm looking into performing again - maybe doing a regular gig somewhere in London or touring with someone.

Songwriters I've talked to over the years like Mike Batt and Graham Lyle as a couple of examples, have spoken about releasing an album themselves of material they'd written that were hits for other people. Is that something you'd consider?
No! I'm very much in the moment I'm only interested in what I'm doing now. Occasionally I'll re-work something. I'm doing a version of "Feel" in a key for a female as no girl has covered it and that's a shame, but I'm only doing that because my publisher is begging me. I rarely do that but sometimes you have to listen to your publisher!

Talking of re-working material - I know you worked with Queen on a recording of "We Will Rock You." When you work with an act that is so well established, so successful, what is your mind set on a gig like that? What do you bring to the table?
Mm, good question. I didn't think about it too much. I just thought it was a bit of fun. We were so busy at the time I just thought of it as another session. The only thing that was difficult with that track was the American intervention - the film company wanted it mixed in a certain way. (The song featured in the film "A Knight's Tale").

Would it be fair to say that 90% of your work is collaborations?
Yes, I'm very much a collaborator. My favourite situation is writing with an artiste who can sing the track there and then, so that it sounds like a record straight away. That I do like.

Copyright International Songwriters Association, Songwriter Magazine and Jim Birmingham. All Rights Reserved.

Postscript
Since 1967, we have spoken with hundreds of songwriters and music publishers, building up a huge collection of detailed interviews which is unmatched anywhere.

Click HERE to see a list of those currently on this website. And remember, we add new ones every month!
ISA • International Songwriters Association (1967)
internationalsongwriters@gmail.com






Cookies Policy • Privacy Policy • Copyright

Legal Notice
This site is published by the International Songwriters Association, and will introduce you to the world of songwriting. It will explain music business terms and help you understand the business concepts that you should be familiar with, thus enabling you to ask more pertinent questions when you meet with your accountant/CPA or solicitor/lawyer.

However, although this website includes information about legal issues and legal developments as well as accounting issues and accounting developments, it is not meant to be a replacement for professional advice. Such materials are for informational purposes only and may not reflect the most current legal/accounting developments.

Every effort has been made to make this site as complete and as accurate as possible, but no warranty or fitness is implied. The information provided is on an "as is" basis and the author(s) and the publisher shall have neither liability nor responsibility to any person or entity with respect to any loss or damages arising from the information contained on this site. No steps should be taken without seeking competent legal and/or accounting advice
Home • Interviews • Writing A Song • Obituaries